One of my son's favorite things about trains are their "coats of paint."  Along with wearing solid-color shirts as coats of paint that let him become an engine of that color, he especially loves pretending to paint his wooden trains, or Big Engine (his bed).  Knowing this came in handy the last time we were at the hardware store.  He was grouchy — my fault, really, because I didn't want to take the time to let him look for parts to build his own wooden trains, which in retrospect I should have just gone along with.  But once the tantrum started brewing, I had an idea that saved the outing.
"Let's go look at paint samples," I said.  He was unimpressed until I added, "For your trains."
And that inspired an uninterrupted stream of description of the colors he would need for each engine, at the end of which he was back to his usual, happy self.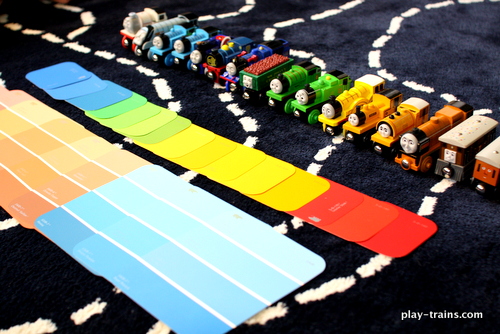 We took our paint samples home, and I gathered up trains in a rainbow of colors.  Whenever I could, I tried to get engines in different shades of the same color.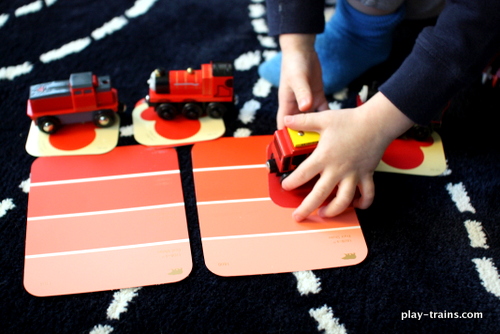 We've talked a lot in the past about mixing colors, and ever since I started explaining how you can get different shades of colors by adding more of one color or the other, he's been asking me questions like, "What do yellow and yellow and blue make?"  So I pointed out that we had different shades of the colors in both the paint samples and the engines, and we'd have to compare them to pick the right one for each engine.  We pretended we were at the paint shop while we did this, picking out colors of paint to take back to the Steamworks to the engines.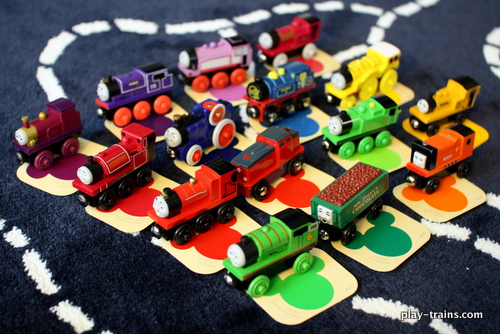 The paint chips we'd picked up weren't as saturated as the colors of the trains, so I went and found our Disney paint samples we use to play a match game with.  They matched much better, so I would recommend those if you can find them.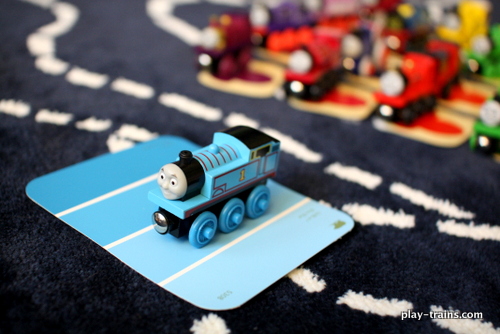 I did, however, like these big samples with several levels of brightness for the same color for talking about making colors lighter and darker.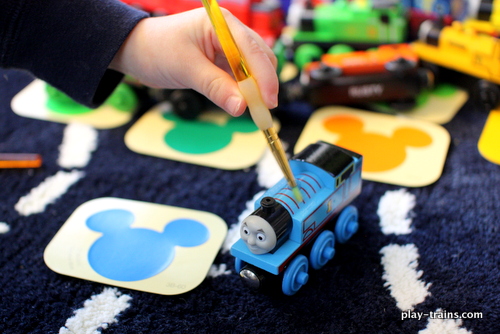 After we found the best matches, I gave him some paintbrushes and he got down to work!  He gave me the idea for this — he's often dipped real and pretend paintbrushes in colors printed on a page to pretend to paint things in the past.
Here are a few of our favorite books about color:

Friendly Tales (Little Golden Book Treasury)
 by Margaret Wise Brown
This collection includes a wonderful story called "The Color Kittens," about two kittens who splash and mix buckets of paints, trying to get the color green.  I get a real "they don't make them like they used to" feeling from the language used in this story.  Without getting wordy, Brown infuses the story with poetic descriptions and emotion, especially joy.  I'm linking to this collection of her stories instead of the single Golden Book of The Color Kittens because it's less than twice the cost, and there are two other fun stories that are of interest to little train lovers, The Seven Little Postmen (one of them is in a mail car on a train) and The Train to Timbuctoo (a book-length train poem that's a lot of fun to read aloud).  Also, the kittens' painting clothes look like engineer hats and overalls.  We've been reading this book for months and months now, and the Little Engineer still loves those three stories.

White Rabbit's Color Book
by Alan Baker
No trains in this one, just an adorable bunny jumping into pots of paint.  There are some really lovely descriptions of the colors, and did I mention the bunny? This is another book that we've been reading for years, and neither one of us is bored of it.

Mouse Paint
by Ellen Stoll Walsh
The Little Engineer likes this one well enough to ignore the fact that the cat is probably not intending to be a "nice cat" to the mice, which is saying a lot, sensitive soul that he is at this point.  We rolled out a long piece of paper last summer and made our own mouse prints all over it.  It lives on as a very inexpensive, very large piece of modern art in our family room.