Looking for train valentines for your little engineer to hand out? I had a hard time getting train valentines the first year I looked for them, so I tracked down as many as I possibly could to share here. Here are some great train Valentine's Day cards available online, and a list of free printable train valentines as well.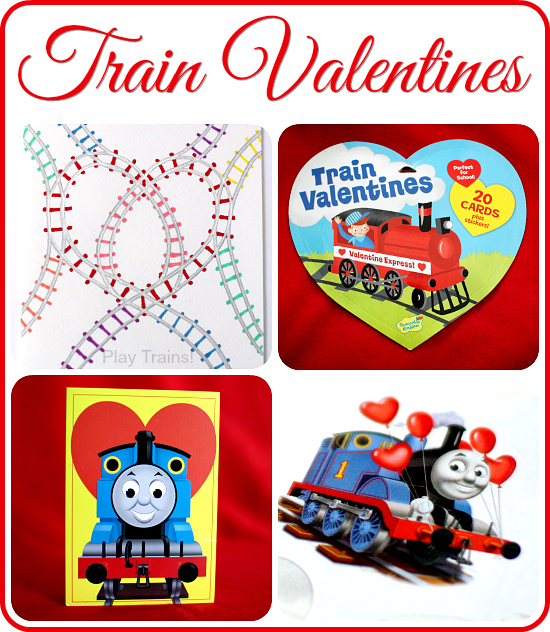 This post contains links to Amazon.com. If you click on one, we will receive a small commission — at no additional cost to you — on anything you buy at Amazon for a certain length of time afterwards. Read our disclosure policy for more details.
A Valentine for Percy (Thomas & Friends)
This easy reader has twelve punch-out Thomas & Friend valentines in the back of the book. The story inside the book is a new, very simple text set to pictures from our favorite Valentine's Day-themed train book, Valentine's Day in Vicarstown — which is to say that the illustrations are beautiful, but we prefer the text in the longer story. However, if your little engineer is very young or otherwise not inclined to sit still for a longer storybook, these easy readers can be a good choice.
Thomas' Valentine Party (Thomas & Friends)
When the Little Engineer was two years old, we used a combination of the valentines from this book and the Thomas Heart Cards below. The valentines in this book are large (picture a piece of printer paper folded in half), but because they're the same paper as the rest of the book, they're kind of floppy. Otherwise, they're cute.
But even better are the stickers inside, which are really cute and well designed. I especially like the blue heart balloon stickers with Thomas' red and yellow number 1 on them. There was even a sticker with Hiro and a heart, which I liked because Hiro has always been "Mama's train." Along with the stickers and valentines, you also get several pages of Valentine's Day pictures and activities with Thomas and his friends. Several of the picture pages could be hung on the wall as Valentine decorations.
Free Printable Rainbow Heart Train Valentines
I created these valentines because all of the options I knew of for cute, non-Thomas train valentines were no longer available. That and the little train I drew — who we've dubbed "Puffy the Heart Train" — made the Little Engineer smile!
These are the Valentine's Day cards the Little Engineer and I made for each other last year. I think they turned out so cute, and all you need is a blank card or paper and markers!
Unfortunately, the Peaceable Kingdom Train Valentines and the Thomas Heart Cards — both featured in the top graphic — are now seemingly unavailable. I will add the links back in if I can find new sources for them.



Free Printable Train Valentines
Free Printable Thomas & Friends valentines from SproutOnline.com
Free Printable Dinosaur Train Valentines from PBSKids.org
Free Thomas and Friends Printable Coloring Pages — including one with Thomas and Percy in hearts
Free Printable Train Valentines
Adorable Train Valentine with an Alligator Engineer — printable file available if you follow a link below the picture
Free Printable Transportation-Themed Valentines
More train activities and ideas for Valentine's Day: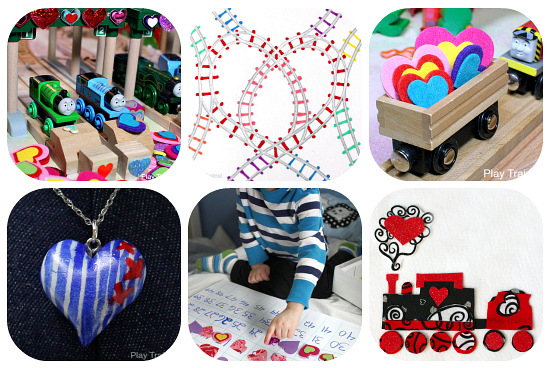 Building a Valentine's Day in Vicarstown Book-inspired Wooden Train Layout
You'll find lots of ideas for decorating a wooden train layout for Valentine's Day in this literacy activity, inspired by the Thomas & Friends book, Valentine's Day in Vicarstown.
If you're looking for an unusual — and unusually pretty — train valentine for your child, these DIY train track valentines might be just the thing!
Easy DIY Felt Heart Freight for Wooden Trains
With their fuzzy yet solid feel, these easy-to-make felt hearts are wonderful valentine freight for toy trains and great counters for counting activities.
DIY Engineer Stripe Heart Pendants
These make beautiful gifts for train lovers (or the mothers of train-loving kids) for Valentine's Day — or any other special day!
Valentine Counting Activity with Thomas and Friends
Another fun activity inspired by Valentine's Day in Vicarstown. The Little Engineer still asks to play this one a year later.
DIY Felt Valentine Train Play Set
A pretty and engaging felt train play set that's quick and easy to make for Valentine's Day.