The Little Engineer and I have had a lot of fun with felt trains in the past.  I'll do a more complete tutorial on our super easy Thomas & Friends set in the future, but this felt valentine train is just as fun, if not more so. I love playing with it because the colors are so striking and romantic, and the Little Engineer was even more inspired by it than I expected.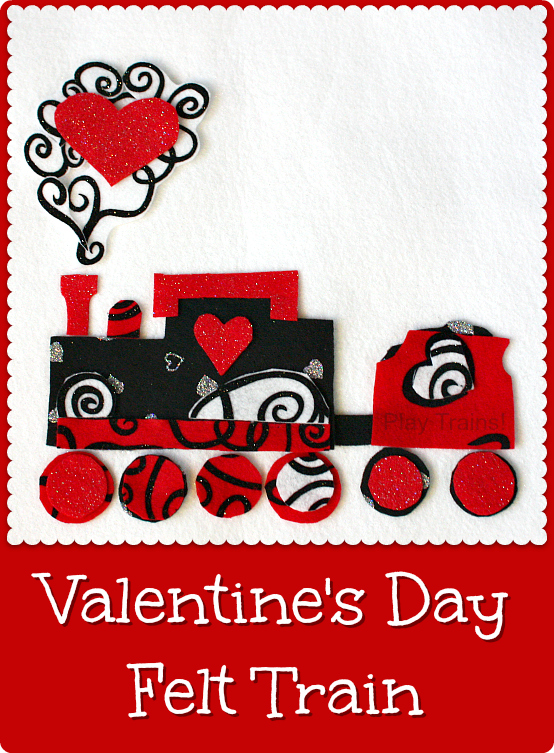 An earlier version of this post was originally published on February 9th, 2013.
This is a great last minute activity to add to your plans for the week because kids can play with the felt trains while you're cutting them out. An older child could help make the trains, and it could be a fun Valentine's Day gift for an older sibling to give to a younger train fan. And all you need is a few pieces of felt in Valentine's Day colors and/or patterns, a larger piece of felt to place them on, and a good pair of scissors.
When you're ready to make the felt trains, pread the large piece of felt out on the floor or a bed and sit down next to it.  Start cutting out train pieces, and stack them by shape on the larger piece.  If your child is anything like the Little Engineer, you'll have company as soon as the first few snips sound out.
Here are the pieces I made from about seven or eight pieces of felt, but even two or three pieces of felt would give you plenty of shapes to work with.  Note that several of these are stacked up in pretty tall stacks, so there are even more pieces than it looks like.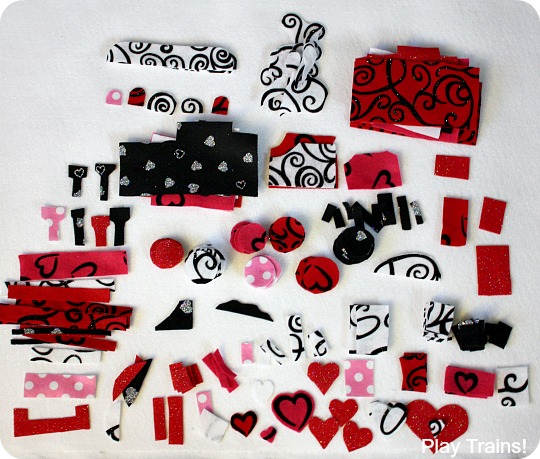 Out of each piece of felt, I tried to cut a variety of the following shapes:  engine bodies, coal tenders, wheels, funnels/smokestacks, domes.  Tiny rectangles for couplers, small ones for windows, slightly bigger ones for doors, long thin ones for footplates and cab roofs, bigger ones for box cars and passenger coaches.  Swirly cloud shapes for steam.  Bumpy black pieces for coal in the tender.  And, of course, lots of hearts for freight and general decorating purposes.
This was the train the Little Engineer came up with when I was about halfway through cutting the pieces out: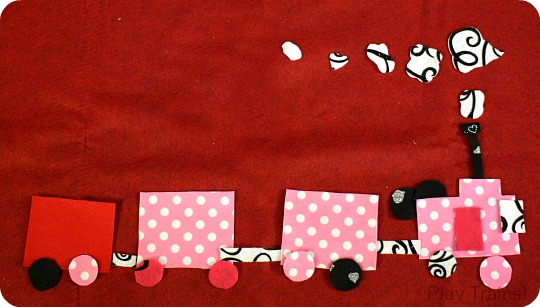 I love this so much. Beyond motherly bias, I think it's cool that it looks like one of the earliest steam engines. We've been reading some of our favorite books about the history of trains lately, so he may have been inspired by the pictures in them.
And here's mine that I made on the opposite side of the piece of felt: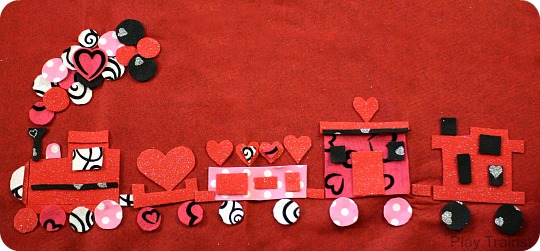 I cut too many pieces out of the white and black felt to make all of the steam pieces I wanted to, so we had to get another piece at the craft store.  I also picked up a big piece of sparkly white felt for another purpose that got commandeered for our Valentine train. This is what I came up with after that: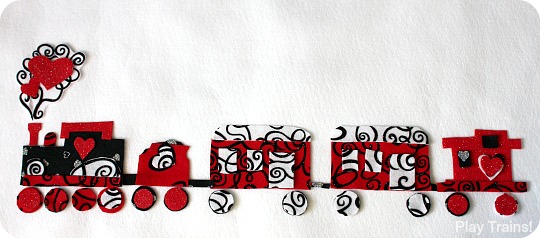 I'm especially pleased with the way those passenger coaches came out.  I want to ride this train on Valentine's Day!
Then the Little Engineer, as usual, came up with an even more fun way to play with the pieces.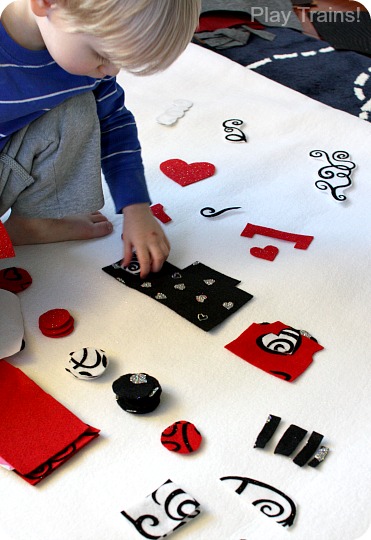 He combined the felt train with another of our favorite games, Train Store.  Only this time, instead of buying toy trains, he wanted to be an engineer buying all the different parts to build his engine and all the cars it would pull.  We sorted and stacked the different pieces, and I questioned him about what he wanted, and told him the colors everything came in.  He chose his pieces, paid for them, and built his train.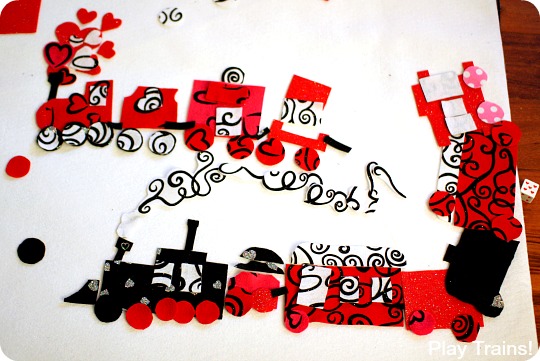 He reached the edge of the felt and wasn't ready to stop adding cars, so he just kept going. He wanted two trains, so he contracted the train store (me) to put together a second train above his. Considering I wasn't sure he'd want to play with these over his Thomas felt trains, this has held his interest incredibly well.  We've played several times this week, and he still wants to play more.  And when Valentine's Day comes and goes, we can mix them in with the rest of our felt trains, and play a really big version of Train Part Store.
Train Books and Gifts for Valentine's Day:
More train activities and ideas for Valentine's Day: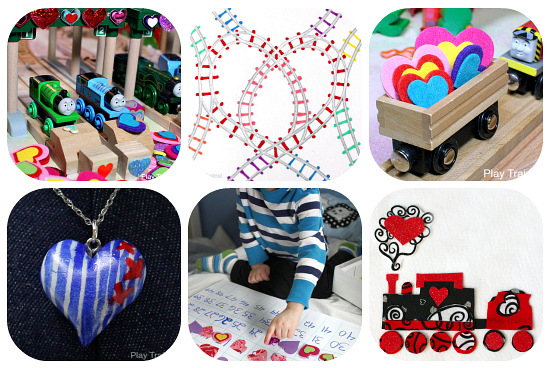 Building a Valentine's Day in Vicarstown Book-inspired Wooden Train Layout
You'll find lots of ideas for decorating a wooden train layout for Valentine's Day in this literacy activity, inspired by the Thomas & Friends book, Valentine's Day in Vicarstown.
Looking for train valentines for your little engineer to hand out? I had a hard time getting train valentines the first year I looked for them, so I tracked down as many as I possibly could to share here. Here are some great train Valentine's Day cards available online, and a list of free printable train valentines as well.
If you're looking for an unusual — and unusually pretty — train valentine for your child, these DIY train track valentines might be just the thing!
Easy DIY Felt Heart Freight for Wooden Trains
With their fuzzy yet solid feel, these easy-to-make felt hearts are wonderful valentine freight for toy trains and great counters for counting activities.
DIY Engineer Stripe Heart Pendants
These make beautiful gifts for train lovers (or the mothers of train-loving kids) for Valentine's Day — or any other special day!
Valentine Counting Activity with Thomas and Friends
Another fun activity inspired by Valentine's Day in Vicarstown. The Little Engineer still asks to play this one a year later.