For our final activity in the Fall Invitations to Play series, I saved the simplest invitation of all. It also happens to be the closest to my heart, inspired by something the Little Engineer has done every year since his love of trains began. Fifty years from now, I see myself watching the leaves of another tree fall and seeing his smile as he raised Thomas high in the air with stick crane, his fine, blond hair backlit with autumn sunshine.
If you're new to the series, you may want to read my introduction in the first post, Play Dough Pumpkin Patch Train Play, with links to expert articles on the subject of Invitations to Play. I have really enjoyed dreaming up 25 fall play invitations with the marvelous women behind My Nearest and Dearest, Twodaloo, Fantastic Fun and Learning, and Buggy and Buddy, and I hope you'll follow the links at the bottom of this post to see the activities they're sharing today.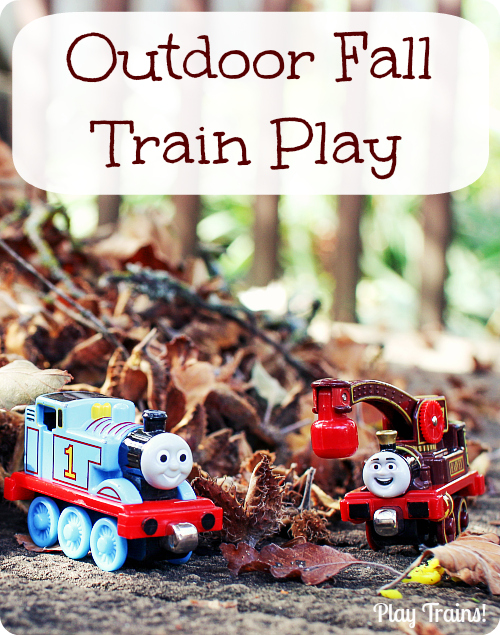 This post contains links to Amazon.com. If you click on one, we will receive a small commission — at no additional cost to you — on anything you buy at Amazon for a certain length of time afterwards. Read our disclosure policy for more details.
Invitation to Play: Outdoor Fall Train Play
If you have a train and a pile of leaves, you can set this invitation up in, oh, ten seconds. But in the very simplicity of this activity lies its power. Children can explore the leaves as leaves, learning about how they feel, smell, and sound, how that changes when you go from the crackle and crunch of the dry leaves on top to the wet ones beneath, how they pile up high and drift to the ground. But the pile of leaves can also become any landscape they can imagine, valleys and mountains rising and falling with the sweep of a small hand.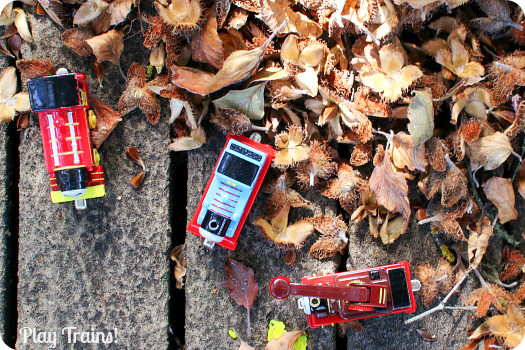 Materials:
One or more trains (We use die cast metal Take-n-Play trains, because they're the easiest to clean. But this is not necessarily a messy activity, so you're probably okay with other kinds of trains, as long as they won't be getting soaked in a mud puddle.)
A pile of fall leaves (preferably with some sticks and twigs)
Set-up:
Set the trains down next to the pile of leaves. That should be enough.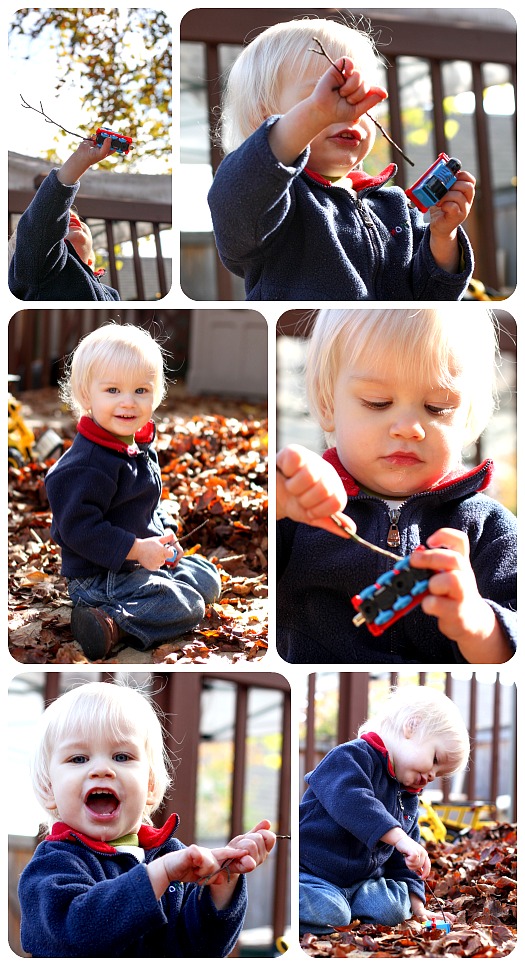 How we played:
The pictures above are from when the Little Engineer was just about a month shy of two years old. He drove Thomas into the leaves, over and over and over. Harvey the crane engine, good friend that he was, kept rescuing him. In the photos, Harvey is the stick in his hand, not the little engine in the pictures above! And he and Thomas ran through the leaves together, kicking them up into the air.
The next year, when he was not quite three, we had acquired the toy Harvey, so for old time's sake we took him out and played with him. The Little Engineer did some track building that year, making pathways through the leaves for the trains to chuff down.
And this year, with his fourth birthday approaching, he was immediately drawn into play by the trains sitting next to the tiny pile of leaves I managed to rake together on this sunny day in early September. I can't wait to see all the ways he plays with his trains in the leaves as the season truly gets underway.
Looking for more creative train activities for YOUR kids?
Grab a copy of Old Tracks, New Tricks! In the fun, rhyming story, three creative little wooden train tracks stand up to the bossy trains and teach the whole train set that old tracks — and trains! — can learn new tricks. Full instructions for the 20+ "track-tivities" in the story are included in the back of the book, along with an illustrated guide to teach kids how to create their own "track tricks." You can find tons of extension activities at the Old Tracks, New Tricks website!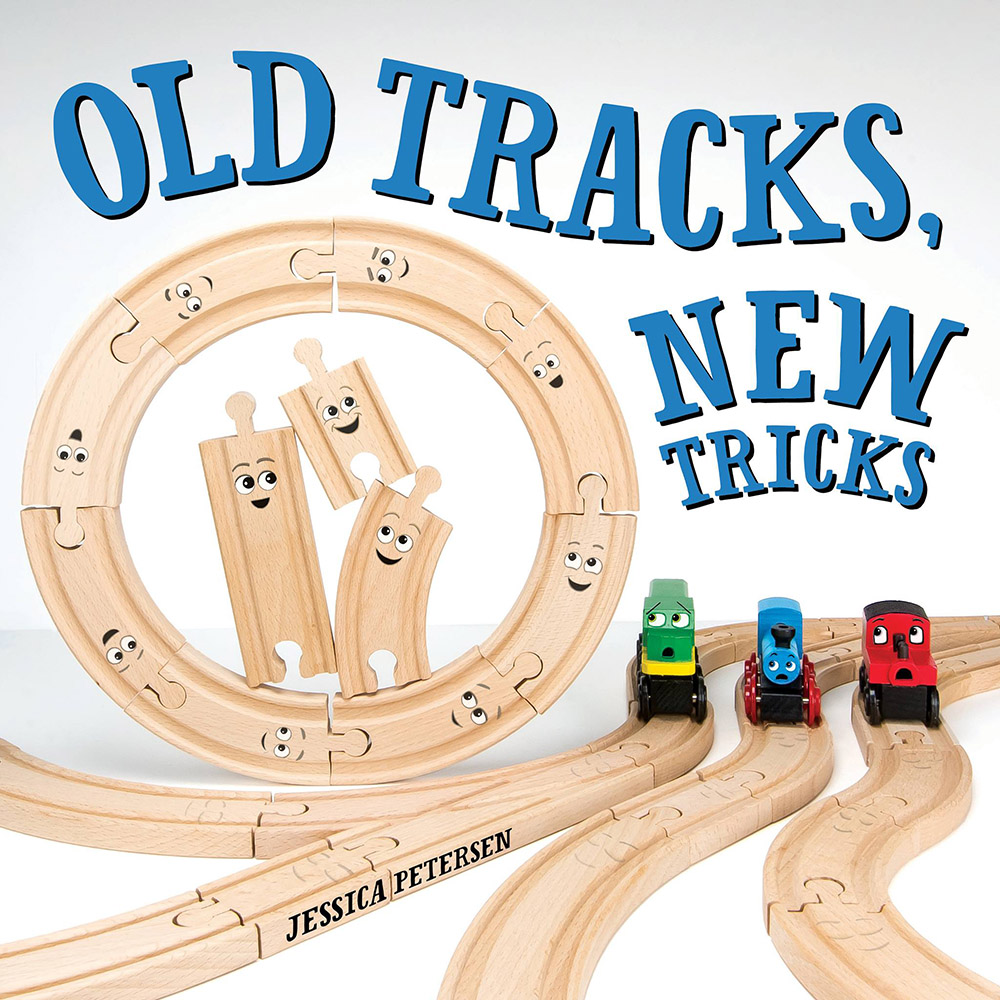 More Play Inspiration
That's it for our Fall Invitations to Play, but Ann, Stephanie, Chelsey, and Shaunna all have more fun for this season. We were friends before the series, but it's been so fun working with them and seeing just how much thought and creativity goes into all of their activities. I hope you'll visit all of them and be as inspired as I have been.
And here are our other invitations in the series, in case you missed one: