Today I'm going to show you how kids can make their own wooden train track Christmas ornaments, inspired by my upcoming picture book, Old Tracks, New Tricks. The best part is that the decorations are temporary, which means the tracks can go back to the train set when the holidays are over!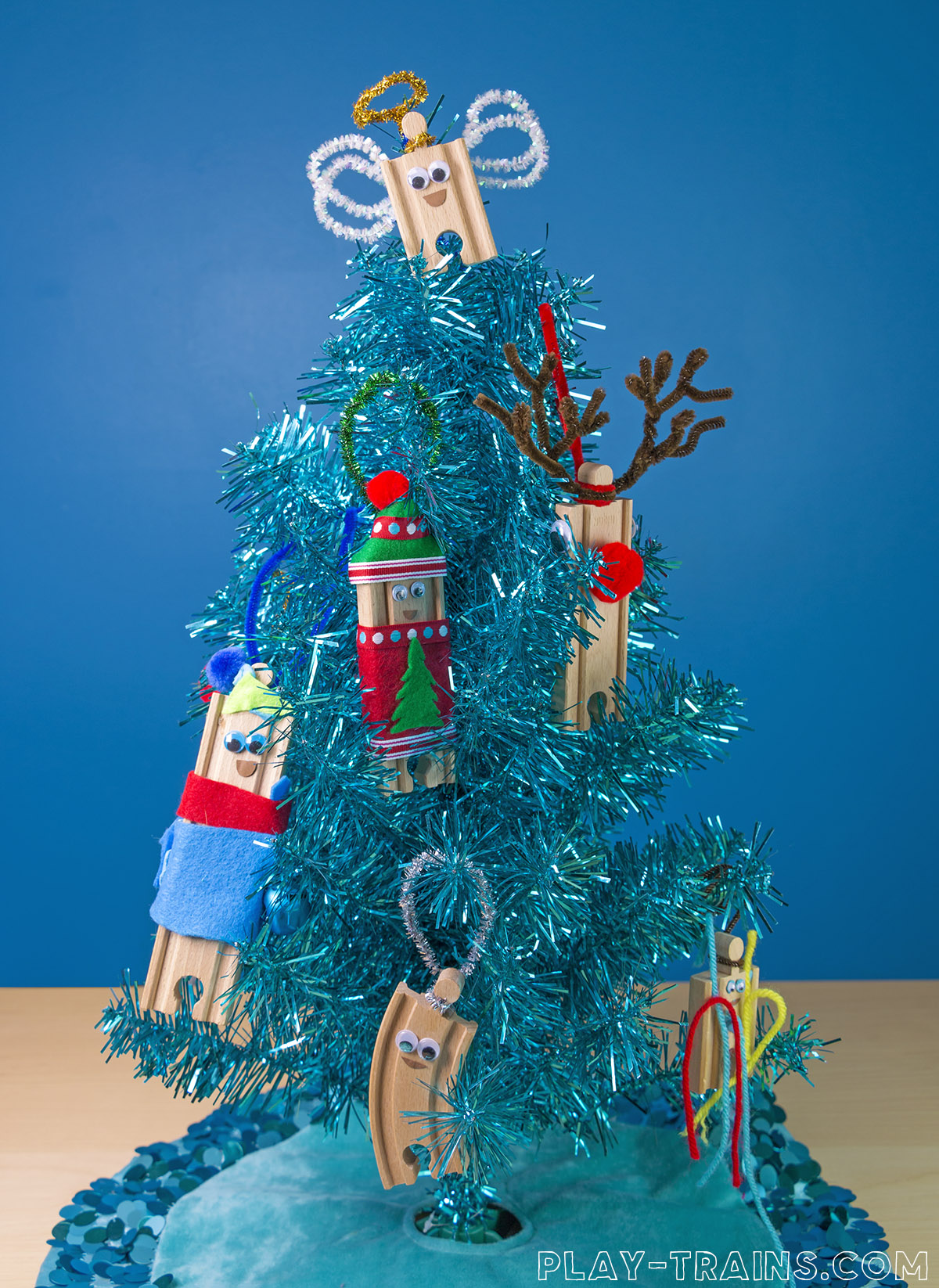 This page contains affiliate links. Read our disclosure policy for more details.
Our Inspiration: Old Tracks, New Tricks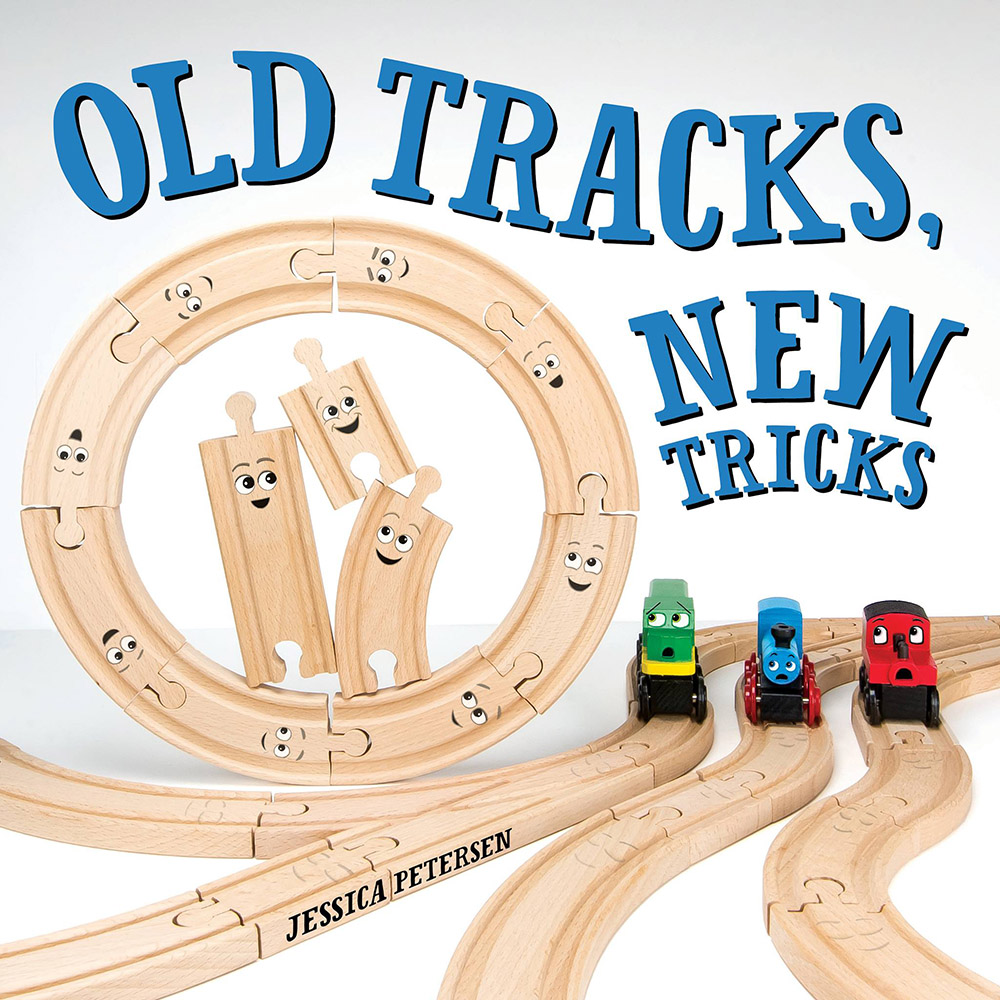 When three creative train tracks join an old wooden train set, the bossy engines blare orders, and the bored tracks snore on the floor. Can the three little tracks show the whole train set how to work together and invent new fun? Part fun, rhyming story, part activity idea book, Old Tracks, New Tricks shows kids how to create new ways to play with their favorite toys.
I love participating in 10 Days of a Kid-made Christmas blog hop because all the ornaments in the series are inspired by picture books! So I couldn't wait to participate this year and make ornaments inspired by my own picture book, Old Tracks, New Tricks. Especially considering the book itself is all about being creative!
If you're interested in the book, take a look at this preview of the first several pages! You can also purchase the book anywhere books are sold (including through your local independent bookstore).
Materials & Tools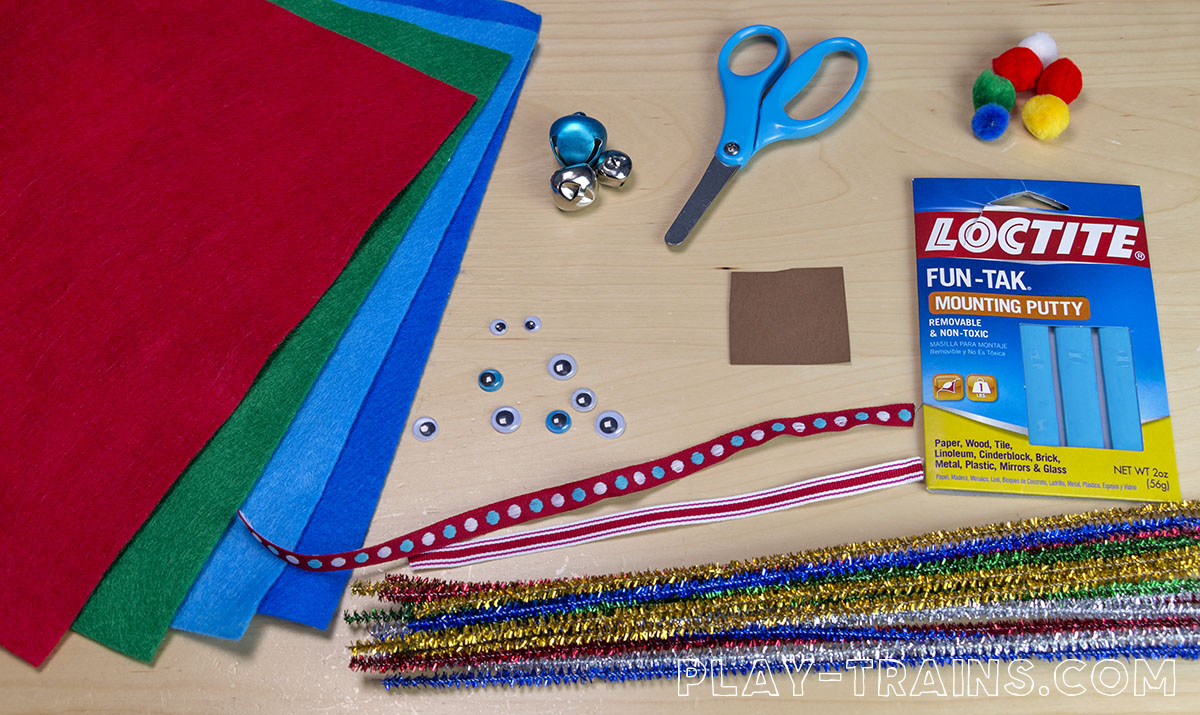 To make your track ornaments, you'll need:
You'll also want to have a selection of craft supplies to create with. We used:
Craft felt (perfect for sweaters, hats, and scarves)
Small pom poms (for the tops of hats)
Jingle bells
Ribbons
Directions
Wrap the middle of a pipe cleaner around the peg connector of a wooden train track and twist to secure. Form the two ends into a loop to hang the ornament from the tree by twisting them around each other.
Cut a tiny mouth out of the brown or black paper.
Use the teeniest, tiniest pieces of mounting putty to stick the googly eyes and paper mouth to create a face. (If you use too much putty, it squishes out from beneath and shows.)
Use more tiny pieces of mounting putty to secure your decorations.
Hang your ornaments on the tree!
Removing the Decorations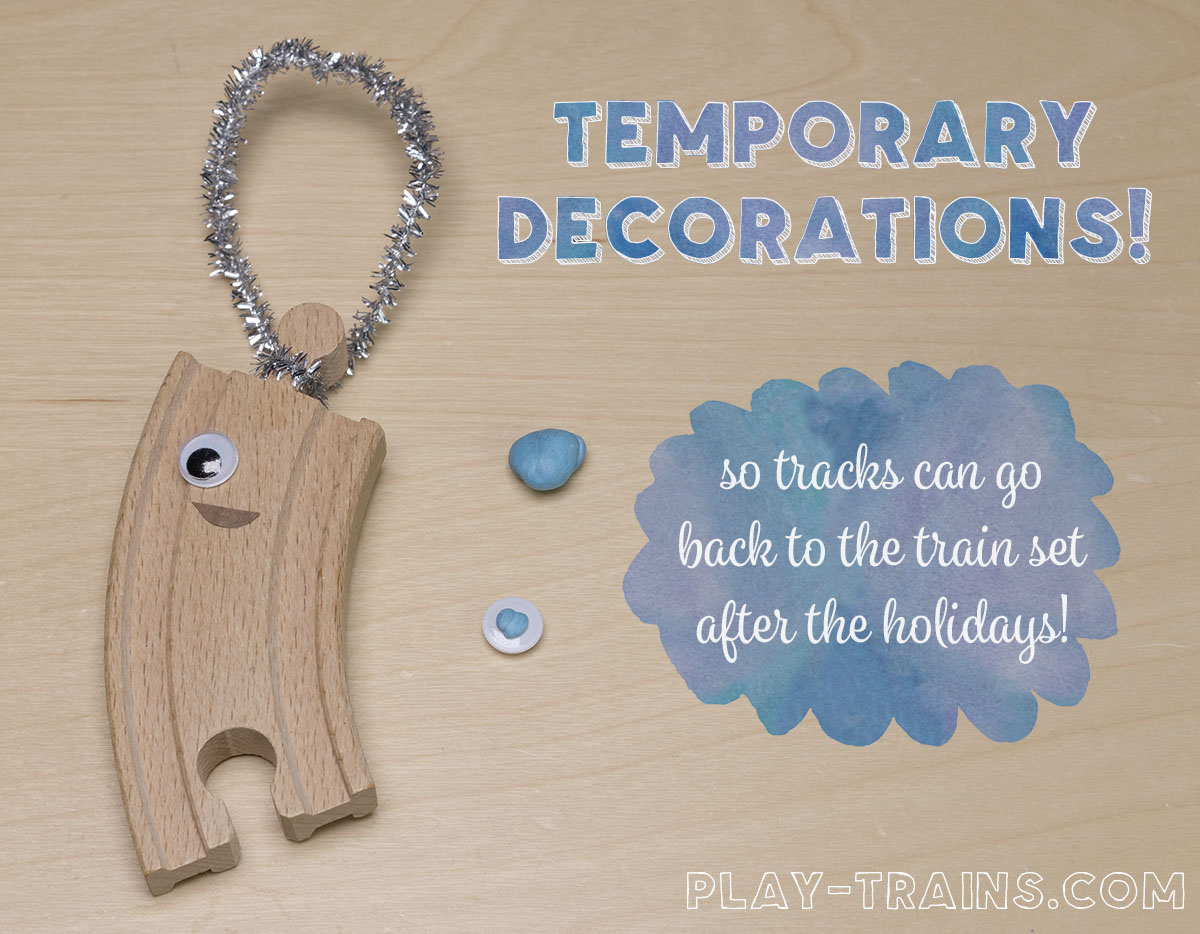 After the holidays are over, the decorations and mounting putty are easily removed from the wooden tracks. Please note, however, that the mounting putty will stick permanently to felt and other fabric or fuzzy things.
Inspiration: Our Wooden Track Ornaments
To give you some ideas for how you could decorate your tracks, here are the ones we made.
1. Plain "Tracky" Ornament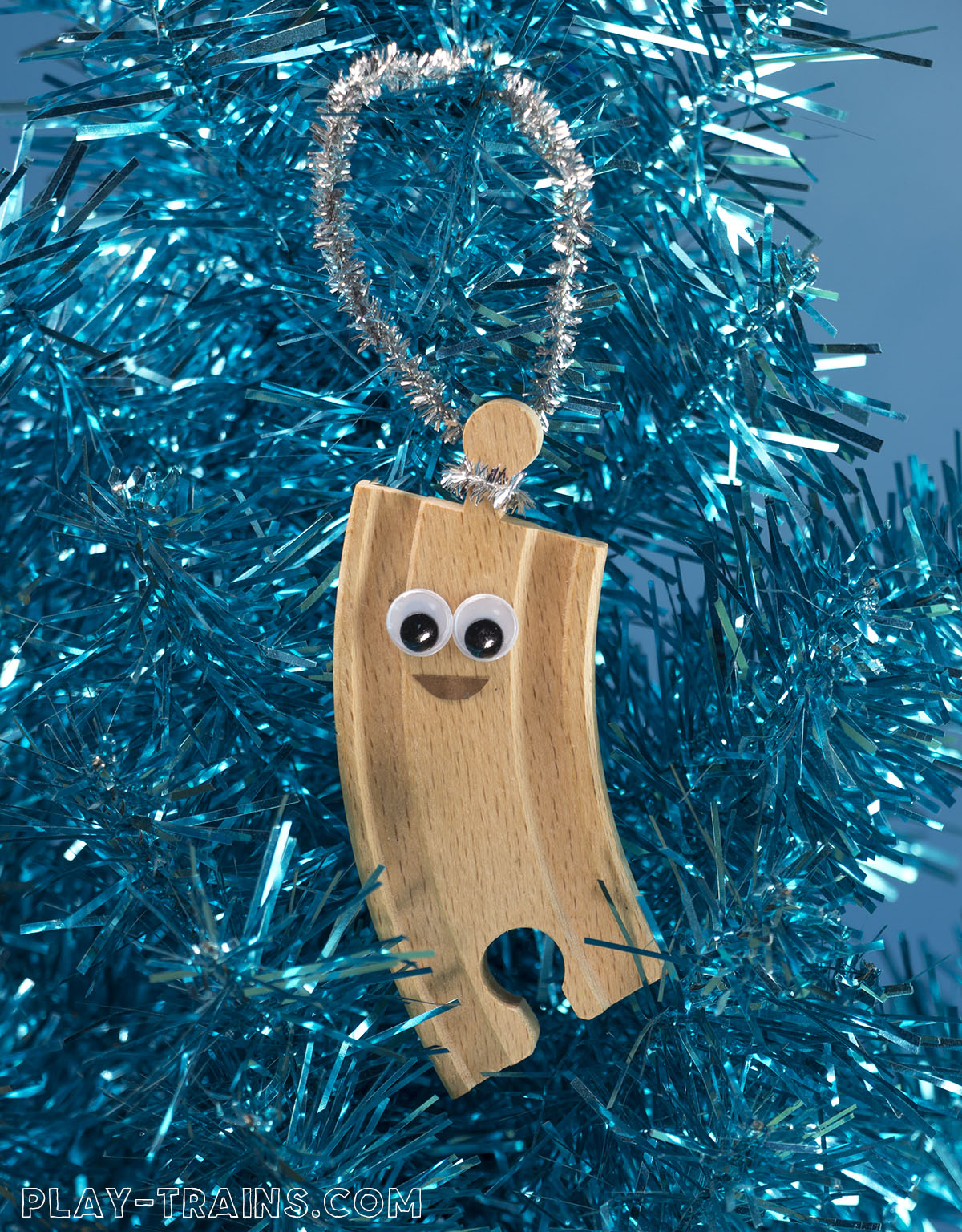 This plain curved track ornament looks a lot like Tracky from Old Tracks, New Tricks.
2. Scarf and Hat Track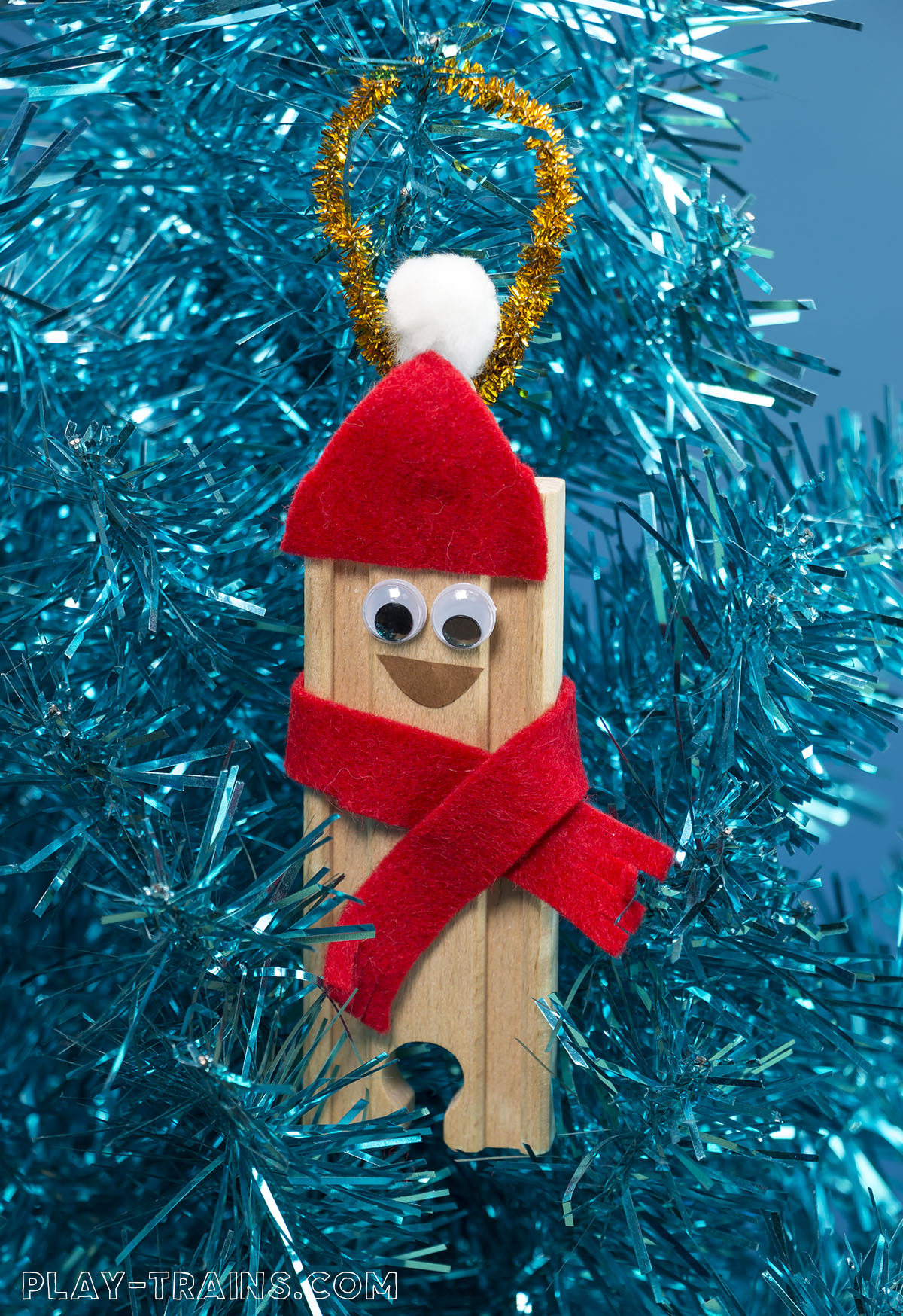 This was the first track ornament I made when I was coming up with the idea. I simply cut the hat and scarf out of felt, and then stuck them and a pom pom on to the track with mounting putty.
3. Ugly Sweater Track

Here's a track headed off to an ugly sweater party…who knew wooden train tracks had those, too? This was made in much the same way as the previous track, but with some more details — like a felt tree and some ribbon bands — added on top of the felt with tiny bits of mounting putty.
4. Tinker Angel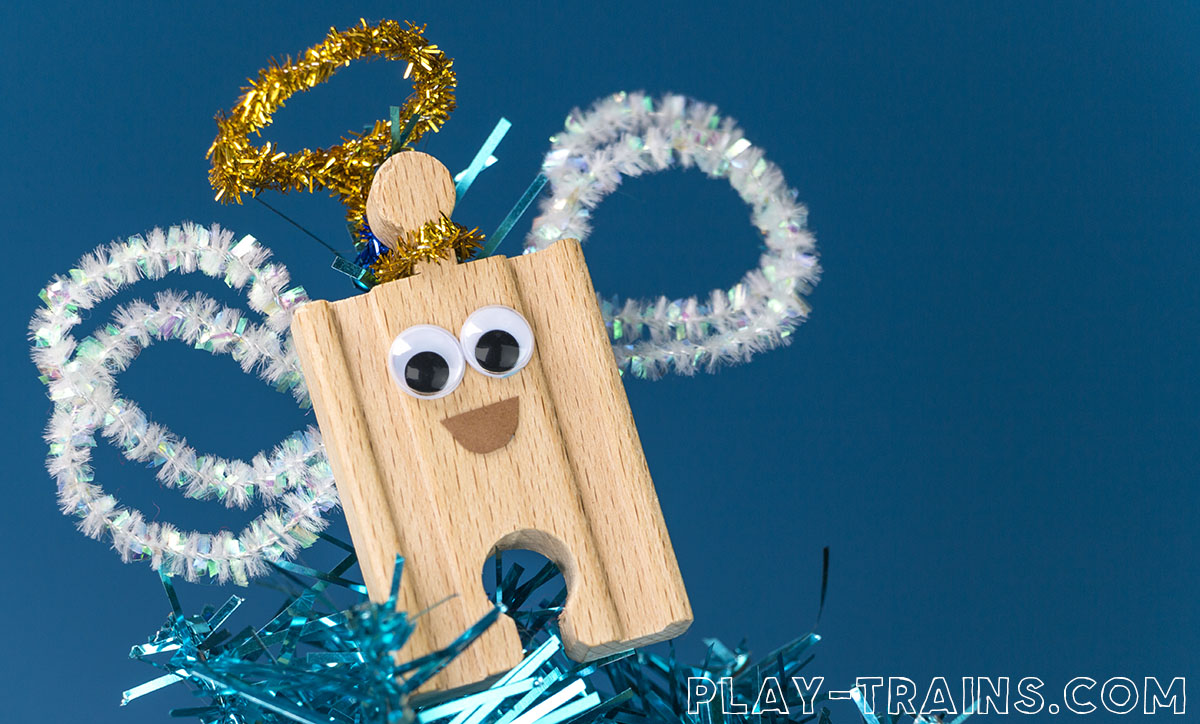 Tinker, the littlest of the three main tracks, is one of my very favorite characters from Old Tracks, New Tricks. I made him into an angel for the top of the tree with metallic gold and iridescent white pipe cleaners, and then used another pipe cleaner hooked around the back of the halo to attach him to the tree.
5. The Little Engineer's Track 
This was the first track ornament that my son made. He got really into the process! He even made a "machine" out of DUPLO blocks that he could pass the tracks through and pretend to fasten the decorations on with. I loved that his track had a sweater, scarf, and hat, and that it is "holding a jingle bell."
6. Reindeer Track

Next, the kiddo was inspired to make a reindeer track. I burst out laughing when I saw it's face because it was so cute and clever — I loved how he put the eyes on the side of the track! Then I helped put some antlers on with brown pipe cleaners.
7. Super Track

This is the track the kiddo had been planning to make, with lots and lots of yarn. He says it's Super Track. I agree!
Old Tracks, New Tricks

To learn more about the book that inspired these ornaments, check out the preview of the first several pages, or read more about why I wrote the book and designed it to inspire creative play. You can also order Old Tracks, New Tricks anywhere books are sold (including through your local independent bookstore).
10 Days of a Kid-Made Christmas

Make sure to check out all the other fun, book-inspired ornaments in the series! Today's other fabulous ornaments are:
Emeraldalicious Kid-Made Christmas Ornament Craft from Sunshine Whispers
Ten Little Fingers, Ten Little Toes Baking Soda Clay Baby Footprint Ornaments from Mama. Papa. Bubba.
"Press Here" Super Simple Toddler Made Ornaments from Lemon Lime Adventures
How to Make a Hand-Sewn Gingerbread Man Ornament with Your Child from The Educator's Spin on It