I'm always trying to think of ways to bring the Little Engineer's favorite indoor activities and toys outside. I've wanted to make a "train garden" on an outdoor train table for a long time now. But I was always put off by the thought of all the work it would be to design and build one. Until this summer, when I realized that I could make a wooden train garden railway for the Little Engineer without using a single tool. This is a super easy way to bring train play outside, and the results have delighted us both!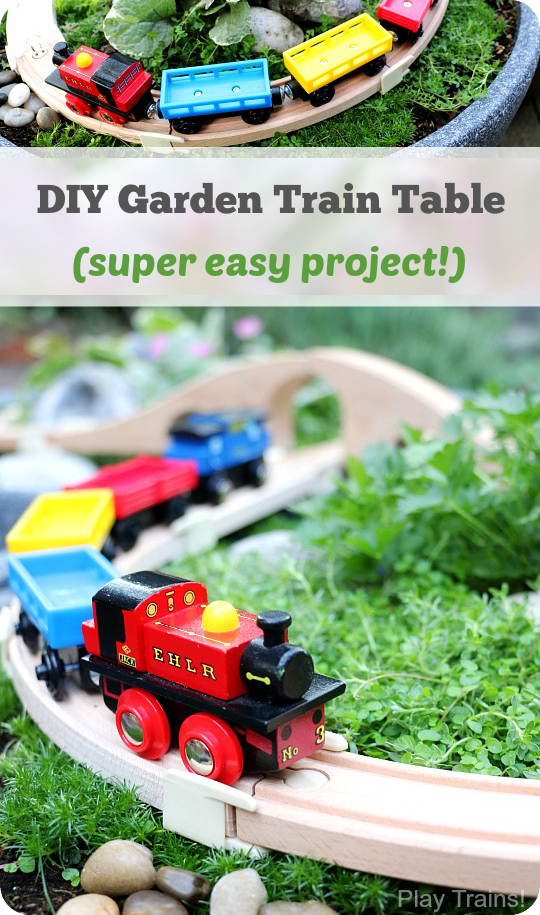 This post contains links to Amazon.com. If you click on one, we will receive a small commission — at no additional cost to you — on anything you buy at Amazon for a certain length of time afterwards. Read our disclosure policy for more details.
Train Table Guides for Parents and Teachers:
The Best Wooden Train Sets
The Best Wooden Train Tables for Toddlers and Preschoolers
Do You Need a Train Table?
Alternatives to Gluing Wooden Train Tracks to Train Tables

The Little Engineer was two years old when I first got the idea to make an outdoor train table. We had been watching videos of garden railways on YouTube, and I thought it would be fun to have a mini garden railway with wooden trains in our backyard.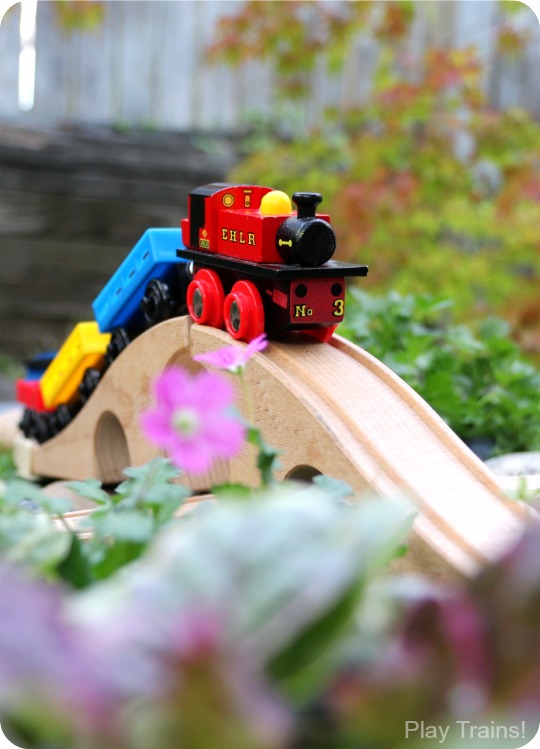 I had visions of building a train table that could hold a layer of dirt for planting a landscape. My husband pointed out that we'd need to work in some sort of drainage system. The idea started to sound more complicated than fun.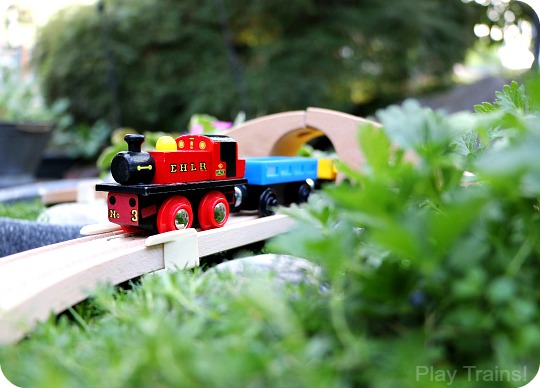 The next summer, the train garden idea wormed its way back into the forefront of my mind — nudged there, I think, by seeing Fun at Home with Kids' super cool dinosaur garden — but once again it sounded like a lot of work. And then what would we do with the table when the Little Engineer got too old for it?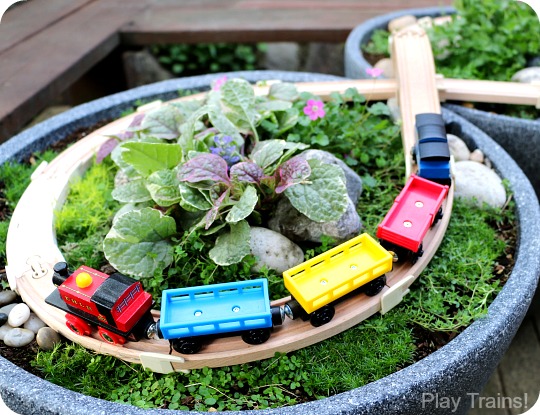 This year, the right inspiration finally came to me. I was staring at a few big pots on our deck that were in need of new plants. For the first time, I noticed they were pretty much the perfect height for a train table!
Now, of course, this isn't really a "table." But it works pretty much how I imagined my garden train table would work, so I'm okay with that.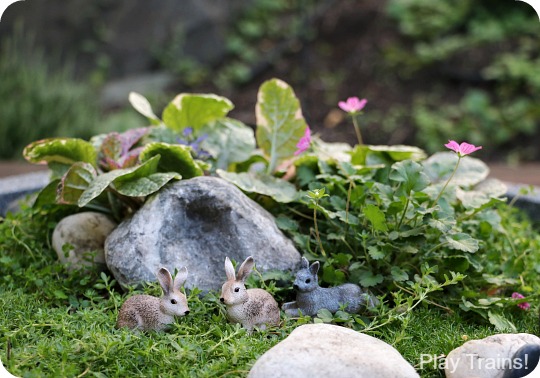 DIY Outdoor Wooden Train Table How-to
I love that this is a project that anyone can make in an afternoon. I love that it can serve several purposes — already, our train garden has doubled as a bunny garden, and as a place to take pictures of LEGO minifigures. And I love that when the train "table" isn't in use or is no longer needed, you have potted plants decorating your outdoor space.
Materials Needed
One or more big plant pots
Lots of planting soil: The pots need to be filled to the top, so it might take more than you think!
Plants: I picked "steppable" varieties for our plants so that the garden would hold up to being played on with wooden toys. (So far, so good as far as that goes!) For the outer area where the tracks go, I used Scotch and Irish moss, and also some creeping thyme that creeped out of the center where I planted it. You might consider planting herbs in the center of the pots to add another sensory element (look for ones that don't grow very tall).
Rocks or other decorative features: We used rocks we already had lying around the backyard. As for other decorative features, check out the list of fairy garden links at the end of the post for plenty of inspiration!
Wooden train tracks: For one pot, you'll want eight large curved tracks to make circle. You might be able to add a couple of short straight tracks to make an oval, but I think the circle would look nicer. For the two-pot version, you have more options. We used the figure-8 set from IKEA. I believe that set is only $10, so I figured if it got dirty while we were playing, it wouldn't be a huge loss, but they're staying clean enough so far. (I haven't tried this, but I suspect you could coat the tracks with a non-toxic, glossy indoor/outdoor acrylic finish to make them more outdoor-friendly.) Note: You could also use plastic Trackmaster or Take'n'Play track and trains in these gardens.
Suretrack clips or no-residue duct tape: This is really helpful for keeping the tracks together on the moss, and over any uneven areas in the pots.
Wooden trains: Any trains will do, but it's fun to have freight cars to pull stuff around the railway. (The cute little engine in these photos is Jack from the Bigjigs Rail Heritage Collection, and the freight cars come from various Thomas Wooden Railway cargo sets.)
Other accessories: So far, we've used pebbles and little bits of plants for freight, as well as Schleich bunny figures and some Safari Ltd. Toobs animals. This train garden is perfect for incorporating the natural items we played with for our Toy Train Freight from Nature: Summer post, or any other small, safe objects you can find in nature.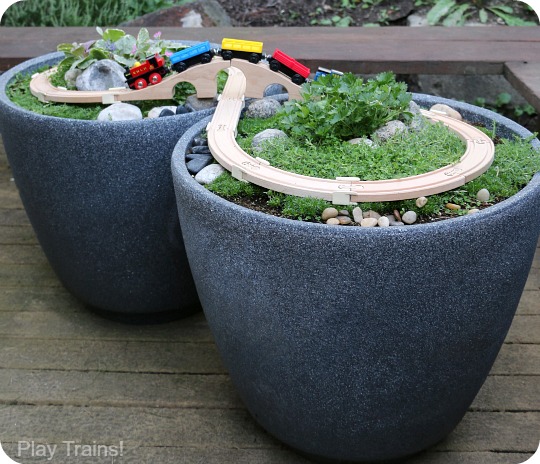 Directions
Fill the pot(s) with dirt. If you're going to be connecting tracks across more than one pot, fill the pots all the way to the top. (I wish I'd filled mine a little fuller, so that I wouldn't have to build up the crossing in the center as much with rocks, as I'll show you below.)
Plant low-growing, steppable plants, with flat plants like Irish and Scotch moss around the outside, and slightly taller ones in the center. Go for a mixture of colors, textures, and scents. To save some money on this step, I divided up the steppable plants up into 2-4 clumps and planted them spaced apart, especially the moss, which I dotted around the outer circle. However, it took about a month and a half of sunshine and water for the moss to fill in enough to lay the track on, so if you want the train garden to be ready sooner, buy more plants.
Add rocks in the inner regions of the pots to decorate the gardens, create more distinct locations for storytelling and pretend play, and — when necessary — to hold back the larger plants from encroaching on the outer circle where the track will be laid.
Water well, and watch the garden grow!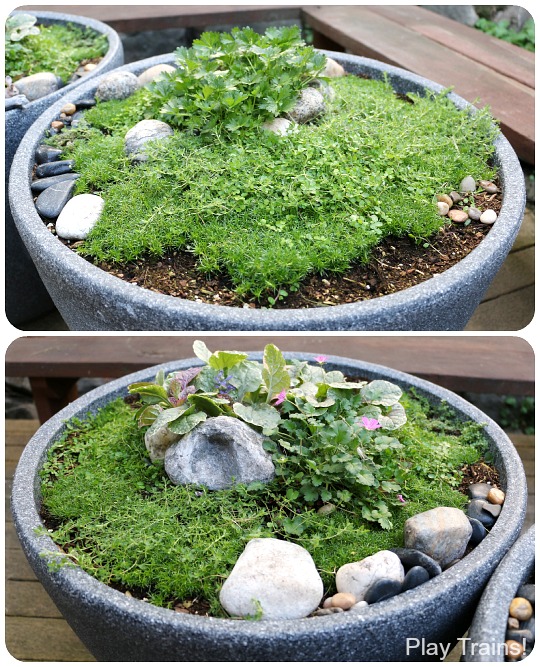 When the plants are established and filled in enough to support the track all the way around, it's time to play! Here's how I placed the IKEA figure eight set on my side-by-side pots.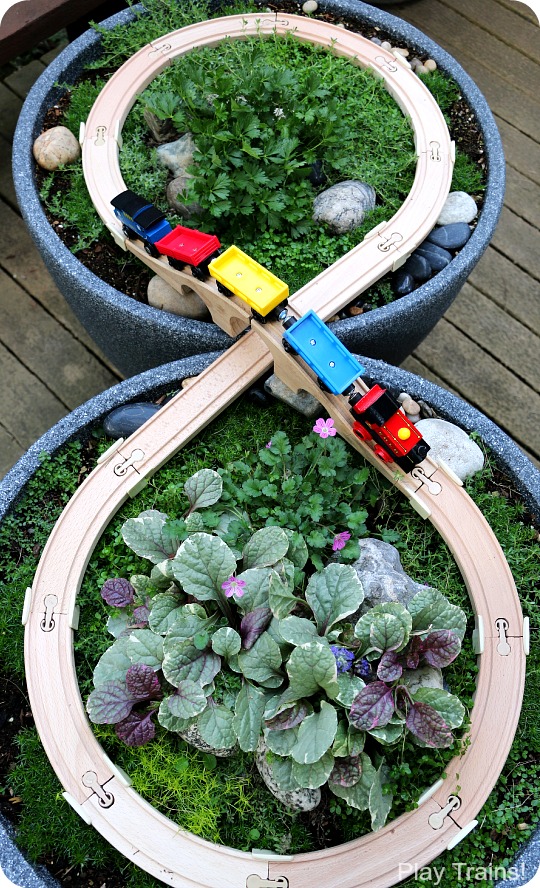 As you can see in the photo below, I used rocks to support the tracks where the tracks cross from one pot to another. If I had been smart and filled the pots to the top, they might not have been necessary for the lower track, but you would still want to use rocks with a flattish side facing up to raise the bridge up higher — that's how I made it tall enough for non-IKEA engines to pass beneath!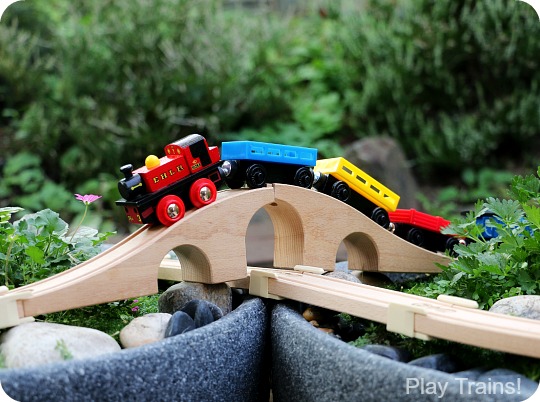 I would also recommend using either the Suretrack clips or no-residue duct tape to hold the tracks together. Our Suretrack clips really helped keep the track together on top of the slightly uneven surface of the carpet-soft plants.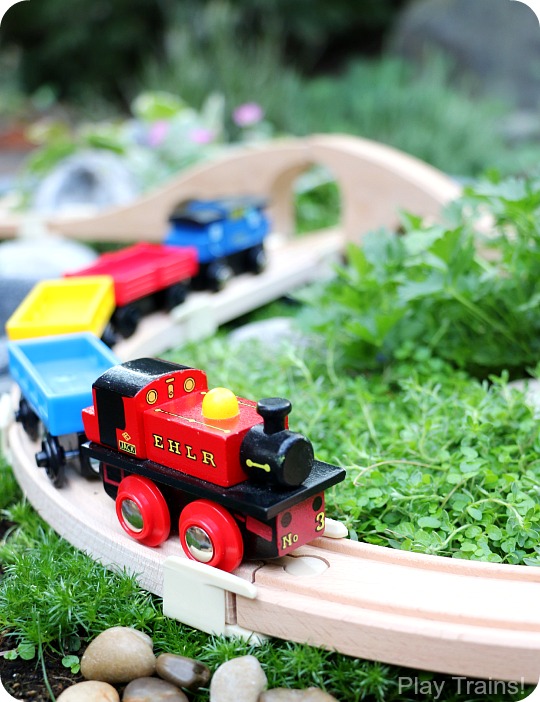 Indoor Train Tables
If you're looking for a more traditional wooden train table to go inside your house, you can find out all the details you need to know in our guide to the best wooden train tables. Make sure you also read my answer to the big question, Do You Really Need a Train Table?, and my list of temporary alternatives to gluing wooden train tracks to a train table.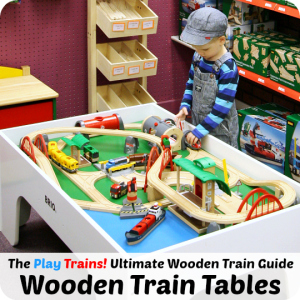 The Best Wooden Train Tables for Toddlers and Preschoolers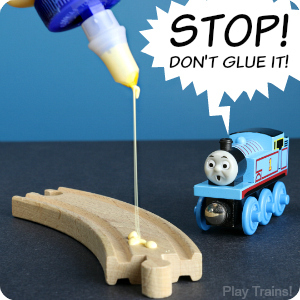 Alternatives to Gluing Wooden Train Tracks to a Train Table
More Outdoor Train Play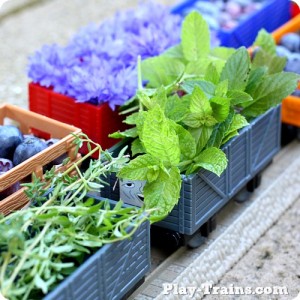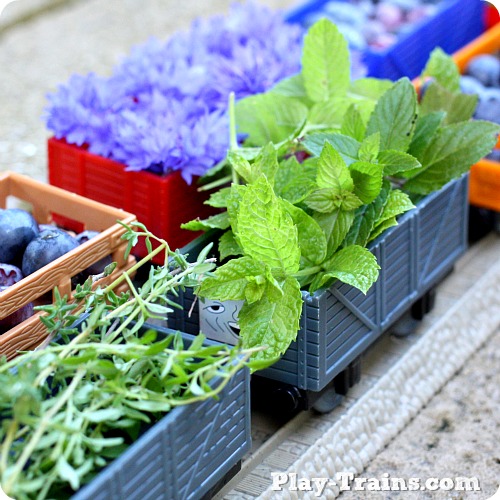 Natural Freight for Toy Trains: Summer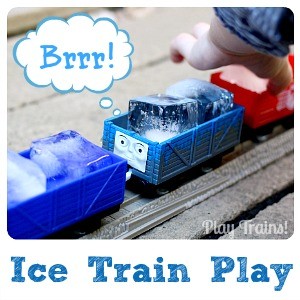 Ice Train Play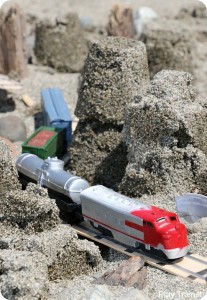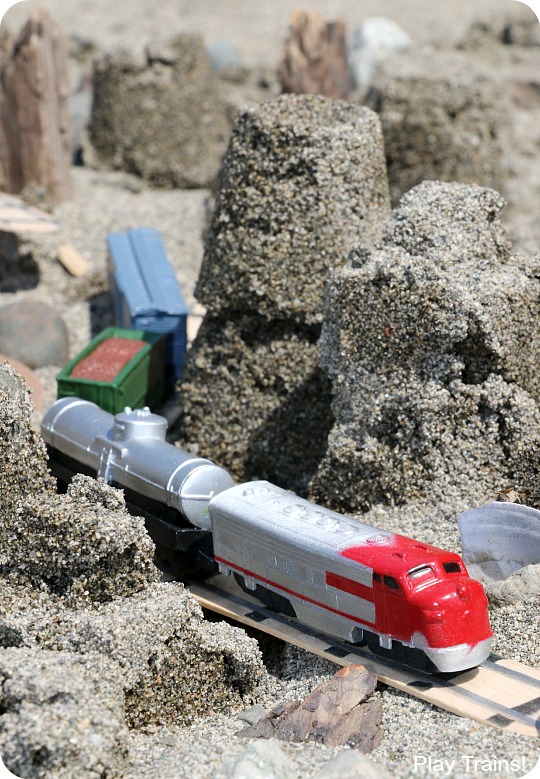 Custom Mini Sand Play Set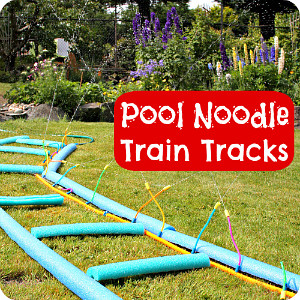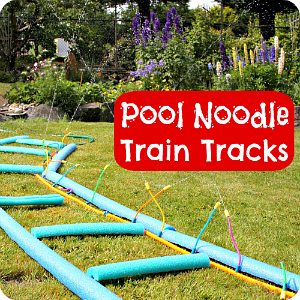 Pool Noodle Train Tracks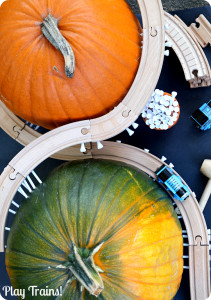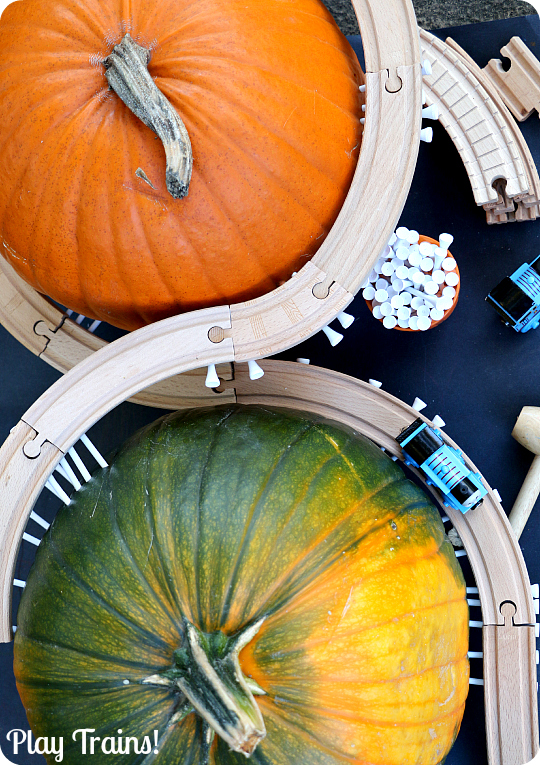 Pumpkin Mountain Wooden Train Railroad Building
More DIY Train Projects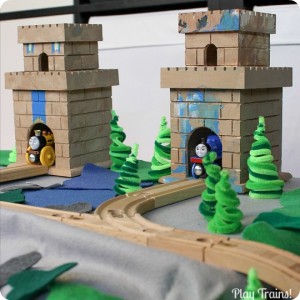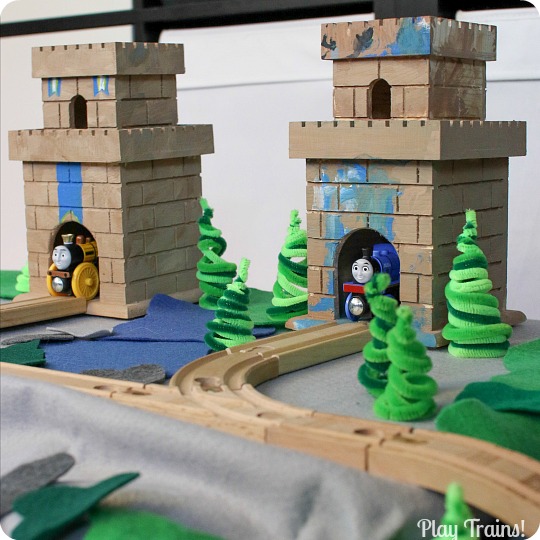 DIY Wooden Train Castles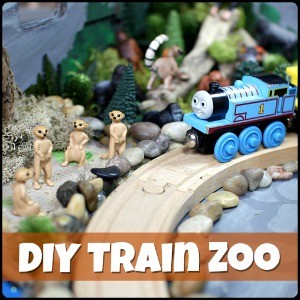 DIY Zoo Train Set for Wooden Trains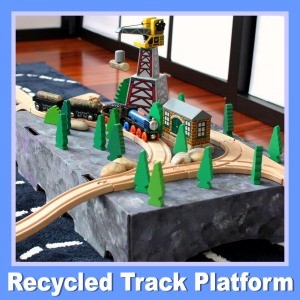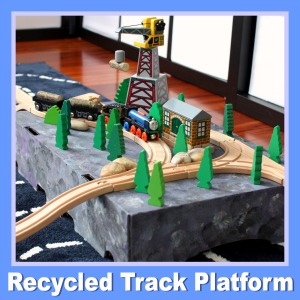 Recycled Track Platform for Wooden Train Layout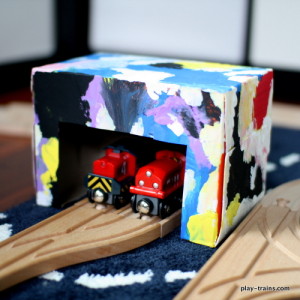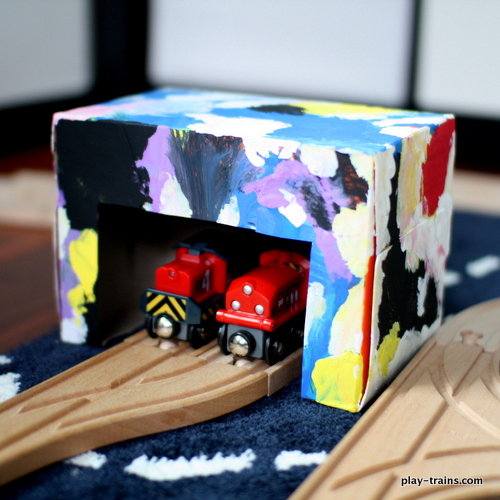 Dryer Sheet Box Engine Shed
More Train Garden Inspiration
We've kept our train garden intentionally simple so far for the sake of versatility, but there are so many fun things you can do with garden small worlds — check out these fairy garden and outdoor small world posts for more ideas!
Make a Terrarium Fairy Garden from Twodaloo
Our Fairy Garden from Buggy and Buddy
Not a Fairy Garden — a Dinosaur Garden! from Fun at Home with Kids
Fairy Garden from Tinkerlab
Small World Play: Gnome and Fairy Garden from Where Imagination Grows
Simple Small Worlds: Farm World from Fun at Home with Kids
How to Make a Fairy Garden from Nurture Store
Fairy Garden Play Dough from Fantastic Fun and Learning
In the Fairy Garden…a Very Magical DIY for Kids from My Small Potatoes
DIY Car Track Rocks from Playtivities
Small World Pretend Play in the Great Outdoors from Sugar Aunts
Quick & Easy Fairy House Craft for Kids from No Time for Flash Cards
Let's Build a Fairy Garden Table! from Inner Child Fun
How to Make a Fairy Garden that Children Will Love from The Magic Onions
Make Your Own Fairy Garden from Happiness is Homemade
DIY Mini Tire Swing from Paging Fun Mums
Making a Fairy Garden from The Imagination Tree
Simple Small Worlds: Insect World from Fun at Home with Kids
Small Worlds and Fairy Gardens from Happy Hooligans
Magic Fairy Painted Rocks and Storage Tower from Twodaloo
Making Fairy Houses with Boys from Boy Mama Teacher Mama
Fairy Door Craft for Kids from Fireflies and Mudpies