If you're anything like me, you probably find it hard to resist a great deal on a wooden train set. I usually glance at any toy sale Amazon has to see if there are any good train deals that I can pass on to my readers, but in this case I was truly shocked at how many of our favorite trains and train sets were on the list for exceptionally good prices. I searched through all the toys and discovered some spectacular deals on wooden trains and other toy trains, including the lowest price I've ever seen on one of the best wooden train sets ever. Look below to see what I found, including great deals on Brio trains, Green Toys trains, and more!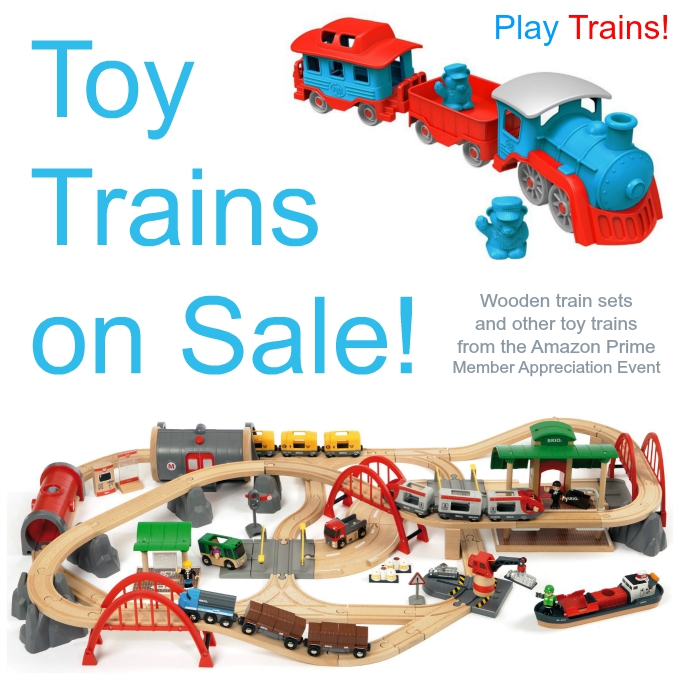 This post contains links to Amazon.com. If you click on one, we will receive a small commission, at no additional cost to you, on anything you buy at Amazon for a certain length of time afterwards. Read our disclosure policy for more details.
Amazon is holding a Prime member appreciation event from 8/24/15 to 9/6/15. According to their website, Prime members can "use the code TOYS2015 to save an additional 30% on hundreds of eligible toys in select colors and styles, for up to $100 in total savings." Edit: the sale has now ended. (But I still recommend the trains listed below!)
If you're not already a Prime member, don't worry — you can get a 30-day Free Trial of Amazon Prime here! I read the fine print and made sure that the free trial would work for this event, and it does.
Brio
The most exciting deal I found is the lowest price I've ever seen on the Brio Deluxe Railway Set. It's already being offered for one of best prices it goes for on Amazon (I've been watching it for the past two years), and the 30% off comes off of that low price. This is a can't miss deal!
UPDATE: As of this morning (8/27/15), it looks like Amazon is sold out of this set, and the code doesn't work for products sold by third-party sellers. However, there are so many other sets on sale…check the list below! If you're looking in particular for a large train set, try the Brio Cargo Railway Deluxe Set or the Brio Travel Switching Set.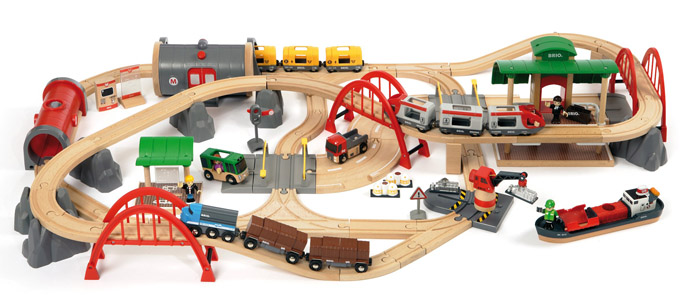 The Brio Deluxe Railway Set has been one of the most popular wooden train sets purchased through our Guide to the Best Wooden Train Sets. As I said there, if you're looking for an all-in-one set with enough variety, durability, and playability to last a childhood (or several), the Brio Deluxe Railway Set fits that description perfectly. As someone who loves to build complicated wooden train layouts, I am incredibly impressed by the design of this layout: in the space of a standard-sized train table, the Brio designers have managed to fit an elevated/above ground passenger train line, a subway line, a freight train route, a roadway that connects to the two-level transit station, and a seaport with the coolest cargo ship ever to be made for wooden trains.
In addition to the Deluxe Railway Set, it seems like nearly every current Brio train, train set, and train set accessory is also on sale. I have some birthday and Christmas shopping to get out of the way early…
Brio Train Sets
Brio Train Set Accessories and Destinations
Brio Trains
Green Toys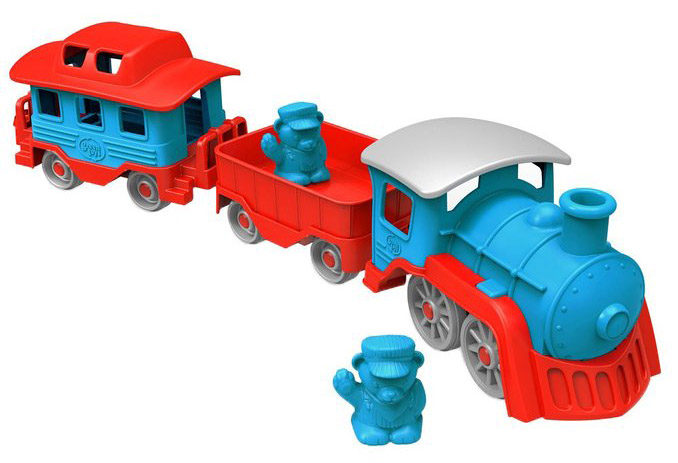 Another of our favorite brands, Green Toys, has a ton of their fantastic, eco- and kid-friendly toys on sale, including their Blue and Red Train and their Pink and Green Train. (As of writing this, the pink train is significantly cheaper than the blue one before the 30% discount.) These look like they're for only for toddlers — and they are perfect for toddlers — but at five-and-a-half years old, the Little Engineer has fun playing with his. My favorite thing about these trains is that they can hold much larger objects than most toy trains. Plus, they're perfect for outdoor play, and they're dishwasher safe and made from recycled milk jug plastic. One of these days we're going to use ours as a snack train! I highly recommend all of the Green Toys vehicles, and there are several of them on sale right now.
Block Trains and Pull Trains for Toddlers
I also spotted a few block trains and pull trains for toddlers: the Hape Fantasia Blocks Train, the Hape Early Explorer Triple Play Train Toy, and the Manhattan Toy Stack and Pull Train.
Train Play Tent
The Playhut Mickey Mouse Train is also on sale.