The Little Engineer loves dark chocolate so much it's been very easy to convince him not to eat any other kinds of candy. During last year's round of trick-or-treating, I had to point out that we could use non-chocolate candies for craft projects. It was the only way that he would politely accept them instead of thrusting them back at the giver with a loud, "No, thank you!"
That's one of the many reason I'm thrilled to be partnering with some really awesome bloggers in the Candy Activities for Kids series. With Halloween coming up again, we'll need some fun ways to use up his candy without eating it, and I've been enjoying all of the amazing ideas for learning and creating with candy this week!  Today's theme is Learning with Candy, so I thought it would be fun to play a new version of our Dice Cars Train Math Game with a few changes along the way. Make sure you check out the links at the bottom of this post to the other blogs' Learning with Candy posts from the series as well!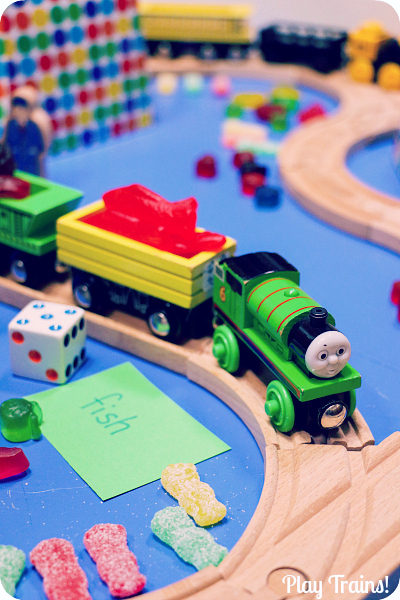 Candy Train Game
The first thing you need to play this game is, of course, candy! I looked around for some that would look like actual freight or passengers for the trains and ended up with fish (Swedish Fish), birds (Angry Birds Fruit Gummies), fruit (Jolly Rancher gummies, though I would have preferred Fruit Runts), and kids (Sour Patch Kids). Candy pumpkins and candy corn would also work well, but really you could use any kind of candy and pretend it was one type of object or another.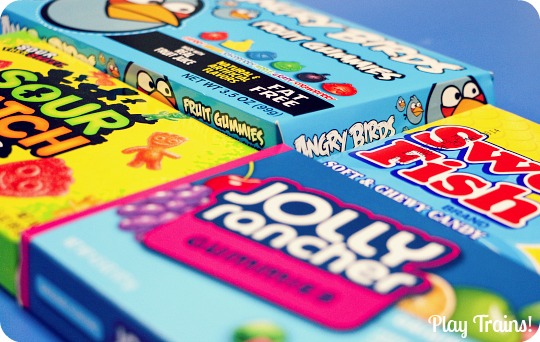 I built a simple train layout on our little train table and added three colorful storage containers, turned upside down to act as stations. On top of each one, I stuck a Post-It note with a letter written on it. Then I tucked some cards I'd quickly made beneath the Post-It note: the green cards had the different kinds of freight written on them, and the yellow ones had letters that corresponded with the other stations. I also scattered the candy all along the train tracks.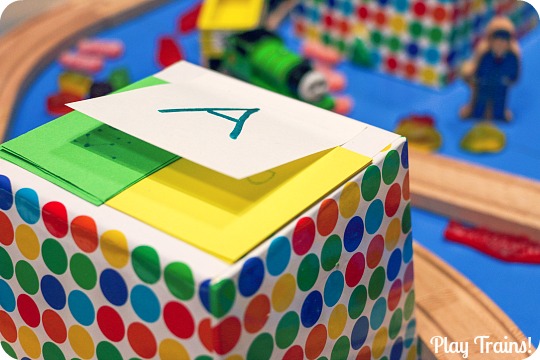 I put dice and a stationmaster in the middle of the table to give the trains' their orders. All of our Sir Topham Hatts were missing at the time, or I would have had him come and order the trains around.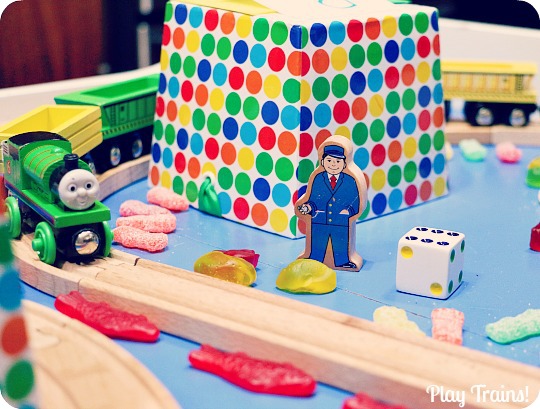 Speaking of trains, I put some engines and freight cars on the tracks, and then we were ready to go.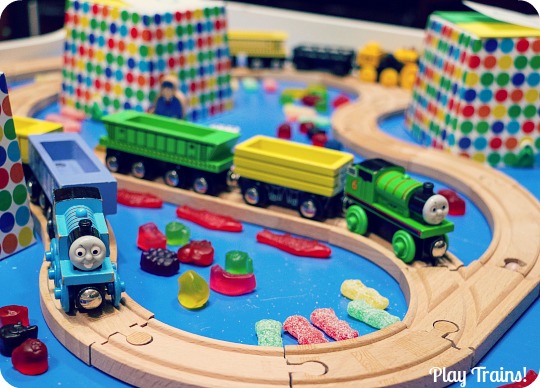 The Little Engineer was a bit wary of the whole set up at first, due to his confusion at the artificially-colored candy being in the house. But once he saw the Angry Birds and learned that we were going to use the candy as freight, he was very enthusiastic to hear all about what we were going to do.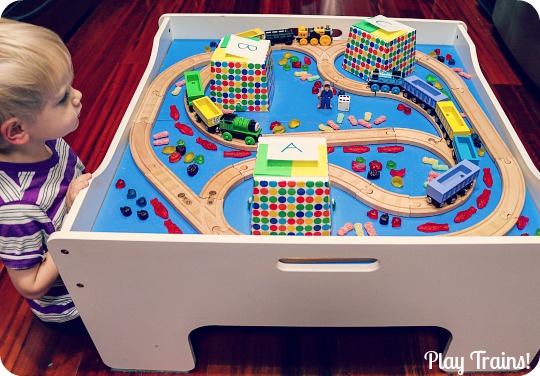 The idea of the game is very simple: first, drive your train to a station. Pick a yellow card and a green card to learn what freight your train is going to pull to which station. Then roll a die to find out how many pieces of freight to collect. Drive around the tracks, find that number of freight, and take it to the station.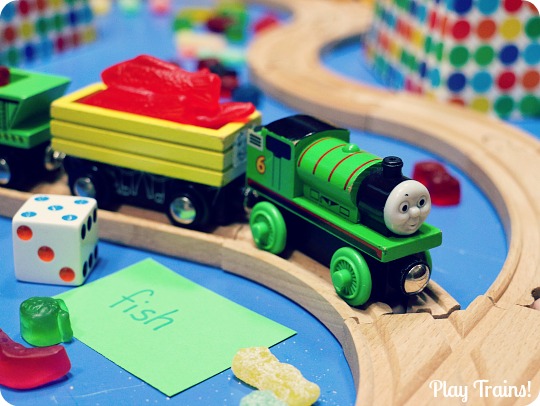 The Little Engineer looked through the cards to find "birds" and Station B (B for birds, of course). Curious as to what all the cards said, he sounded out some of the words on the cards. He enjoyed arranging the gummies on top of the stations when he got to them. He also had fun renaming the stations. I gave him the Post-It notes and a marker, and he wrote his own letters to cover up the original ones.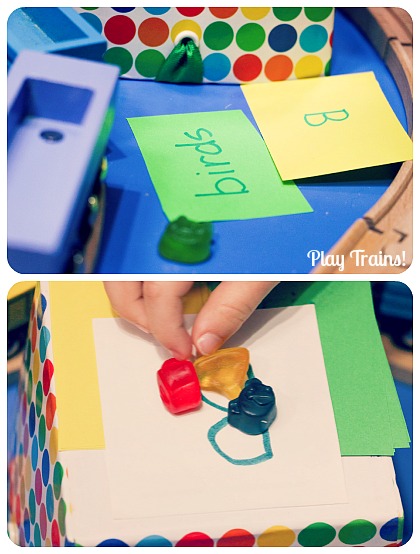 He asked me to play beside him and checked in with what my train was doing. We both told stories as our trains chuffed around the track, doing their jobs. We played the game for a lot longer than I expected, so it was definitely a success! I think he really liked the idea of the trains getting orders from the stationmaster, even if he was searching through the cards to get the ones he wanted.
During the course of playing, I went and found some smaller dice to mark the numbers we rolled, and we carried them along with the cards that had our orders on them in extra freight cars.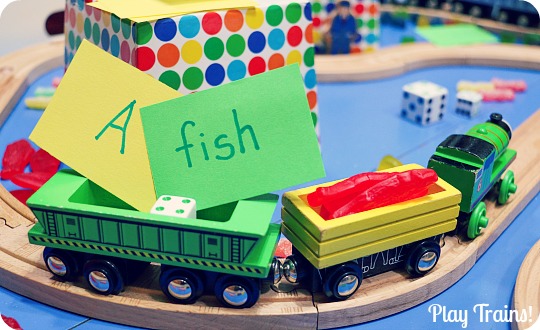 All in all, it was a fun game that provided inspiration for storytelling, while bringing in a little bit of learning while we played!
Looking for more creative train activities for YOUR kids?
Grab a copy of Old Tracks, New Tricks! In the fun, rhyming story, three creative little wooden train tracks stand up to the bossy trains and teach the whole train set that old tracks — and trains! — can learn new tricks. Full instructions for the 20+ "track-tivities" in the story are included in the back of the book, along with an illustrated guide to teach kids how to create their own "track tricks." You can find tons of extension activities at the Old Tracks, New Tricks website!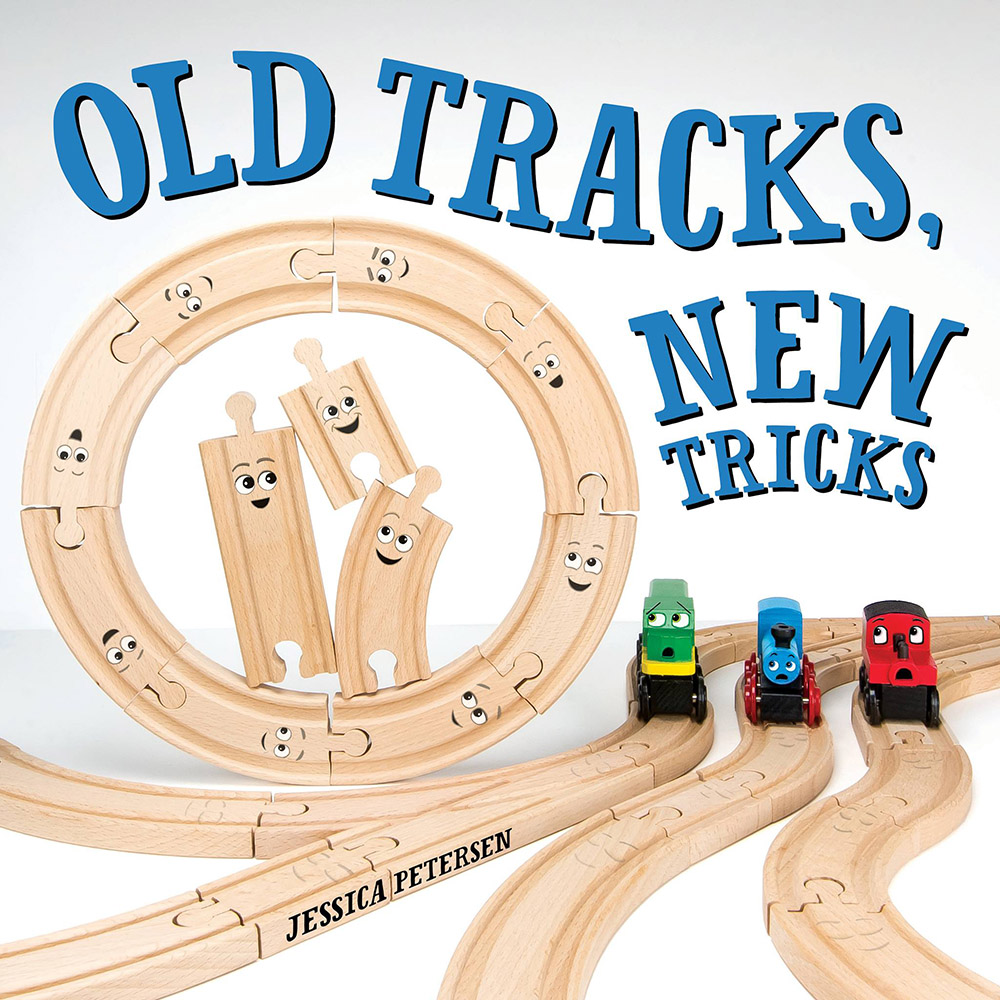 For more ideas for Learning with Candy, make sure to visit the other posts on this theme from the Candy Activities for Kids series:
Candy Corn Counting and Math from Reading Confetti
Spelling with M&M's from Inspiration Laboratories
Math Games with Candy from Learn Play Imagine
Pixy Stix Learning Tray from Housing a Forest
SweeTart Sorting & Graphing from Mama. Papa. Bubba.
Learning with Licorice from Blog Me Mom
Free Printable Flashcards for Addition with Jellybeans from Mama Miss