Looking for a great place to take your child to play trains in Tacoma, Washington? Learning Sprout Toys is one of our favorite toy stores, with classic and innovative toys set up to explore everywhere you look. It's well worth the drive down from Seattle to play with their three — three! — different wooden train tables. And that's only the beginning of the hands-on fun you'll find throughout the store.
The Little Engineer was so excited to take all of you on a tour of all his favorite train stuff in the store. Even if you don't live in the area, scroll through the pretty photos and you might get a few toy ideas for your favorite young train fan.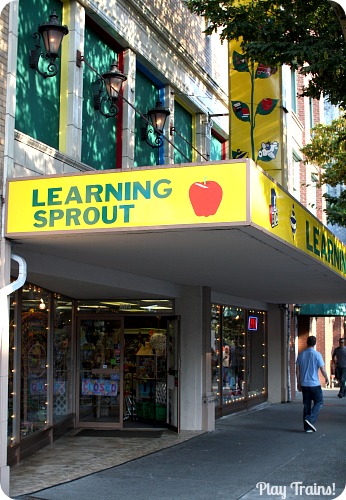 For those of you who do not live in the area, this post contains links to Amazon.com. Clicking on one means we would receive a small commission — at no cost to you! — on any of your purchases from their site for a certain amount of time afterwards. However, if possible, I encourage you to buy from a local toy store like Learning Sprout…these magical places deserve our support! Speaking of which, I'm writing this post simply out of love for this store…the only thing they've given us is a wonderful place to play.
There really are wonderful, classic toys to play with everywhere you look at Learning Sprout: doll houses, play kitchens, light-up building toys, gear sets, play cash registers, marble runs — you name it, it's there. But, of course, the train tables are our favorite part.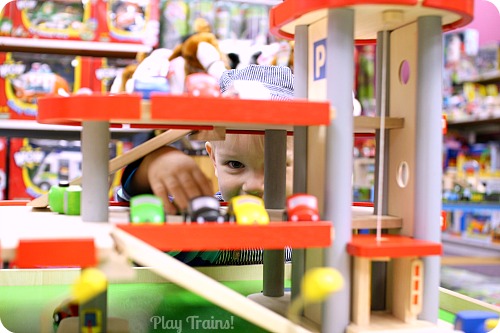 The store is a great place to try out wooden trains and figure out which brand you prefer.  Each of their three train tables represents a different brand of wooden trains: Thomas Wooden Railway, Brio, and Plan Toys. Better yet, the train tables all feature some of the latest products from these brands.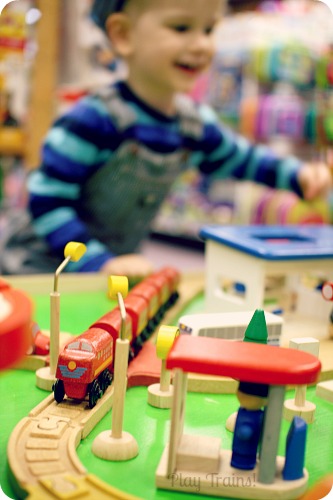 The Little Engineer's favorite is the Plan Toys table, partially because we only own one of their trains. One of the first little train sets I bought for him was a Plan Toys set, and I didn't like their track at the time. However, this train table opened my eyes to the fact that they've completely changed their track, and it looks like it would work a lot better now. And I appreciate that they've added a railroad tie detail to the track.
Here you can see the whole layout on the Plan Toys table, with the Thomas & Friends table in the background (it's the new Thomas table that we've seen around various toy and book stores this year).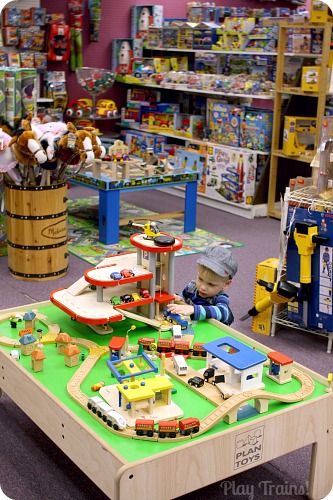 Over by the Brio table, you'll find plenty of Thomas toys…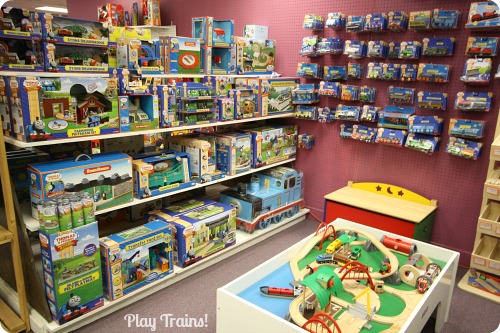 …plus a whole wall of Brio wooden trains.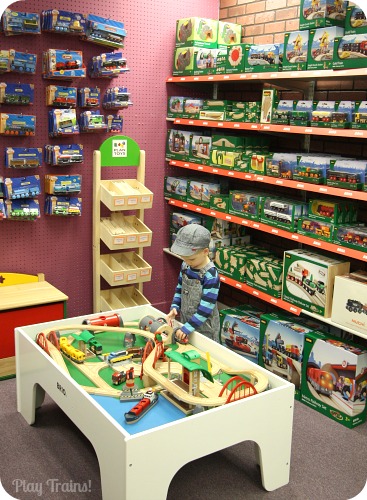 The Brio table has a lot of our favorite Brio pieces, including the beloved Brio train ferry.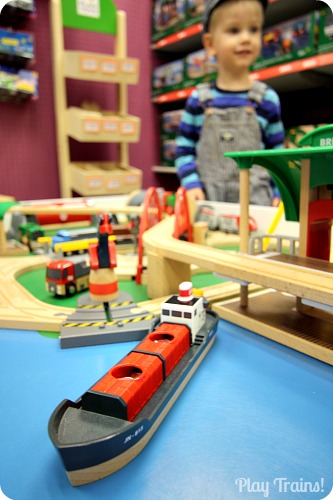 Near the Thomas table, you can find this shelf of handsome metal engines.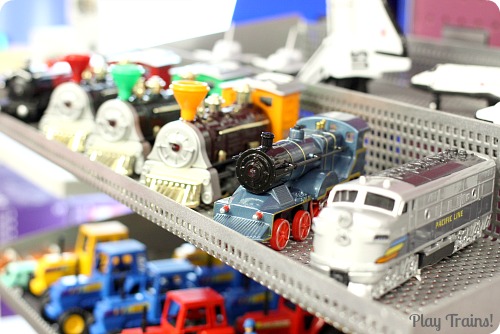 And we spotted (and played with, in some cases) these train toys throughout the store: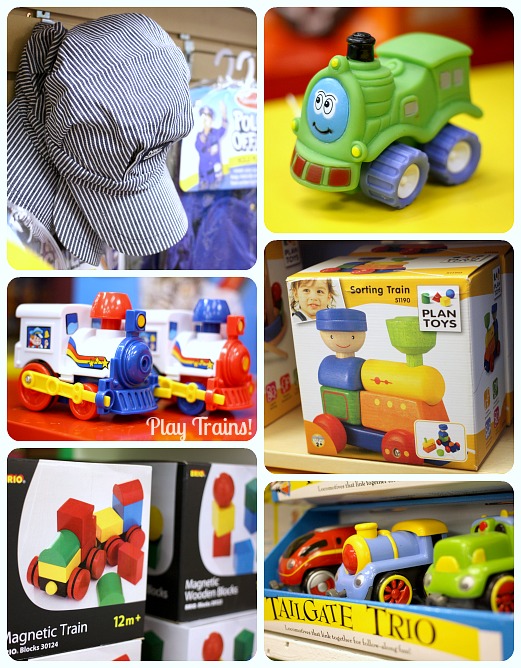 A few of the toys pictured: Plan Toys Sorting Train, Tailgate Trio, Brio Magnetic Train.
If you live in the Tacoma area or  plan to visit, I encourage you to make a trip to The Learning Sprout with your child! Just make sure to budget plenty of time to play.
(253) 274-0136
809 Pacific Avenue
Tacoma, Washington 98402