Last week, I showed you a couple of fun tricks for combining LEGO with wooden trains: one for getting minifigures to ride wooden trains without falling off, and one for temporarily turning wooden trains into LEGO wooden trains that can be customized any way a child can imagine. Today, I wanted to show you one way we've combined a full LEGO set with wooden trains and tracks. This LEGO Ewok Village wooden train layout is definitely one of the most fun things we've done with either type of toy!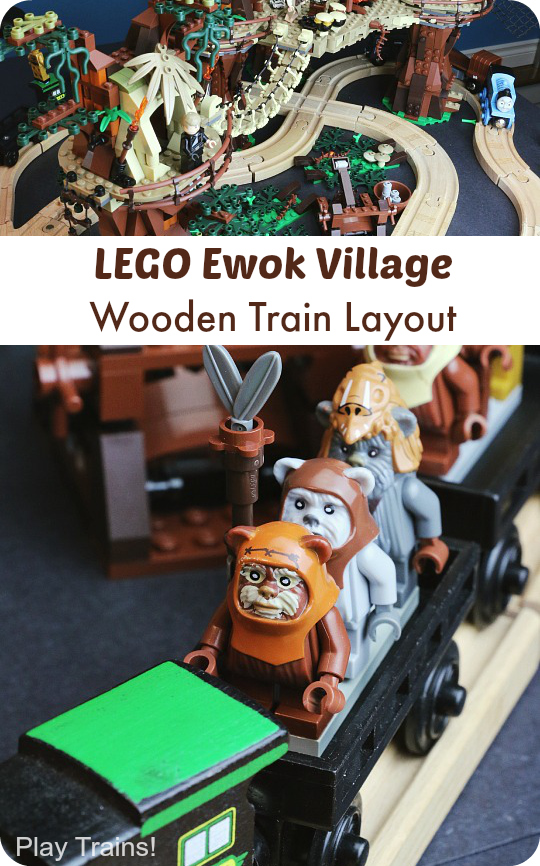 This post contains links to Amazon.com. If you click on one, we will receive a small commission — at no additional cost to you — on anything you buy at Amazon for a certain length of time afterwards. Read our disclosure policy for more details.
LEGO Trains: Activities and Ideas
LEGO Minifigures + Wooden Trains: Tips and Tricks
Design Your Own LEGO Wooden Train
LEGO Ewok Village Wooden Train Layout
Make-Your-Own Play Dough Train Set with Duplo Bricks
Mini Lego Hogwarts Express: The Perfect Train for New Builders
So, I'm going to start out with a confession: I'm the one who got the LEGO Ewok Village set for my birthday this year. As the Little Engineer has gotten increasingly obsessed with LEGO, I've been right there with him. So occasionally we acquire sets that I would particularly like to assemble and play with him.
It was fascinating for me to see how the designers made toy bricks look as organic as they do in this set. But once I had it all put together, all I could think of was how perfect it would be for running wooden train tracks around and between those tree trunks.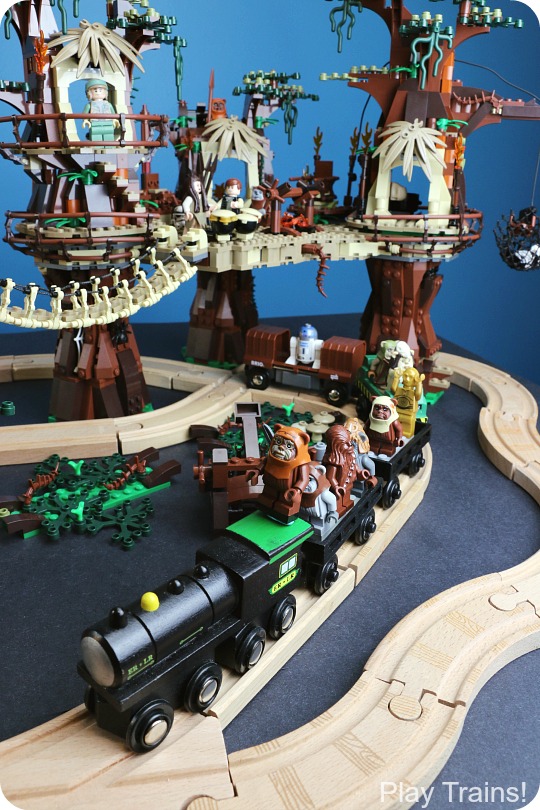 Pretty much any LEGO set of any size can be combined with wooden trains to make a fun layout. And I'm guessing I'm not the only parent (or generous older sibling) out there with an awesome LEGO set that could be worked into a wooden train layout. So I encourage you to use what you have! I'm sure we'll be showing you some other LEGO-wooden train combinations in the weeks to come.
But the Ewok Village set worked especially well with the trains. It didn't take long at all to figure out how to make a little track layout to go through the village, though I will note that a crossing track really helped keep things compact and interesting. I liked having the two intersecting loops. With two people playing, it was possible to keep out of each other's way or purposefully get in each other's way (or crash!), depending on what the Little Engineer wanted to do.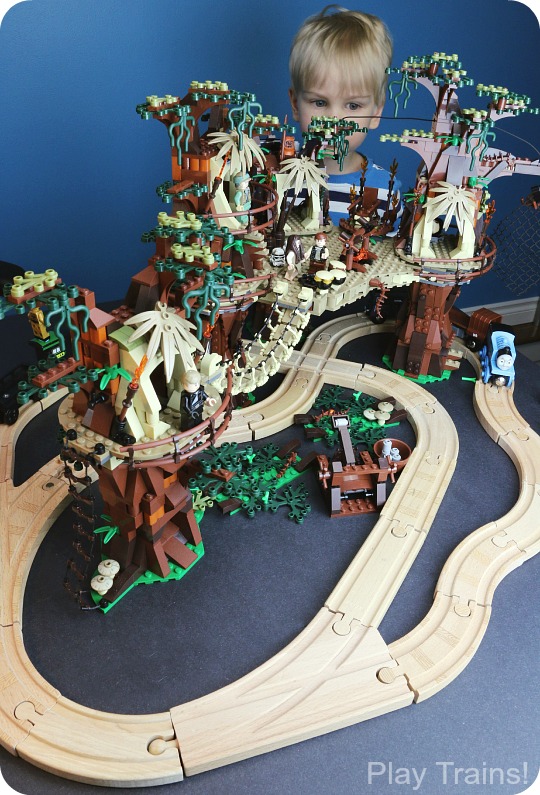 As soon as the Little Engineer saw the layout, he started talking in that high, fast, happy voice that tells me that the ideas are flowing and his imagination has been sparked. Once again, this proved to me how awesome it can be to combine old favorite toys with new obsessions: it makes both kinds of toy more interesting, and new stories and play patterns emerge almost instantly. It reminds me a lot of some of the exercises I do as a writer. Our imaginations love to find a way to connect seemingly unconnected things and ideas.
That said, there was something that felt right about having old steam engines chuffing through this forest world. We made trains of "yub yubs" as he was calling them (not that he doesn't call them Ewoks…he just thinks "yub yub" is funny to say!) using the minifigure trick I mentioned above.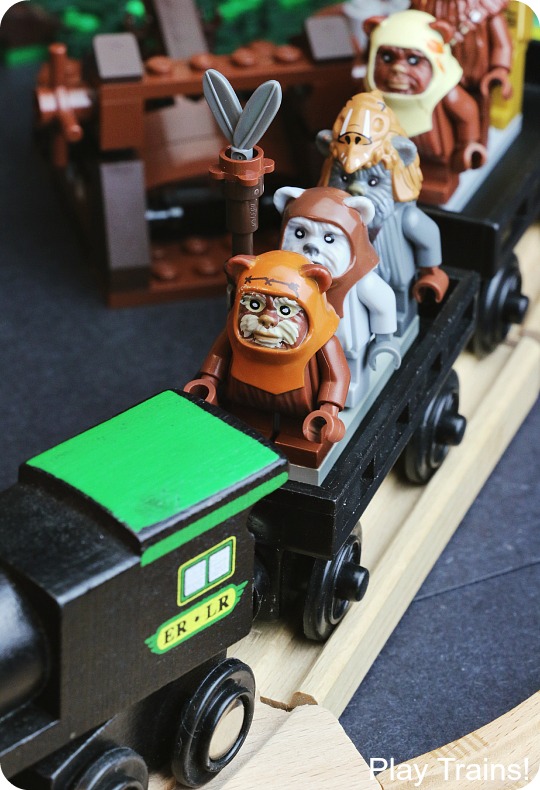 The Ewoks even convinced C-3PO to go for a ride!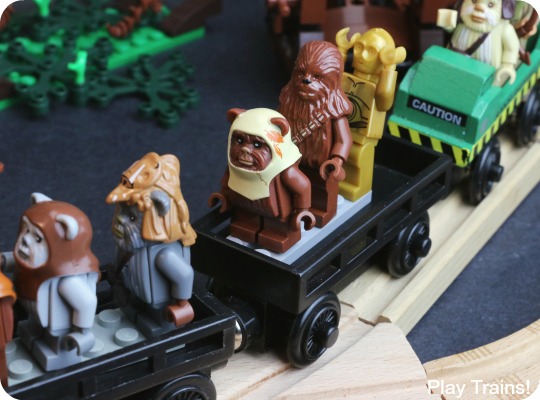 Another variation on that trick is to use the same method to attach a small LEGO vehicle — in this case, a scout trooper's speeder — to a wooden train flat car. Not only did this allow us to drive the speeder around the track; it also lifted the speeder up to be in prime log-trap territory.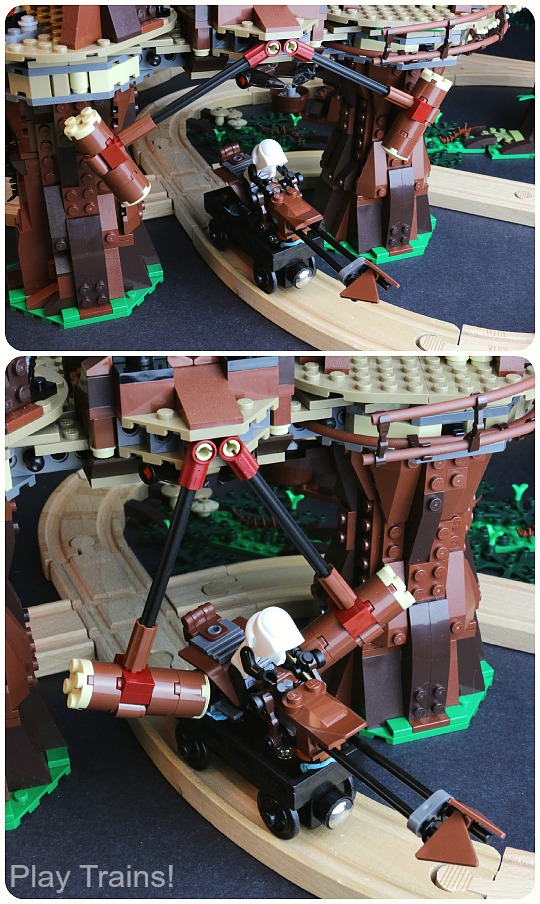 The Little Engineer saw that I'd put "Beepy" (a.k.a. R2-D2; apparently he was into the cutesy nicknames that day) into a Brio boxcar and immediately disassembled him and put him back in the boxcar, so he could be hauled to another location for the Ewoks to put him back together. He repeated that several times throughout the afternoon.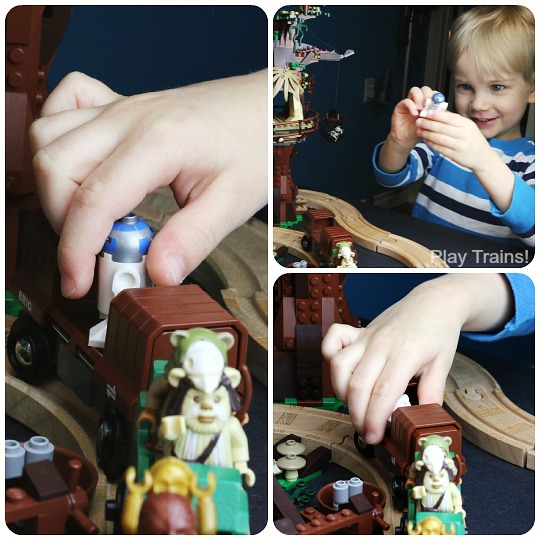 He also soon replaced the plain black steam engine I originally put on the tracks with Thomas, because Thomas wanted to be the "Yub Yub Express."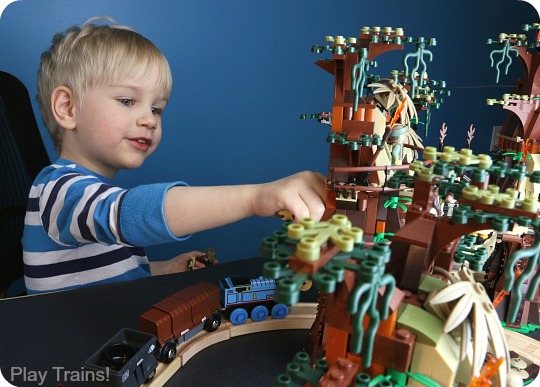 Then, he wanted to play "Cooking with Yub Yubs." We've been on a pretend play cooking show kick of late, so I guess the Ewoks had to have one, too.
The Ewok Village set comes with a number of little LEGO vegetables. The Little Engineer would drive the train to one part of the village, load up the food and the little LEGO pot that comes with the set, and then drive it around to the tree where the kitchen is. The net trap can then be used as a crane to lift the food up to the kitchen, but fingers are faster!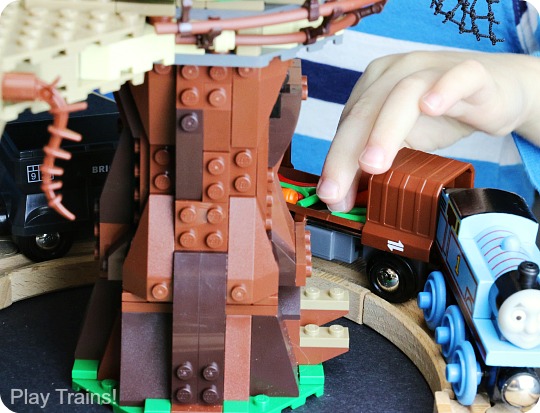 And then there were more rides for the Ewoks and their friends.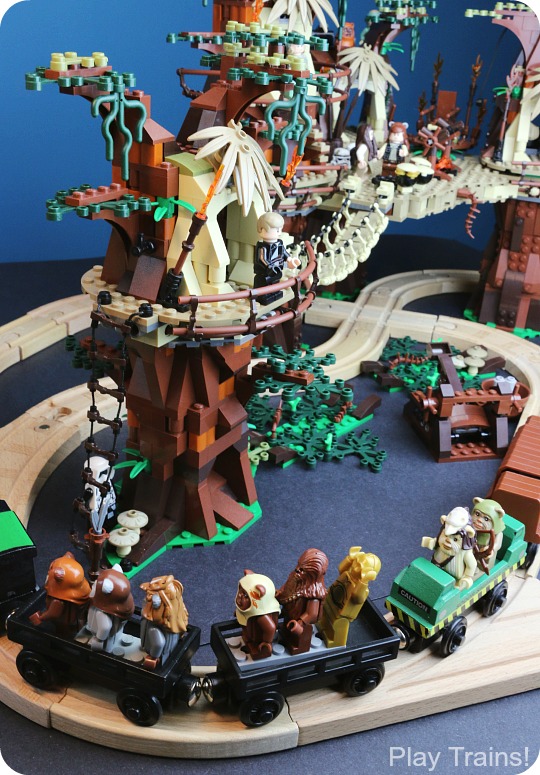 It must not have been too distressing, because C-3PO even gave one of the engines a test drive.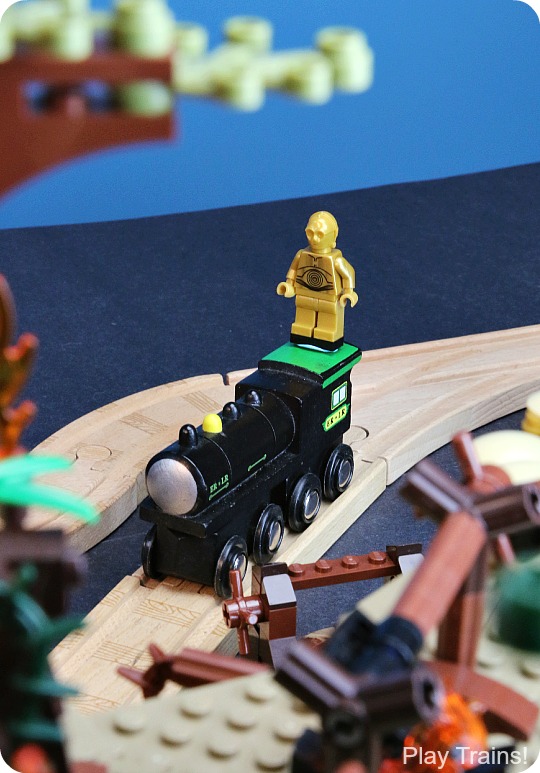 Meanwhile, I had fun setting up some scenes in the treetop village. There was plenty for multiple people to do, playing together.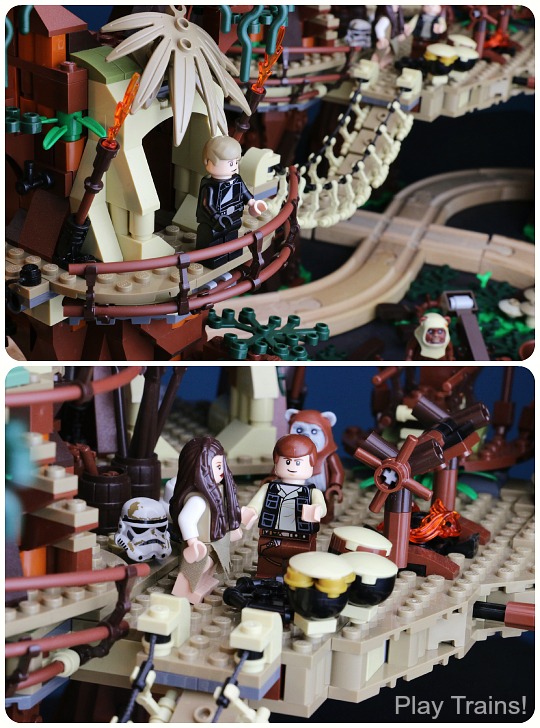 So, that's our LEGO Ewok Village wooden train layout! We had so much fun playing with it, I left it up on my desk for a week before daring to move it to another location. The Little Engineer would come in to distract me from my writing and end up playing with the set while I worked until I could get to a stopping point and join in.
One thing I don't have a picture of is the many visits Fawkes — one of the LEGO wooden trains the Little Engineer and I designed together — made to Ewok Village. If you read my post about the LEGO wooden trains, you saw that Fawkes the Phoenix Train had a tendency to light things on fire. The Little Engineer soon brought him over to the Ewok Village train layout, and Fawkes "accidentally" lit the trees on fire over, and over, and over again. Which gave Wicket — or Yub Yub, if we were feeling like using nicknames — many opportunities to save the day by putting out the fire with his water gun. Hilarious, and so much fun!
More Activities
I'm going to share some more fun activities that combine LEGO bricks and trains below, but if your child loves LEGO Star Wars in particular, my friend Mary Catherine over at Fun-a-Day! posted the coolest activity last week: Rescue Han Solo! LEGO Star Wars Science. Her Engineer and my Little Engineer have very similar interests, so it's always fun to see what they're up to!
And for any Star Wars fan, our DIY Light-up Mini Lightsabers are a super fun craft that's perfect for pretend play: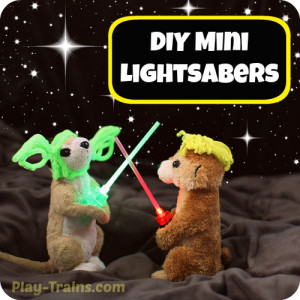 More LEGO fun with trains: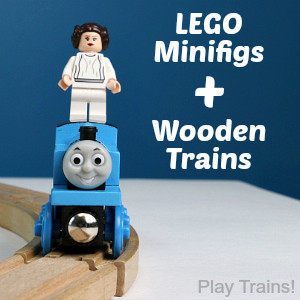 LEGO Minifigures + Wooden Trains: Tips and Tricks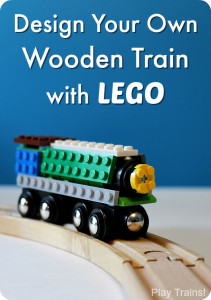 Design Your Own LEGO Wooden Train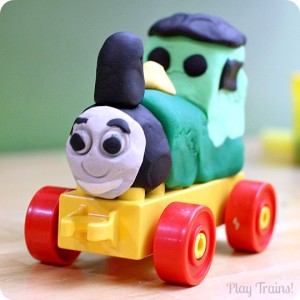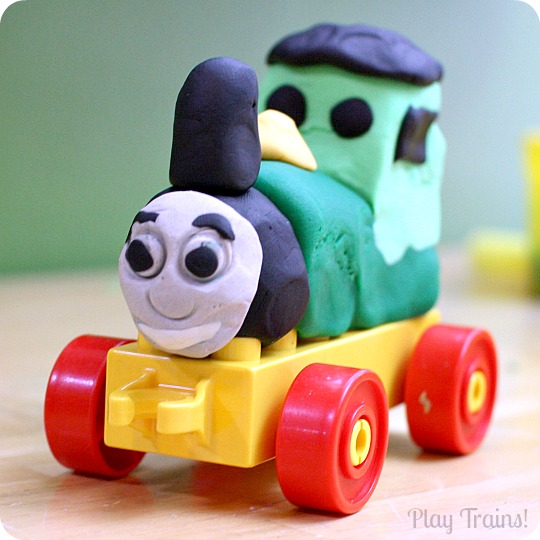 Make-Your-Own Play Dough Train Set with Duplo Bricks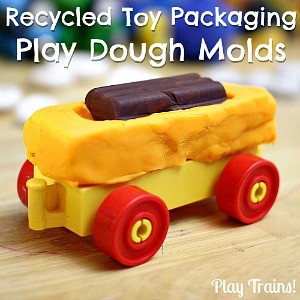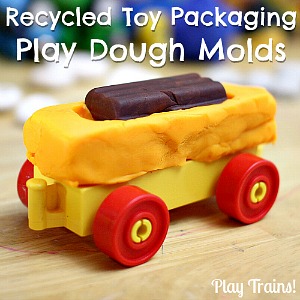 Recycled Toy Packaging Play Dough Molds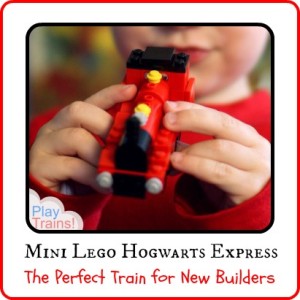 Mini Lego Hogwarts Express: The Perfect Train for New Builders