Ikea has a new Woodland theme for children's bedroom textiles this year, and the play rug is perfect for wooden train layouts.
The VANDRING SPÅR rug depicts a woodland stream and the banks on either side of it.   Underneath a wooden track layout–particularly if you span it with bridges–the stream becomes a river, and the patches of earth, grass and sand suggest different areas of land.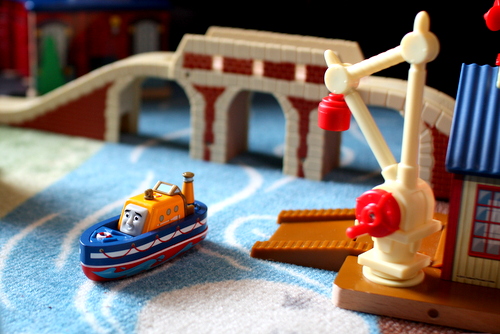 While there a number of elements–animal tracks, mushrooms, flowers–that seem like they'd distract from the overall effect, these sort of melt into the surroundings.  The tree stumps would make great construction sites.
The rug is 4 feet, 4 inches square, large enough for a decent layout.  Put two together side-by-side if you have a bigger collection of track like we do.  With a pair of rugs, you can rotate them in relation to each other to create different patters of land and water.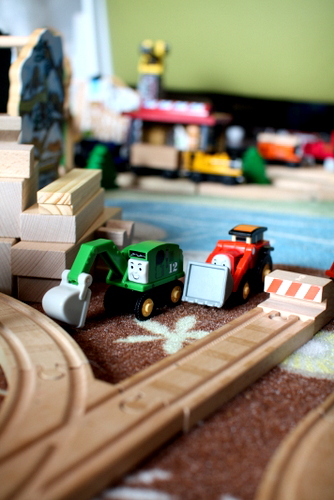 One of my son's favorite parts of this layout we made on our rugs is the "dirt" area, with
Alfie
(the excavator) and
Jack
(the front loader).  I put a stack of building blocks there and a track that engines can back freight cars down to be loaded with dirt, and these two characters who usually get ignored at our house have been very busy this week.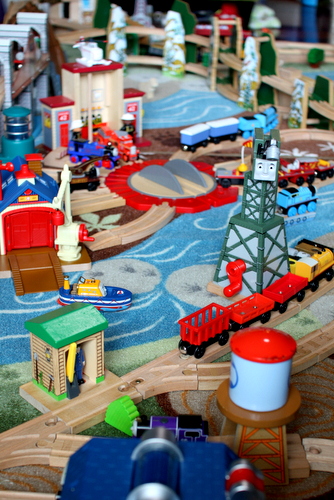 Here are a few elements that look especially good on this play rug:
Melissa & Doug Skyline Suspension Bridge
A very impressive and sturdy bridge.  Definitely a step above their other wooden train products.
Thomas And Belle to the Rescue
This set comes with a stable and very good-looking bridge, despite the fact that it's mostly plastic.  And it comes with Belle, who really is a beautiful engine.
This set really needs some "water" beneath it to look it's best.  I really enjoy launching him out of the shed.  Oh, and so does the Little Engineer.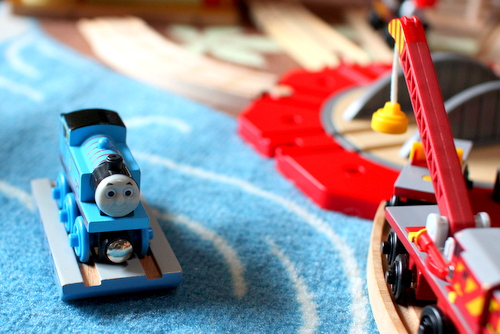 This Thomas is called "Sea Bound Thomas" on the actual engine.  While during the moment in the movie that this recreates Thomas is just worried and scared, he looks to me like he's suffering from sea sickness.  Either way, it's a change of pace from Thomas' usual beaming smile, and with an army of grinning Thomas clones in our collection, a bit of variety is good.  It's fun to have him floating down the river on his raft.