One day, when we had nothing better to do, the Little Engineer and I decided to find a new train table to go play at.
Our living room floor may be covered in track, but a train table at a bookstore or toy store has its own special magic.  Even when it's the same standardized layout, over and over, or the train selection is lacking or non-existant.  But I was hoping to find something more fun, and after a bit of Googling we drove to Mockingbird Books.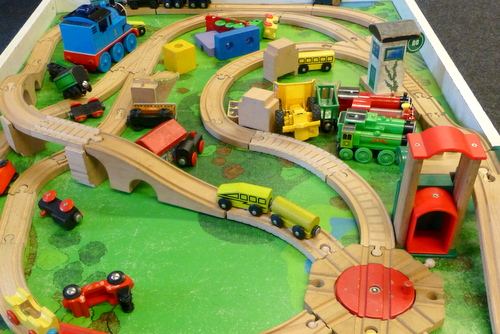 The train table at the bookstore featured an eclectic mix of well-loved wooden trains, track, and destinations, everything from Thomas to Brio, Ikea to…well, if someone can tell me what brand made that blocky car carrier in the picture below, I'd like to track one down.  The trains were worn, but the Little Engineer didn't care.  He was excited to play with Oliver, despite a missing pair of wheels, and pointed out that the Flying Scotsman–whose paint had rubbed off his face, was "sleeping."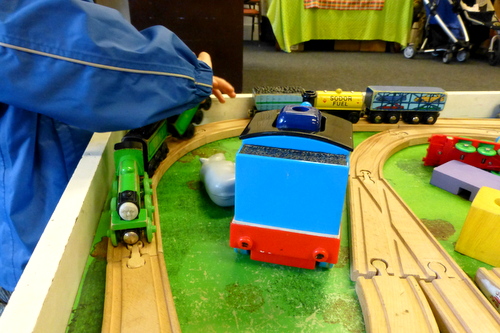 I loved that the track wasn't glued down to the board.  In fact, the rolling bins beneath the table were full of track, and I occupied myself with improving the layout while I was there.  It felt like we'd gone to a relative's house and someone had pulled a treasure box full of train stuff out of the attic, just for us to explore.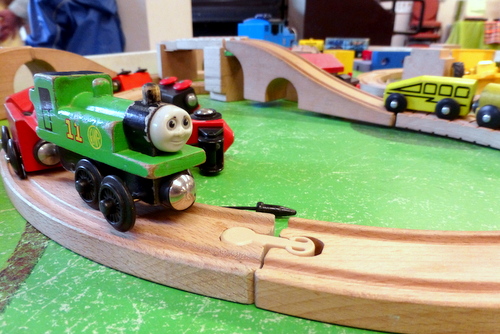 The bookstore itself was charming, and the people there were very friendly.  Other than the train table, there were a couple of other activity tables, and a cafe with snacks.  We came partway through their storytime (11 am everyday, except Sundays).  I'm not sure the Little Engineer heard a word of it, so intent was he on the trains, but I certainly enjoyed it.  I picked up one of the few train books we didn't already have, and there were even shelves of adult fiction and young adult/teen fantasy for me to browse right there by the train table.
All in all, a great choice for both me and the little guy.  And it's right by Whole Foods, so it makes a great enticement for him to get out the door and go grocery shopping with me
[box type="shadow"]Mockingbird Books
7220 Woodlawn Avenue Northeast, Seattle, WA 98115
(206) 518-5886 ‎
[/box]
[facebook] [retweet]