Here are some fun train gift tags for DIY advent calendars! I made them in two different color schemes — Festive Train colors and Thomas & Friends Engine colors — so that these trains can count down to Christmas for Thomas fans and regular train fans alike. Just download the free printable train advent calendar gift tags below, print them off, and cut them out, and they're ready to attach to your DIY advent calendar gifts. And as each day's gift is opened, the numbered trains can be hung on a Christmas tree as ornaments.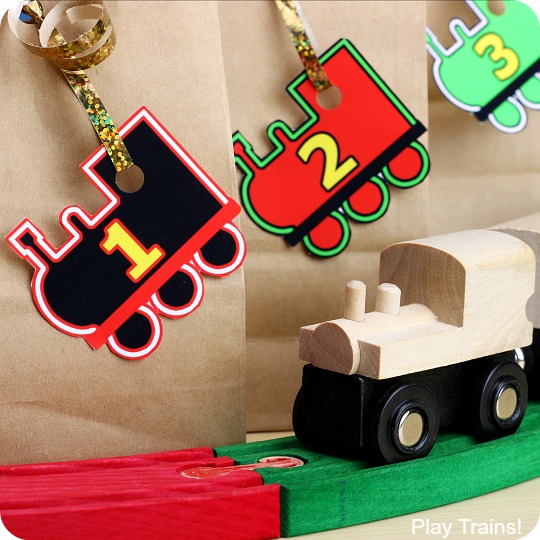 If you're looking for train toys to put in your DIY advent calendar, make sure you take a look at our list of Train Advent Calendar Gifts.
---
Thomas & Friends Advent Calendar Gift Tags
---
I did my best to make the color of each train match its number's counterpart on Thomas & Friends. I did have to improvise for all of the numbers after 11, except for 14 (Charlie) and 22 (Luke).
---
Festive Train Advent Calendar Gift Tags
---
---
Now that you have the tags taken care of, check out our list of tiny train goodies for advent calendars. And with Christmas on your mind, you might be interested in our recommendations for the best wooden train sets and train tables.