Aebleskivers — those plump, tasty breakfast treats you may know as Danish round pancakes — are a beloved tradition in our family. My husband's family makes and eats them together on Christmas and Easter morning and on other special occasions. I've made a point to extend the tradition to the Little Engineer's birthday.
Invariably, he wants to eat aebleskivers on a somewhat regular basis after that, so I decided to make my own healthier version of our family aebleskiver recipe. These 100% whole wheat aebleskivers don't seem to suffer from taking the white flour out of the recipe, thanks to the type of whole wheat flour I use, and perhaps a little help from the slight modifications to the mixing method I made when I was in pastry school.
This recipe accompanies the Holiday Breakfast Train activity I wrote about for the Christmas Play Days series. It's an extra fun way to serve this delicious breakfast!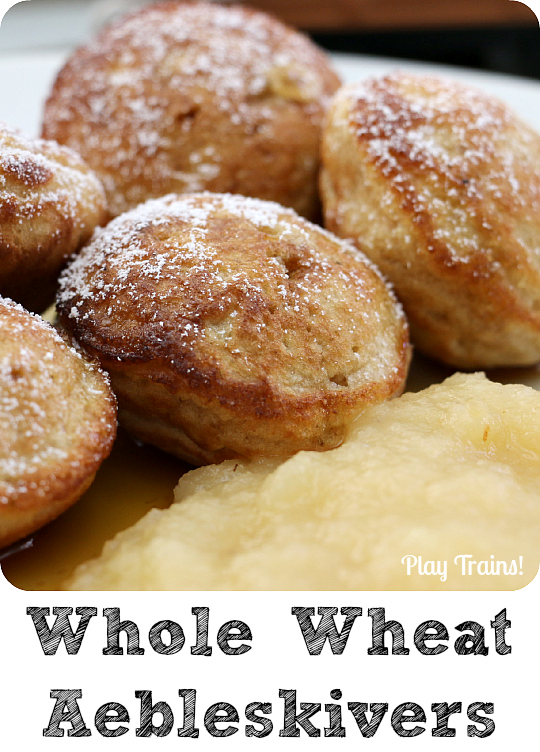 This post contains links to Amazon.com. If you click on one, we will receive a small commission — at no additional cost to you — on anything you buy at Amazon for a certain length of time afterwards. Read our disclosure policy for more details.
While on a road trip to the ocean when my husband and I were first dating, we somehow ended up on the topic of family wedding traditions. I think it started by one of us pointing out that if we got married, we could have both of our fathers do the ceremony (we're both preacher's kids), which would (and eventually did) solve my problem of wanting to married by and escorted down the aisle by my dad. Then Chris told me that his family always gave an aebleskiver pan to the bride at family weddings. I'm sure I laughed when I told him, "I already have one!"
My family isn't Danish, but my mom is Swedish and Norwegian, and she has always been interested in her Scandinavian heritage. We often went to the local Scandinavian festival. We always loved the aebleskivers served there, so one year we bought a pan. We had only made them at home a few times when that conversation with my then-future husband took place, but still, I had one. And that is one of the many ways I knew Chris and I were meant for each other.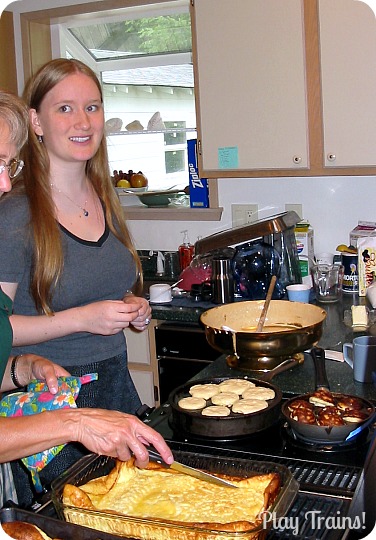 There I am — with really long hair, wow — making aebleskivers at the brunch we had the day after our wedding over a decade ago. I may have already had an aebleskiver pan, but when I married into the family, I received a great aebleskiver recipe and hands-on lessons in how to make them. When I went to pastry school, I used what I learned there to slightly modify the mixing method for the recipe. I'm not sure how much of a difference my little improvements make, but I did get complimented on how light my aebleskivers were by Chris' grandmother right after I started making them that way, so they certainly don't hurt!
Then the Little Engineer came along. He's been eating aebleskivers with gusto since the Christmas that came right after his first birthday. When he turned two, we started a tradition of making them together for his birthday breakfast.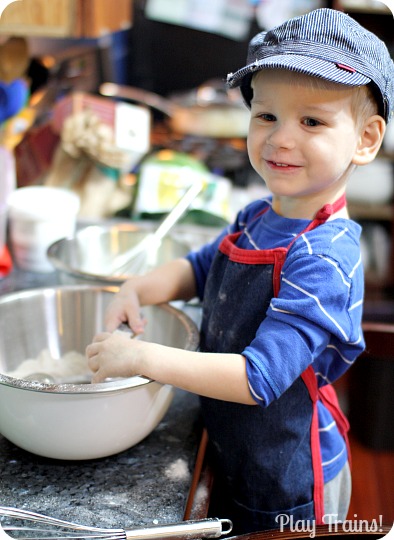 After we made aebleskivers on the morning of his third birthday, he started asking to make them on other, regular days. I knew I didn't want to be feeding him white flour on an every day basis, so I decided to make them with whole wheat flour. I was afraid they'd be very dense, instead of light and springy, but thanks to our always keeping white whole wheat flour around the house, they turned out delicious as always. I'm sure they're a little more dense than the white flour ones, but I haven't been able to tell much of a difference between mine and the ones we eat at other family members' houses.
One thing I have yet to master is how to make my aebleskivers as beautifully round as they should be. But after watching this video from Solvang Restaurant, famous for their aebleskivers, I have hope that I might be able to do it this Christmas! I'll give some extremely basic instructions in the recipe, but really, watch the video. I can't wait to try it.
Whole Wheat Aebleskivers
Based on the Danish Aebleskiver of Elizabeth Andersen, passed down through Clairbell Petersen (the Little Engineer's great grandma)
Ingredients
6 eggs, separated
2 cups buttermilk
1/2 tsp salt
2 Tablespoons sugar, separated
2 1/4 cups white whole wheat flour (we like King Arthur Flour or Bob's Red Mill)
1 tsp baking soda
1 tsp baking powder
High-heat canola oil, for cooking
Set the aebleskiver pan over medium high heat. Melt the butter and set aside.
Whisk the egg yolks, salt, buttermilk, and 1 tablespoon of the sugar together in a mixing bowl. Sift the flour, baking soda, and baking powder together. Add the dry ingredient mixture to the mixing bowl and stir to combine, taking care not to over-mix the batter. Add the melted butter, and stir again.
Beat the egg whites with egg beaters or the whisk attachment of a stand mixer, sprinkling on the other tablespoon of sugar as they foam up. Beat until they are just about to form truly stiff peaks.
Add about a quarter of the beaten egg whites to the egg yolk mixture and stir them in to lighten the batter. Then fold the rest of the egg whites in gently, until they're just incorporated.
Pour a little oil into each of the wells. Scoop batter into each of the wells, filling them almost to the top. Use a bamboo skewer or a cake tester to turn them over (see the video above for the proper technique). Cook until the aebleskivers are nice and golden, and a skewer stuck into one comes out with crumbs instead of batter.
We eat ours with applesauce and maple syrup, and sometimes raspberries and blueberries. We also like stirring fresh blueberries into the batter in the summertime.
Now that you know how to make aebleskivers, come see the most fun way to serve them: an aebleskiver train!