While we were creating and playing with the story cups we made for our light boxes, the Little Engineer particularly seemed to enjoy stacking two or three cups to make little scenes — the sun cup over a blue sky cup, for example. That gave me the idea to make these stacking tree cups for light play. It's a great way to explore how nature changes from season to season while playing at a light table or light box. The Little Engineer loved being able to change between the four seasons just by changing the cups!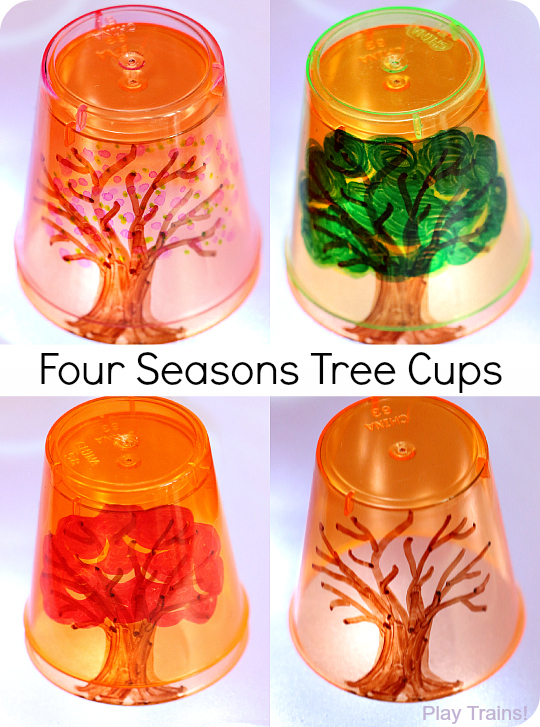 This post contains links to Amazon.com. If you click on one, we will receive a small commission — at no additional cost to you — on anything you buy at Amazon for a certain length of time afterwards. Read our disclosure policy for more details.
Materials needed:
Directions:
1. First, make the Winter Tree. Draw a bare, winter tree on a cup in brown permanent marker.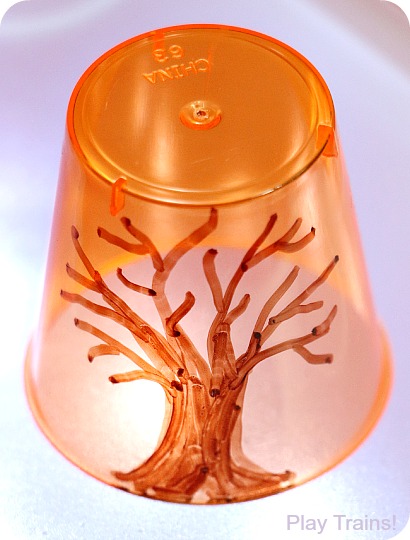 2. To make the Spring Tree, place another cup — I chose pink — over the Winter Tree cup. Use dots of pink and spring green permanent marker to draw the cherry blossoms and leaf buds over the branches of the Winter Tree.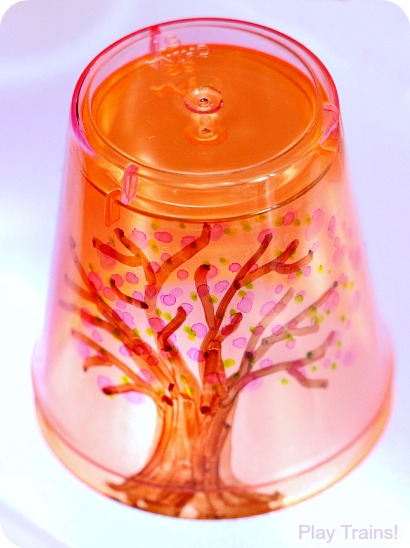 3. Next, make the Summer Tree. Remove the Spring Tree cup, and place another cup — this time, green — over the Winter Tree. Use a green permanent marker to draw the leaves.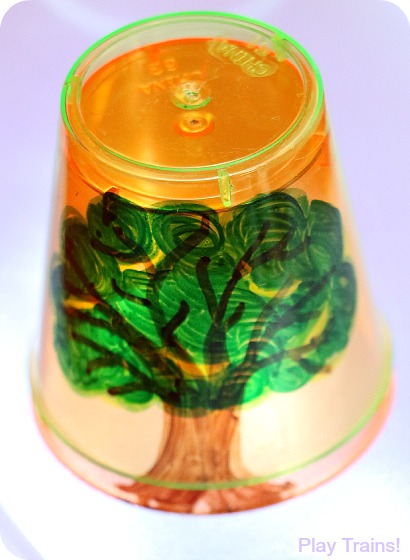 4. Finally, make the Autumn Tree. Take the Summer Tree cup off and put an orange cup on the Winter Tree. Use red permanent marker to draw the leaves for the Autumn Tree in roughly the same shape as the Summer Tree's leaves.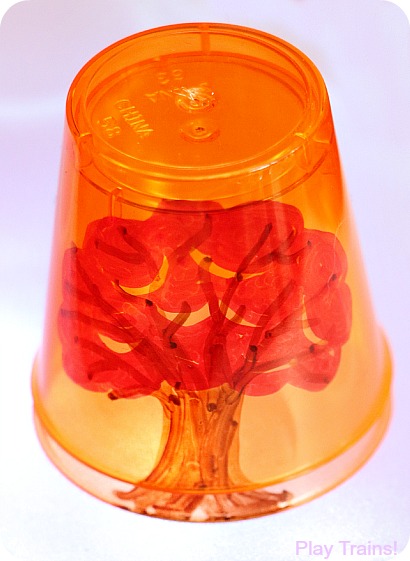 Then the only thing left to do is play with them with your child! We talked about the changes a tree goes through during the year, and how the cycle starts over year after year. We have a cherry tree in our back yard, so I reminded him about how we'd made a tunnel with it's pink-blossomed branches in spring, how its branches shade our deck and house in summer, how the leaves fall in autumn.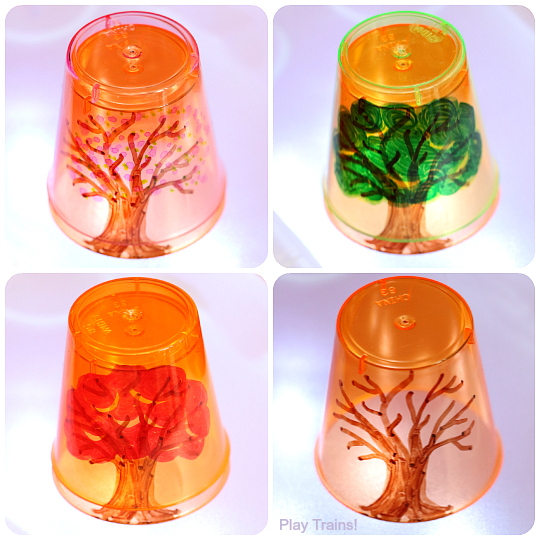 For more ideas for story cups, make sure to read the first post I wrote about them. They've inspired so much pretend play at our house!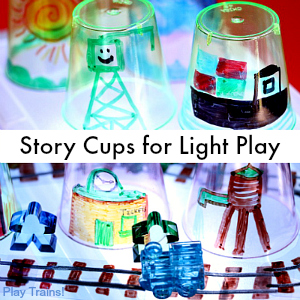 Looking for more creative train activities for YOUR kids?
Grab a copy of Old Tracks, New Tricks! In the fun, rhyming story, three creative little wooden train tracks stand up to the bossy trains and teach the whole train set that old tracks — and trains! — can learn new tricks. Full instructions for the 20+ "track-tivities" in the story are included in the back of the book, along with an illustrated guide to teach kids how to create their own "track tricks." You can find tons of extension activities at the Old Tracks, New Tricks website!