After I came up with our tiny trains and tracks for light play, I wanted to have some kind of scenery to add to our mini light box train layouts. At about the same time, I saw this wonderful post about Alphabet Cups on the Light Box over at The Imagination Tree. We had plenty of the little plastic cups she used, but I hadn't thought of writing on them. I was immediately inspired to make these story cups for light play. While we used them as trackside scenery, you could draw anything on them!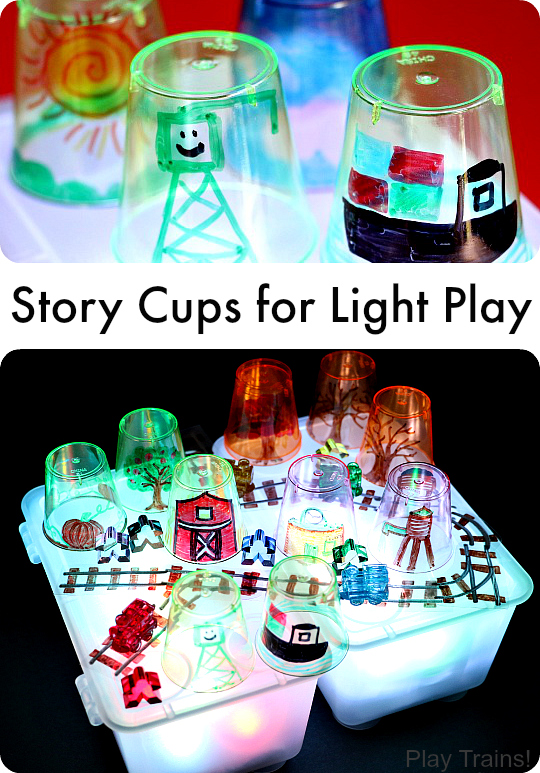 This post contains links to Amazon.com. If you click on one, we will receive a small commission — at no additional cost to you — on anything you buy at Amazon for a certain length of time afterwards. Read our disclosure policy for more details.
This is a fun craft to make with your kids as well as for them, as long as you're willing to let them use permanent markers! I'll be writing about what we did with the cups that the Little Engineer made soon.
Materials needed:
The great thing about using these story cups with our mini light boxes is that we can store them right inside the light box, making this a portable activity! And, because our boxes are waterproof, fun to take into the bath as well. Just be careful not to let the cups get lost at the bottom of a bathtub. If these cups get squished, they can break and potentially make sharp pieces of plastic, so make sure to supervise any activity using them.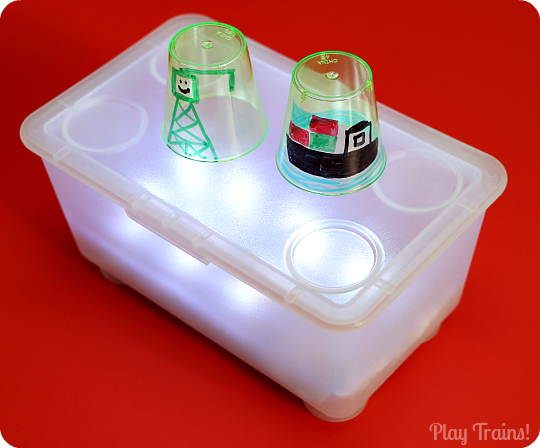 All you do is draw with the Sharpies right on the cups. It helps to keep in mind that kids are generally impressed by us adults drawing for them, no matter what your skill level is! My son was delighted by my super simple (and not cranky) rendition of Cranky the Crane above.
Here are a few suggestions for train-themed cups to make:
stations
water towers
coal hoppers
engine sheds
barns
trees
plants (we made these in October, hence the pumpkin patch!)
cranes
barges
clouds (outline the cloud on a cup — I think I used a pink one — and then color in everything but the cloud with a blue Sharpie)
the sun, moon, or stars
animals
quarries and mines
… and pretty much anything a train might roll past!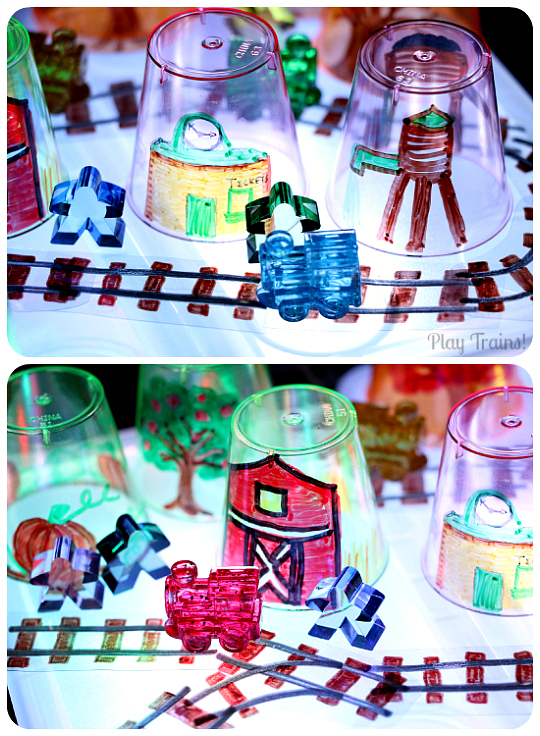 We combined them with our tiny trains and track for light play, and the little layout was so cute! We had a great time playing with it.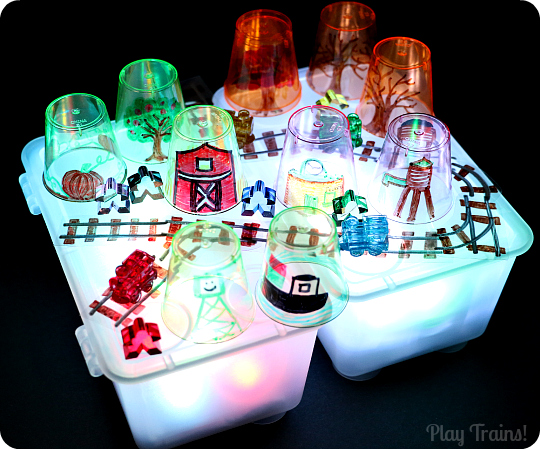 Here are a few close-ups for more inspiration…
A coal hopper in front of a blue sky with a few puffy white clouds: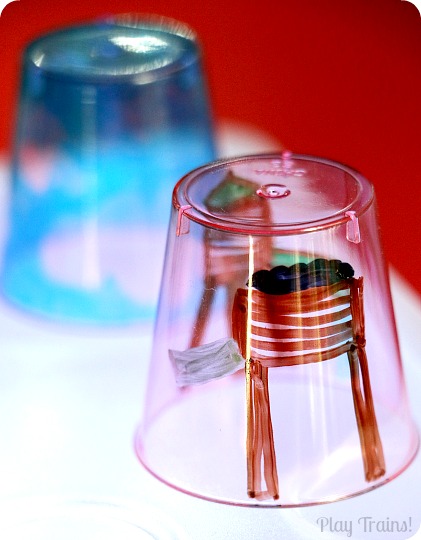 Cranky the Crane and a barge in front of blue sky and sun cups: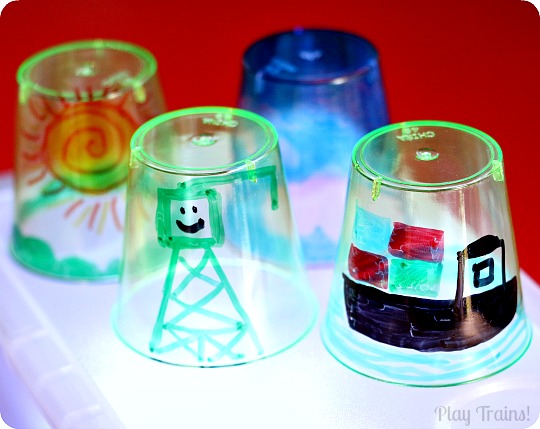 Our fall harvest farm cups, with the barn, pumpkin patch, and trees: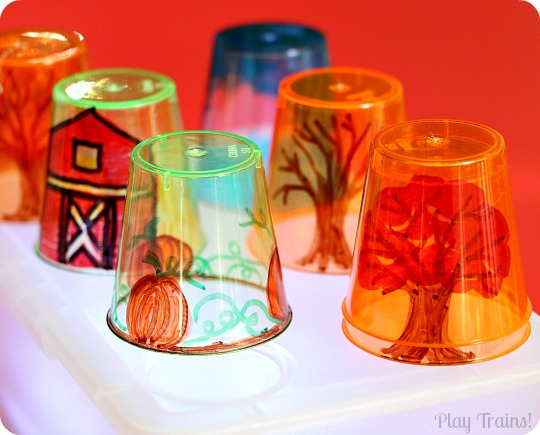 I've now written about another way we added to our light box scenery: Four Seasons Tree Cups for Light Play: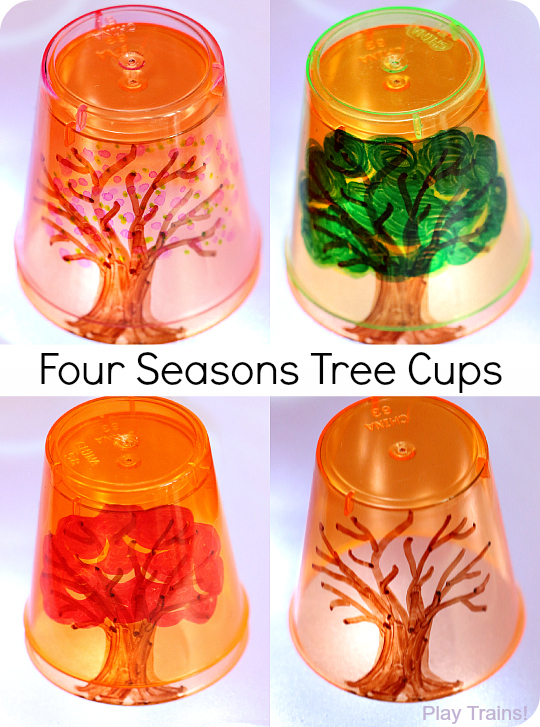 Looking for more creative train activities for YOUR kids?
Grab a copy of Old Tracks, New Tricks! In the fun, rhyming story, three creative little wooden train tracks stand up to the bossy trains and teach the whole train set that old tracks — and trains! — can learn new tricks. Full instructions for the 20+ "track-tivities" in the story are included in the back of the book, along with an illustrated guide to teach kids how to create their own "track tricks." You can find tons of extension activities at the Old Tracks, New Tricks website!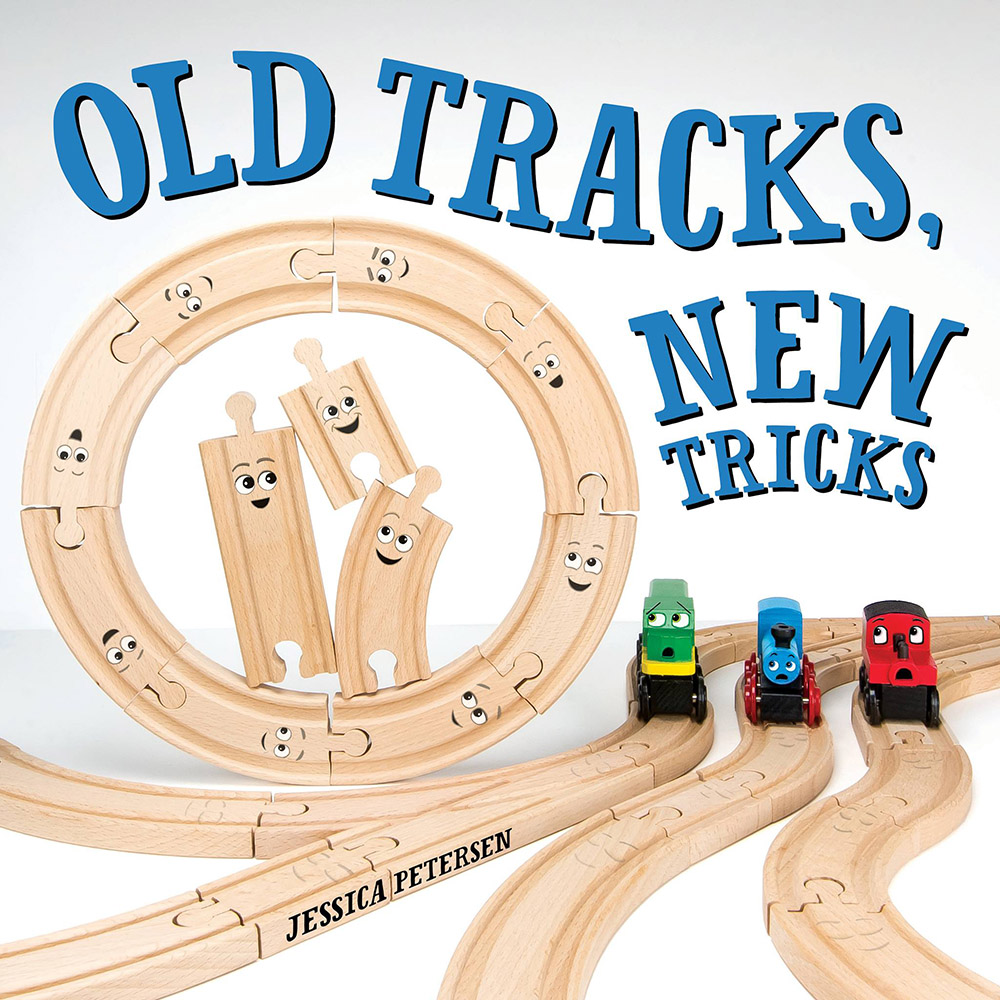 More Train Activities for Light Play
If you'd like to make your own mini light boxes like ours, or are looking for more train-themed light box or light table ideas, check out our other light box posts: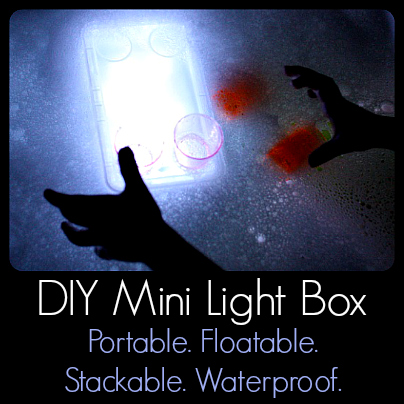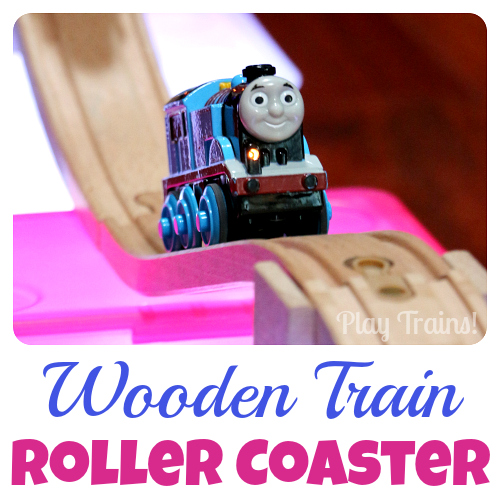 Building with Mini Light Boxes: Wooden Train Roller Coaster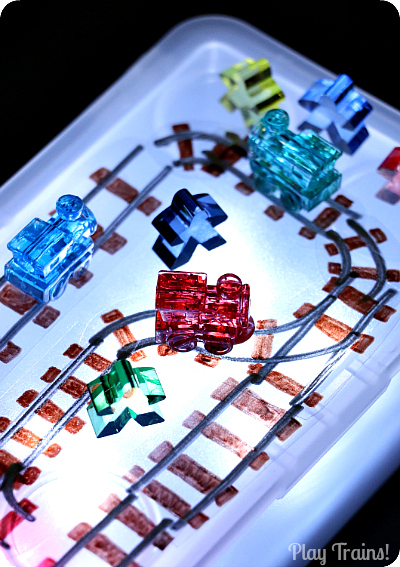 Trains and Tracks for Light Play