Even before we went on our play date with the Seattle Center Monorail, the Little Engineer had started playing a monorail version of Big Engine, his game where we pretend his bed is a locomotive.  As usual, one of his favorite parts to play was the ticket booth.
So when I saw all the cool stuff that came in his goodie bag from the kind people at the Seattle Monorail, I knew just what to do with it.  We decorated the ticket booth, and also expanded it to include a gift shop.
Even though I knew he'd love it, I was somewhat surprised by how much he loved it.  He really got into the game, even more than usual, and added so many new ideas of his own along the way.  He's asked to play it again since this first time.
We happened to have our official monorail stuff to use, but you could easily improvise most of it, which we've done for other pretend ticket booths in the past.  I'll share some ideas as to how to do that along the way.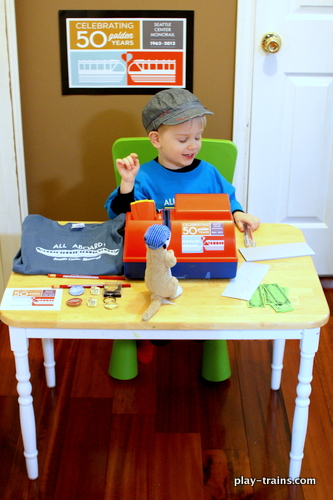 First, we set the scene.  The poster on the wall was what gave me the idea to suggest we play Monorail again in the first place.   If I'd thought of it before, it would have been fun to draw our own.  I also have a tourist map of downtown Seattle that we picked up for free one day at the real Seattle Monorail ticket booth, and that makes a good prop…when I can find it.  That's an easy thing to acquire for free or draw for yourself.
Another thing we've done is to make a list of ticket prices for different types of passengers (adults, kids, Angry Birds, meerkats, cats, etc.), with different prices for one way and round trips.  The Little Engineer set the ticket prices, and it was a lot of fun to have certain animals (in this case, some small Angry Birds) make a big deal about having to pay exorbitant prices in comparison other, larger animals.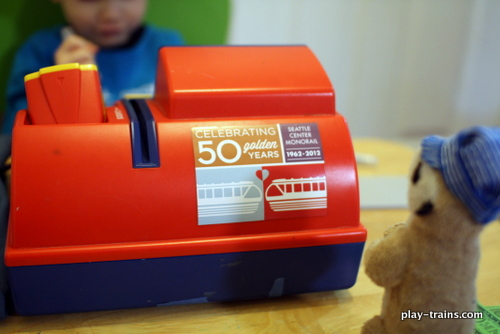 We also got a couple of these big stickers from the Seattle Monorail, so I put one on his toy cash register.  A little paper sign taped on could serve the same purpose, or a small rectangle of stick-on dry erase surface could be really fun, too.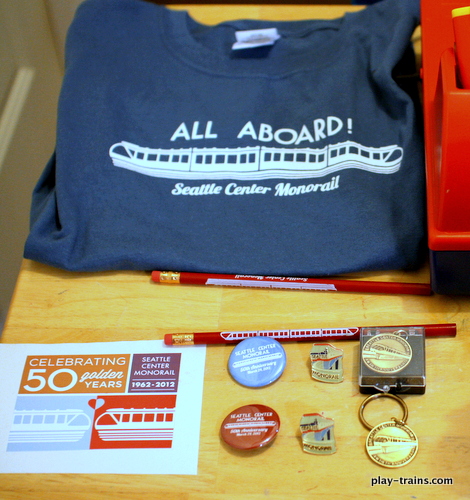 The pencils, pins, commemorative medallions, sticker and shirt made a nice gift shop display.  The Little Engineer was so enthralled with ticket selling this time around that we didn't do many souvenir sales, but I could tell he really enjoyed having them there to rearrange every so often.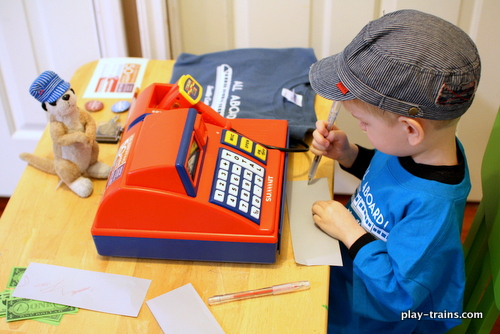 One of the most important parts about a ticket booth is, of course, writing the tickets.  This has been a consistent way to give him a reason to do a lot of mark making on paper all at once.  We use real pens and some cheap, long tablets we picked up several packs of last summer at Ikea.  This time he enjoyed asking the passengers what color paper they wanted for their tickets.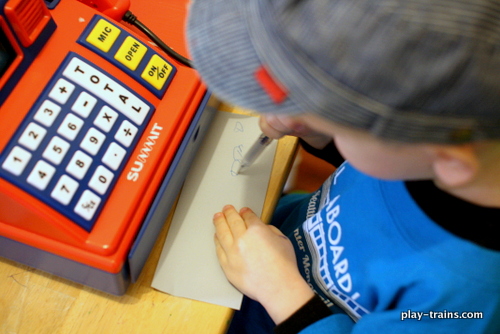 The Little Engineer decided he needed to write tickets for the Blue Train in blue ink and for the Red Train in red ink.  Later, he went and got the rest of the pens so he could invent more trains for the Monorail.  The Black Train apparently goes to an underground zoo deep beneath Seattle!  Where there are mostly definitely no meerkats.  You might think they would be perfect for an underground zoo, but like me, you'd be wrong.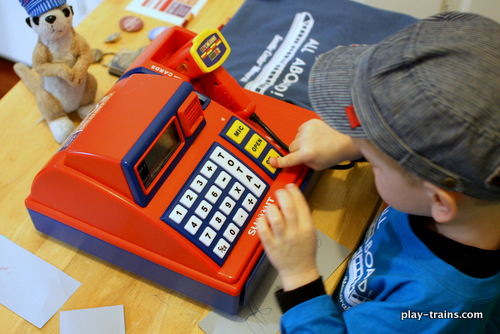 After writing the tickets, he rang them up and let the passengers know how much to pay.  I was surprised to see him correctly typing in some of the two-digit numbers he was quoting them this time.  That was new.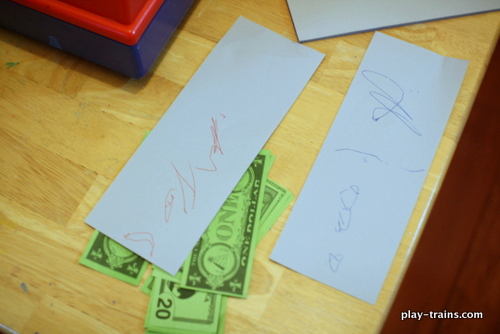 Here's a ticket for each of the trains, along with the play money I found in the dollar bins at Target.  He made more effort to count the money than he has in the past, so I helped him along with that.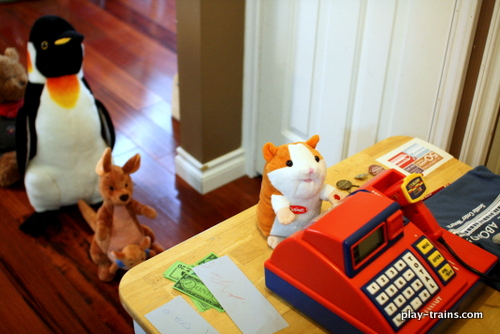 Soon he asked me to start lining up more and more passengers.  When I made him a nice, long line with some of his favorite friends, he came out from behind the table to socialize for a few minutes.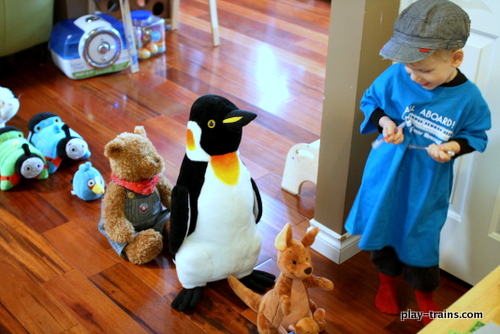 I should note that he was really excited to be wearing one of his Monorail shirts.  And this photo shows why he hasn't worn them before!  They do shrink after washing, I found afterwards, so he may get to wear them sooner than I was thinking.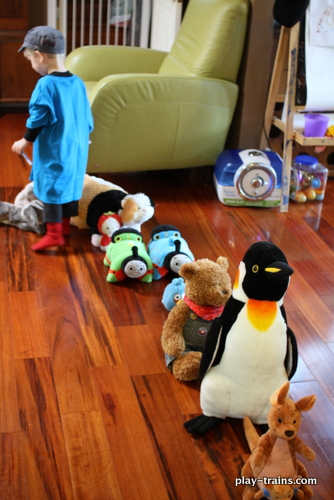 He made sure to greet all the passengers.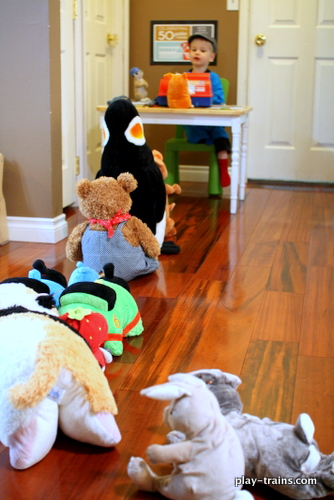 Then he returned to selling tickets.  I loved the stories that he started coming up with as the different animals came forward.  The best one was with this Blue Bird from Angry Birds.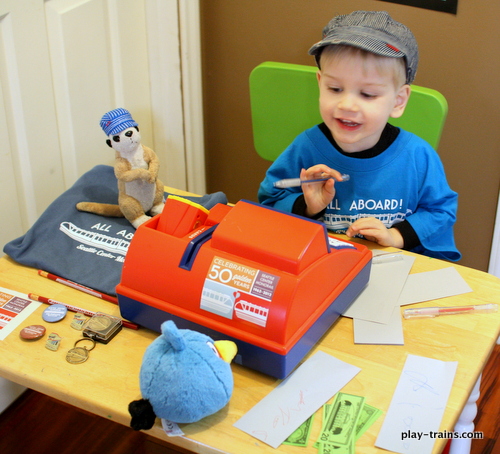 The Little Engineer asked him what he wanted written on his ticket.  Blue Bird wanted a one-way ticket, and told the Little Engineer that it was because he'd lost his friends and needed to go look for them.   (Blue Bird splits into three blue birds when you tap the screen in the game, if you're not familiar.)  The Little Engineer, obviously in the mood to go above and beyond, told Blue Bird he'd find them.  He ran off, running through the house and shouting with excitement.
He came back.  "I found them!  They were on the monorail tracks.  They must have fallen out on your last monorail ride."
"Oh no!" said Bluebird.  (This is a line I'm required to say in a couple of the stories he tells over and over these days, and it seemed fitting here.)
"It's okay," said the Little Engineer.  "Monorail tracks are not pointy!"
The Little Engineer escorted Blue Bird to the platform (the crib mattress beside the bed in his room) himself, along with two little plastic Blue Birds and three complimentary tickets to ride the Blue Train to Crashing Land.
All in a day's work manning the register at the monorail ticket booth.