We had been inside the Seattle Monorail's Red Train for five or ten minutes already when it seemed to sink in for the Little Engineer.  He picked up his best buddy, Meekat, from where the he had been sitting next to Monorail Bunny on a seat and lifted the meerkat above his head, beaming upward in complete bliss.
Little did he know that it was going to get better.
This magical day was almost a year in the making. While attending the Seattle Monorail's 50th anniversary party last March (or "the Monorail's birthday party!" as the Little Engineer still calls it), we stopped by the Seattle Children's Museum to build a Lego version of the monorail. The Little Engineer became frustrated when he couldn't find the parts he needed to execute his idea, so we didn't stay long. However, a couple of days later, he decided to build one with his Duplo blocks at home.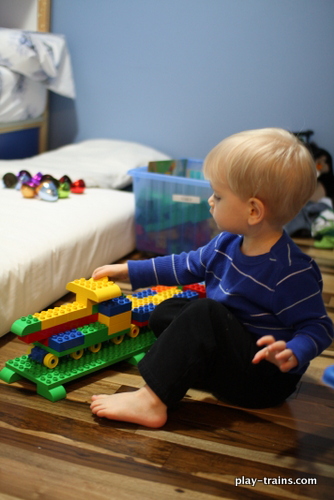 He was only two years old at the time, so at his request I helped put on the wheels and built the track. The rest was all his work. Surprised by how much it looked like the monorail, I posted it on the Seattle Monorail's Facebook wall to share his cool creation.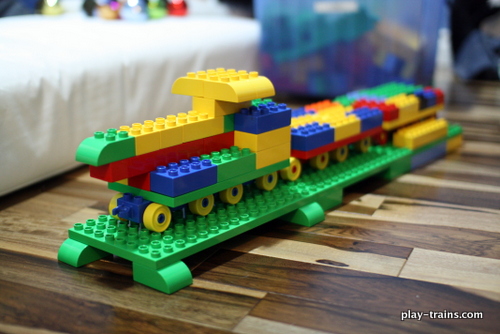 I was delighted to receive a message from Megan Ching, marketing and sales manager for the monorail, asking if they could print a copy to hang up in the office. Of course! Later, the Little Engineer got a package in the mail with a Seattle Monorail shirt, pin, tickets, and a letter.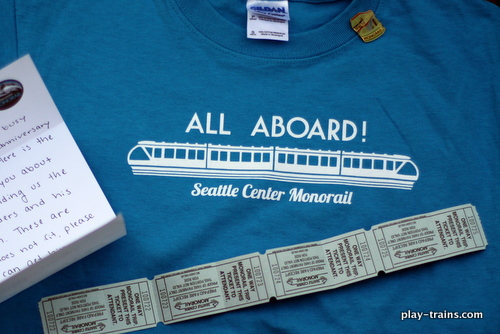 The Little Engineer was so excited, he drew this picture of the "Red Train and the Blue Train," the two trains that run on the monorail line, on the front of a thank you card.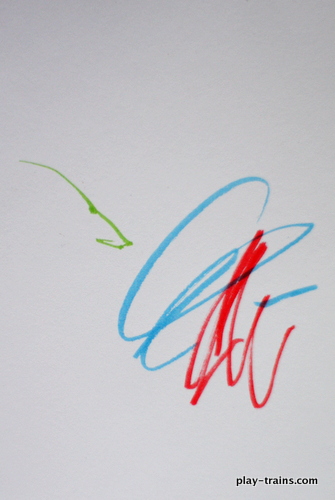 We heard back from Megan, who offered to take us on a private tour of the trains.  Wow!  But, by that time, the Little Engineer was two-and-a-half.  And if you've had your own two-and-a-half year old recently, you might know what I'm getting at.  They're very different beings after they pass that half year mark, in ways both wonderful and exhausting.  So it took me this long to finally set up the tour.  In the end, I think it was perfect timing, judging from how much he enjoyed it.  I'm not sure if he would have grasped how special this experience was six months ago.
Finally, the big day arrived.  The Little Engineer dressed in his engineer clothes, and when I had only found a red sock and a blue sock for him, he stopped me from searching further, saying that he'd wear both colors, red for the Red Train and blue for the Blue Train.  Apparently, they also "have monorails on them!"  He informed me of that several times.  And then he covered them up with his favorite red rubber boots, but it was a sweet gesture nonetheless.  Especially considering he heavily favors the Blue Train over the Red Train.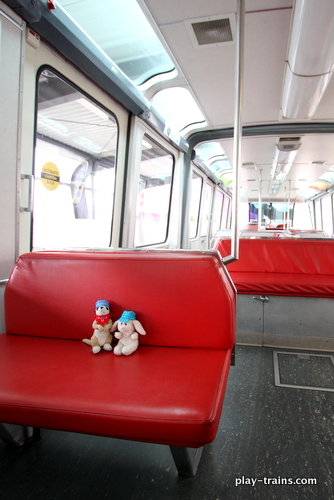 One of the things he really wanted was for Meekat and himself to meet Monorail Bunny, and so the tour became a play date.  We've been following the adventures of Monorail Bunny ever since the little guy was left on the monorail last summer.  While he's been waiting for word of his whereabouts to reach the family he belongs with, Monorail Bunny been going on adventures all around Seattle, which you can follow on the Seattle Monorail's blog or Facebook page.  There's even a Monorail Bunny calendar you can order; we love ours.
Our favorite Monorail Bunny adventures are his picnic with the Children's museum, his explorations of the Seattle Center, his successful election bid at the Children's Museum, his visit to the Seattle Aquarium, his basketball lesson from one of the Harlem Globetrotters, and his visit to the Museum of Flight.  And now, of course, Monorail Bunny's play date with the Little Engineer and Meekat!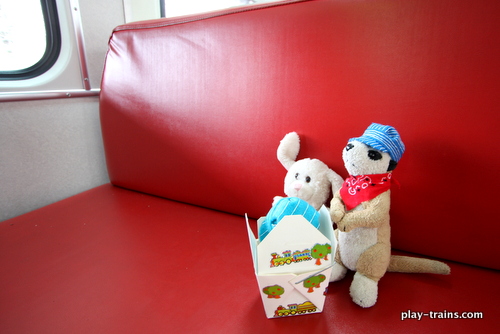 The Little Engineer and I had the idea to make Monorail Bunny an engineer's hat like the one I made for Meekat.  (I'll have instructions and a pattern for stuffed animal engineer hats here on Play Trains! in the very near future.)  So I looked at a lot of Monorail Bunny photos to try to figure out how big he is, and then worked on the hat.  The Little Engineer helped by being remarkably patient while I did all the stitching, and then he decorated the gift box with train stickers.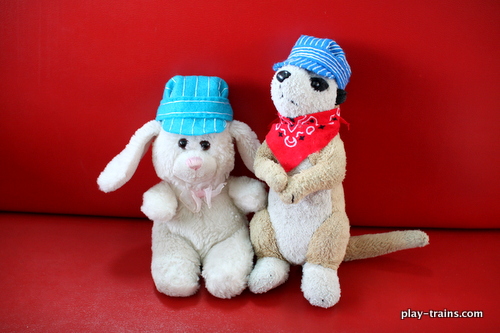 We met Megan, Monorail Bunny, and Tom Ditty, the general manager, at the Seattle Center station.  The Little Engineer excitedly unwrapped Monorail Bunny's present for him and presented it with a "ta-da!"
I was so happy to see how well the hat fit!  The three friends were very pleased to have matching hats.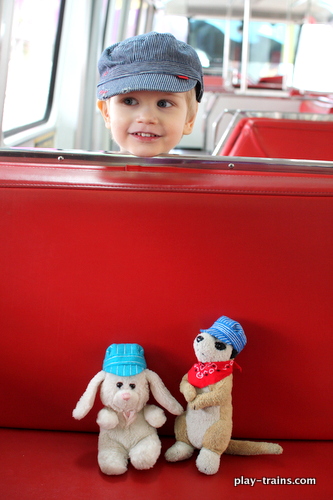 It was funny, because the Little Engineer didn't want to snuggle with Monorail Bunny, just look at him and ask, "What is Monorail Bunny?" over and over.  I figured out that it's his way of getting me to tell the whole story again.  He asked me that all day today, too, and I'm expecting to hear it all day tomorrow.  (Tonight, he was talking to Meekat and called him the Monorail Meerkat.  Meekat thought that was awesome.)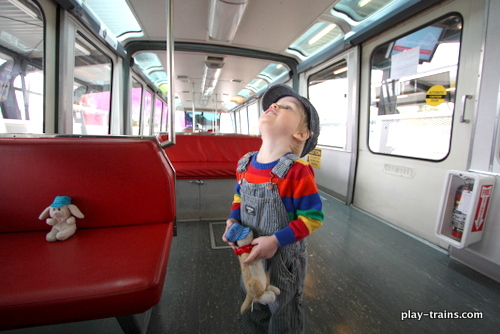 The Little Engineer kind of paced around, looking at everything, while Megan and I took a few pictures of Monorail Bunny and Meekat hanging out.  Then he came over and lifted Meekat up toward the roof like I described above, and my heart swelled.  One of the beautiful gifts that comes with parenthood is the opportunity to observe the joys of childhood with a full understanding of how rare and wonderful they truly are.  But here was a moment where he seemed fully aware of how special this experience was, and he wanted to share that moment with Meekat, because he knew it would be that special for his friend, too.
Next up was getting to "drive" the train with the help of his friends.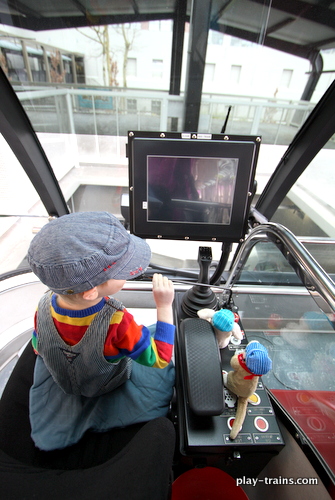 This was not the first time he's gotten to sit in the monorail driver's seat.  He had the opportunity last year at the 50th anniversary party, and he took it.  But it's been almost a third of his life since then, and he's had many more opportunities to observe the real monorail drivers at work, so it was a new and exciting experience of its own.  The funny thing was that he most wanted to pretend to talk through the microphone, not pretend to work the monorail controls.  Probably because we were trying to get him to leave the more fragile microphone alone.
Then came the even better part of the play date.  We went down into the shop below the monorail station, where you can see the trains from beneath.  There we met Charles, the maintenance manager, and Joseph.  Joseph had a blue and white striped shirt with an "Engineer" patch on it, so he pretty much became the Little Engineer's instant hero.  And then they handed him a wrench, and he got to help replace one of the guide tires on the Red Train.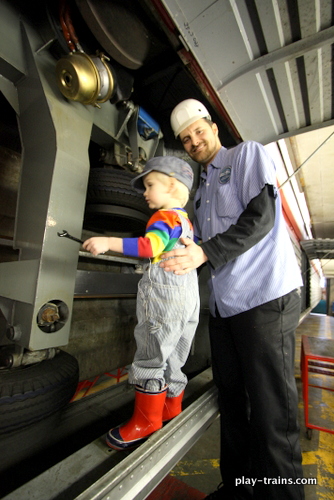 That was pretty awesome, but after a couple of minutes the Little Engineer was getting increasingly wary of the height.  Nothing wrong with a healthy sense of caution.  He was quite thrilled to keep "fixing" with the wrench down on solid ground.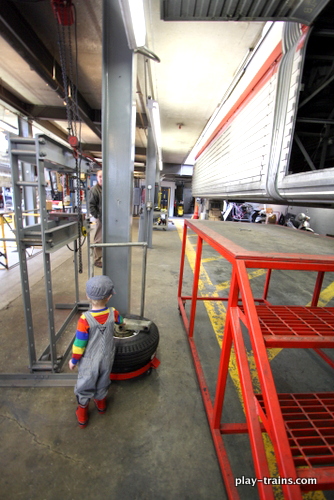 Was that the best part?  Close, but no.  This was.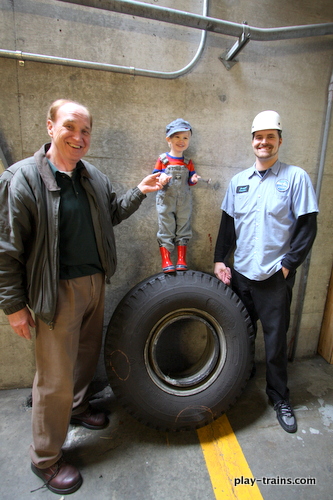 He got to stand on one of the GIANT load-bearing tires!  It was taller than he was.  He kept looking at Joseph and giggling with infectious glee.  The Little Engineer was so impressed and delighted by this that once he was down on the ground, he turned and looked at Joseph and said, "Thaaaaaank yooooou!  Thanks!"  It was far from his first spontaneous "thank you," but it was certainly the most heart-felt one he's ever given by a mile.  And when he saw the picture on our computer later that day, he wanted to keep looking at it, and was thrilled at the suggestion we print a copy to put on his wall.  I asked him how it was standing on top of the gigantic monorail tire.  "GOOD," he told me with a big smile.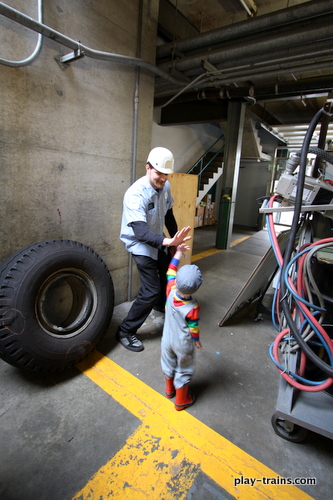 After that, we got to stop by and see the Seattle Monorail office.  Megan and Monorail Bunny had a bag of monorail goodies for the Little Engineer and Meekat, including another shirt, posters, pins, pencils, and stickers.  Then we ran out to get on the Blue Train as it was about to leave, which we got to ride up front next to Jeremy, the driver, for as long as the Little Engineer wanted.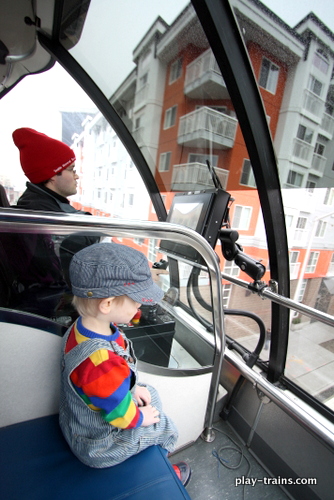 After so much excitement, two round-trip rides were enough for him, and his thoughts began to turn toward the banana bread at a certain coffee shop inside the Seattle Center's Armory.  But I know this is an adventure that will linger at the forefront of his imagination for a good, long while.  Writing this and looking at the pictures again, I can't stop thinking how unbelievably lucky we were to experience this, and I can't thank Megan and everyone else at the Seattle Monorail enough.  That's a phrase that has lost some of its punch through common use, but I mean it quite literally.  This day was a wonderful gift, something that will be a part of the Little Engineer's story as he grows.