If you're anything like me, you'll look at this picture and see a aid for visualizing the shape and size of rugs.  At least, that's how I used to see this sight every time I pushed the cart through IKEA.
Fortunately, I have the Little Engineer around to see things with different eyes. Eyes that are connected to an imagination that never shuts down.
Because these aren't rug sizes; they're train tracks.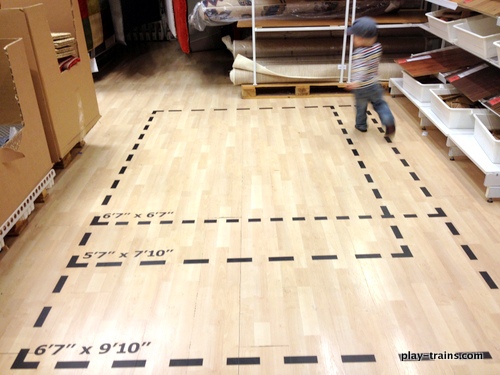 And every time we come to them…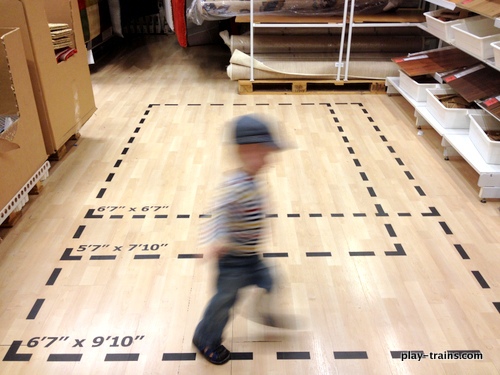 …the Little Engineer becomes a little engine…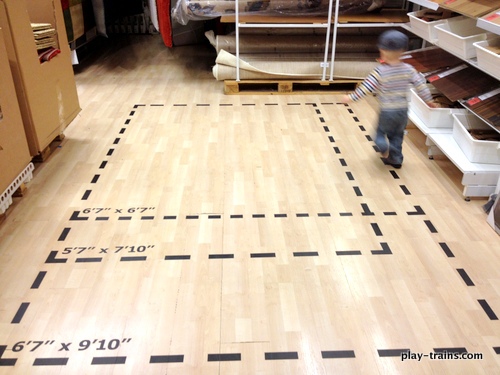 …and chuffs..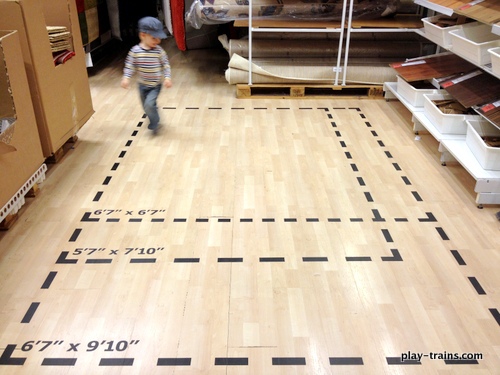 …and chuffs…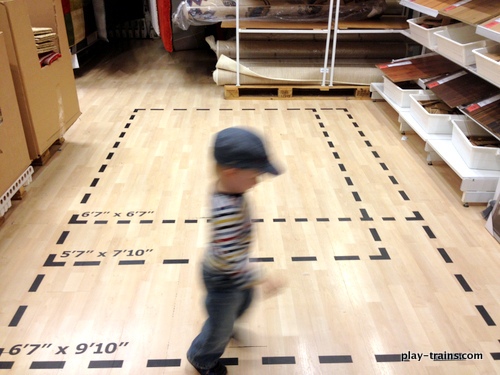 …around his track.
The Little Engineer discovered these "tracks" last summer, and he's been chugging them at every opportunity since then.  And always there's some story he's narrating as he goes.  While I was taking these pictures, he was pretending he was the shiny, vain, red engine James, having his picture taken by the Famous Photographer (me).  At other times, he's been Thomas to my Cranky, and I load and unload freight (or even lift up Thomas) every time he comes past.  Sometimes he wants me to chuff along as another engine, too, and if IKEA hasn't already drained the life from me, I try to oblige.
The only trick is getting him back in the cart so we can move on, because he'd be happy to chuff indefinitely. I usually refer to the seat in the cart as the "engine cab" and he'll eventually turn back from a little engine into the Little Engineer.
The next time you're powering through IKEA toward the warehouse and the checkstands beyond, and your own little engine needs to feel the rails beneath its wheels, you may want to stop and take some time to do a little train watching.
A couple of tips if you do.  First, at our local IKEA, there are two of these in the rug department, so if yours also has two, scope out which one looks the least likely to have anyone actually wanting to look at rugs coming through. Not everyone is charmed by being run into by a steam engine (though the percentage of people who are is surprisingly high, as long as that steam engine is looking cute in his engineer's hat). Second, look out for hazards, like the white shelf low to the ground on the right hand side in my photos. I usually stand at the corner of it, just in case the Little Engineer trips and falls face first toward that exact spot (I hadn't figured that out yet when I took these pictures).