Every so often, I come up with an idea that works really well with the Little Engineer.  And then things get better, and I phase the idea out (or, more accurately, I forget to do it because it's no longer necessary at the time).  Which is just as well, because most of these ideas stop working so well when the novelty wears off.  But then I forget to try it again when it becomes necessary once more.
This is one of those ideas, a way to speed up the bedtime routine and get in a little reading practice at the same time.  And I'm glad I came across this photo, because otherwise I wouldn't have remembered to try it again.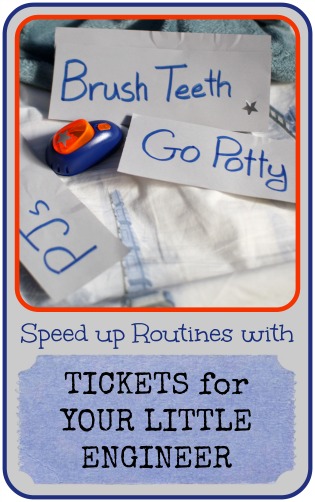 Until he passed the two-and-a-half-year mark, the Little Engineer was always more or less on Team Go To Sleep Quickly.  Which isn't to say he always went to sleep quickly, just that he was rooting for our side.  And then, suddenly, he wasn't.  And hasn't been since then.  Sometimes he's purposefully stalling, but most of the time he just has a hard time focusing on getting ready and going to sleep.
I can't really blame him.  After all, his dada is home from work, he's just tanked up on fuel at dinner time, and now it's time to play…right?  I feel the same way after he falls asleep and I can finally get to some of the things I want to do on my own.  The only difference is I don't have my mama with me to remind me to go to sleep.
At the time this started, the Little Engineer was really into making "tickets" from these cheap notepads we picked up at Ikea. (He still is, but it's not a daily occurrence at the moment, mostly because the supplies haven't been right out in the open.)  I found a normal hole punch for him to punch them with, but when that proved too difficult for his little hands, I got him this star punch.  Then one night, as the frustration with bedtime started to rise again, it hit me:  tickets for bedtime.  Everything he has to do is another stop on the bedtime train.  Or something.  ANYTHING to get him in bed somewhat near bedtime.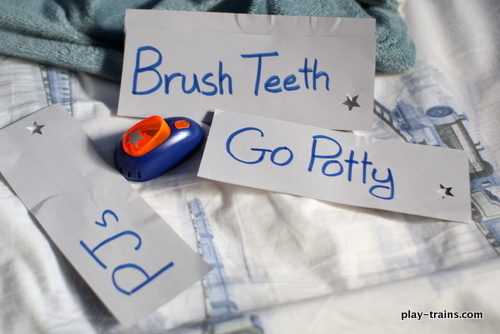 So I started making tickets for everything he had to do.  I arranged them in the order I wanted him to do them in, and then explained that he couldn't punch a ticket until he'd visited the "station" written on it.  Of course, he LOVED this.  Punching the tickets was a great motivator.  And the unexpected bonus was that as we went over the tickets each night, we sounded out the words, and it got so that he could recognize several of the common ones on his own with no help.
Now that I think of it, the tickets also worked with the bane of my existence: getting out the door on time. Why haven't I been doing this lately?  Off to make some tickets!
Have you come up with a great way to get your toddler or preschooler into bed or out the door? Because assuming the tickets still work, they won't work forever, and I'll be looking for another great idea soon. Bonus points if it involves trains. Or hamsters, meerkats, mice, bunnies, or cats. Or jumping.