The Little Engineer and I started making books together at about the same time he began speaking in sentences.  Sometimes I write down a particularly popular bedtime story I've come up with (usually with his help, because he likes to take over the story!).  But I especially love to help him write down his own stories.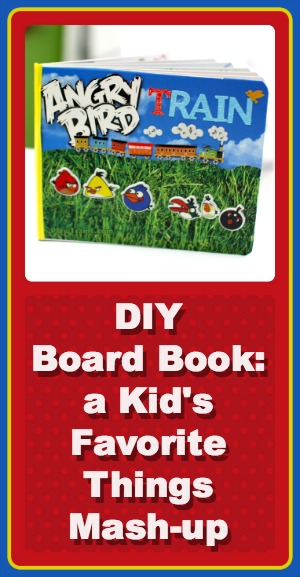 This post contains links to Amazon.com. If you click on one, we will receive a small commission — at no additional cost to you — on anything you buy at Amazon for a certain length of time afterwards. I was otherwise uncompensated for this post. Read our disclosure policy for more details.
Creating books together has provided many opportunities to share my love of writing with him and teach some of the basic concepts of storytelling at the same time. Usually, we write our books about something he's particularly interested in or an activity we do often, and he asks me to read them often.  Even the earliest books we wrote together are still well loved.
Recently, we hit upon a way to make these custom books even cooler:  mashing up two of his favorite things into one awesome story. If you've been reading the blog for long, you may have noticed the Little Engineer loves Angry Birds nearly as much as he loves trains.  I would say as much, except when you ask him what he wants to be when he grows up, he says, "An engineer!" not "Blue Bird!"
These two favorite things were eventually combined into one idea:  ANGRY BIRD TRAIN!  Blue Bird, of course, is the engineer of the Angry Bird Train, which always takes its passengers to Crashing Land.
At about the same time, we picked up a Kid Made Modern Board Book Kit that was on sale at Target.  (There are also plenty of blank board books available online, though I like some of the art supplies that come in the Kid Made Modern kit.)  Due to the timing, the subject for our first book was a no-brainer.
We made the book with markers, stickers, the sticky-backed paper from the board book kit, and an Angry Birds logo I cut out from the packaging of some Angry Birds Easter egg stickers we used on the back of the cover.  I wrote the words in marker as the Little Engineer said them (I had to rush to keep up, hence the extra sloppy handwriting).  Once the story was finished, he drew some illustrations, and we worked together to embellish them with the stickers.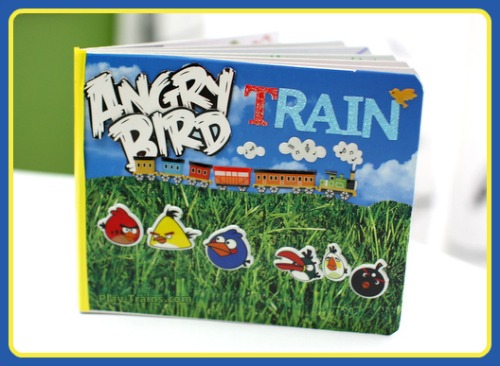 In light of the handwriting, I'll type out the story, including a few things we've added while reading the book over and over (and over and over).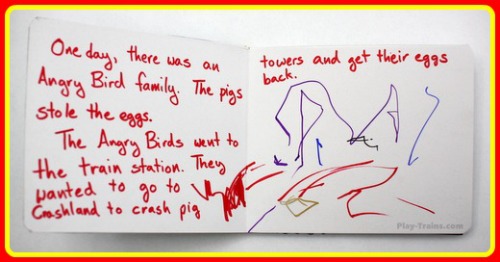 One day, there was an Angry Bird family.  The pigs stole the eggs.
The Angry Birds went to the train station.  They wanted to go to Crashing Land to crash pig towers and get their eggs back.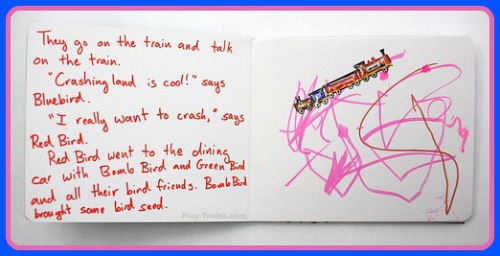 They go on the train and talk on the train.
"Crashing Land is cool!" says Blue Bird
"I really want to crash!" says Red Bird.
Red Bird went to the dining car with Bomb Bird and Green Bird and all their bird friends.  Bomb Bird brought some birdseed.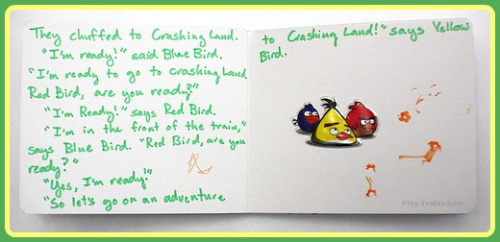 They chuffed to Crashing Land.
"I'm ready!" said Blue Bird.  "I'm ready to go to Crashing Land.  Red Bird, are you ready?"
"I'm ready!" says Red Bird.
"I'm in the front of the train," says Blue Bird.  "Red Bird, are you ready?"
"Yes, I'm ready!"
"So let's go on an adventure to Crashing Land!" says Yellow Bird.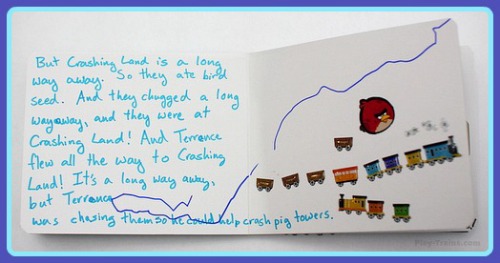 But Crashing Land is a long way away.  So they ate bird seed.  And they chugged a long way away, and they were at Crashing Land!  And Terence flew all the way to Crashing Land!  It's a long way away, but Terence was chasing them so he could help crash pig towers.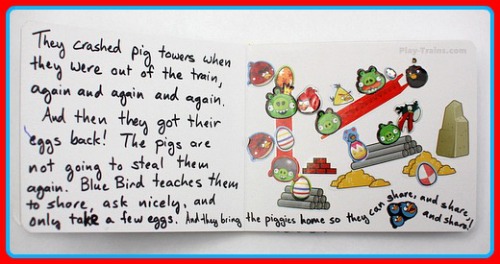 They crashed pig towers again when they were out of the train, again and again and again.
And then they got their eggs back! The pigs are not going to steal them again.  Blue Bird teaches them to share, ask nicely, and only take a few eggs.  And they bring the piggies home so they can share and share and share!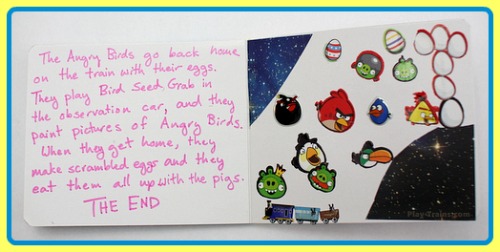 The Angry Birds go back home on the train with their eggs.  They play Bird Seed Grab in the observation car, and they paint pictures of Angry Birds in the Painting Car.
When they get home, they make scrambled eggs and they eat them all up with the pigs.
(He is going to be so upset when he figures out that the eggs aren't really for the Angry Birds' breakfast!)
And that is, as it says, "THE END"!
But we can't forget the back cover, because it's my absolute favorite part of the book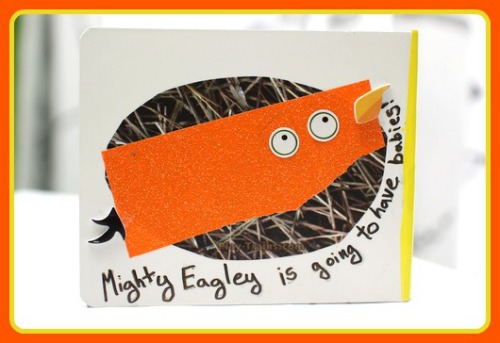 "Mighty Eagley is going to have babies!" is extremely fun to say in a super cute voice, especially because it puts a super cute smile on the Little Engineer's face.  He made "Mighty Eagley" all by himself while my back was turned, and I just cut out the sticky-back paper to make the nest. I especially like the lines he drew above the eyes.  I don't know if he intended them to be eyebrows, but they make Mighty Eagley look like a hopeful, expectant mama eagle.
We both really this book.  The Little Engineer asks me to read it whenever he sees it.  I'm very protective of the book, and check Mighty Eagley's 3D beak and tail stickers often to make sure they haven't fallen off. Combining these two favorite things of his seemed to inspire the Little Engineer to tell a longer and more complex story than he normally would have.
Of course, he's only three, so in some places I prompted him to continue the story or move the narrative along.  The third page two-page spread, for instance, came out of my asking if the birds did anything or talked to each other on the train.
Several of the details from this story have become a part of our Angry Bird pretend play, which has been expanded into Angry Birds Space Train and Angry Birds Star Wars Train.  We've begun work on the book version of Angry Birds Star Wars Train.  Hopefully we'll be able to share that one with you soon!
If your child loves trains and Angry Birds, too, take a look at our other Angry Birds activities:
[author] [author_image timthumb='on']http://play-trains.com/wp-content/uploads/2013/02/IMG_7620-003.jpg[/author_image] [author_info]Jessica Petersen is a full-time track building assistant to her three-year-old son, the Little Engineer.  She shares activities, adventures, and other fun for kids who love trains at 
Play Trains!
  When not playing with the Little Engineer, she is usually writing children's books.  You can connect with Jessica on 
Facebook
, 
Pinterest
, 
Twitter
, and 
Google+
.[/author_info] [/author]