Sometimes, I put a lot of effort into helping the Little Engineer bring a book to life.  Most of the time, however, the transition from book to play is unplanned and effortless.
Recently, we read The Caboose Who Got Loose by Bill Peet again.  In a longish narrative (by today's standards, not that we're complaining) written in verse, it tells the story of Katy Caboose, who is made miserable and sometimes frightened by her life at the end of a long train, pulled along at the whim of the powerful engine and caught in an endless cloud of black smoke.
The first time I read it, I could tell right away it would either be a great lesson in empathy for the Little Engineer, or he would not care for it at all, because Katy complains so much about so many of the things he loves about trains.  Fortunately, it proved to be the former, aided by how deep the book delves into Katy's feelings and view of her world, and by Peet's expressive drawings of the caboose.  The lesson was made all the stronger when it became clear that empathy is a central to the outcome of the plot.
After Katy sighs to three different kinds of houses about how she would like to be them, there is a haunting scene in a dreary train yard, in which a switchman's shack tells Katy how much it would like to be her.  The only choice Katy makes in the book is to look at her life with a new attitude after hearing this from the shack, but that choice is key.  Soon after she makes it, Katy gets her wish when her coupling hook breaks and she flies off a steep slope to become stuck between "two towering spruce" trees, too high up for the railroad crew to find her.  I love that even in her seeming powerlessness, Katy is still able to make a choice to try to see the world anew.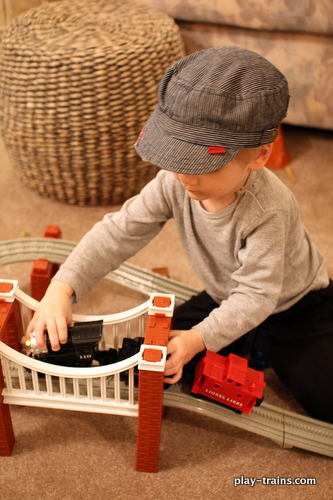 A few days after our most recent reading of the book, we were at my parents' house.  The Little Engineer was playing with his Lionel Little Lines play set while I finished up writing for the day.  I wasn't paying too much attention to what he was saying until I noticed him over by a potted plant with the caboose from the train set.  I was about to leap on my first instinct to stop him from bothering the plant when I heard what he was saying.
"And Katy Caboose flew into the air!  And crashed into the towering spruce!"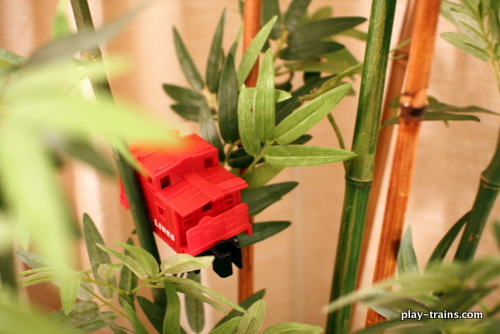 So, instead of stopping him from assaulting the plant, I went and helped poor Katy get properly "stuck".
I'd had plans to recreate this with our wooden trains, like we did with our Valentine's Day in Vicarstown layout and Valentine Counting with Thomas & Percy game (which he is still asking to play, mostly due to the chocolate hearts I added when the went on sale after Valentine's Day), or our thoroughly-planned production of Thomas Gets a Snowplow.  But how could I top this?  I don't think I'd want to, even if I could.