Here we are at the beginning of another fun series of seasonal play ideas: Winter Play Days! This week, we're teaming up with Fun-a-Day!, Fantastic Fun and Learning, Nothing if Not Intentional, My Nearest and Dearest, and Buggy and Buddy to share some great winter activities for kids. For our first contribution to the series, I decided to go as simple as possible: playing in the snow with toy trains.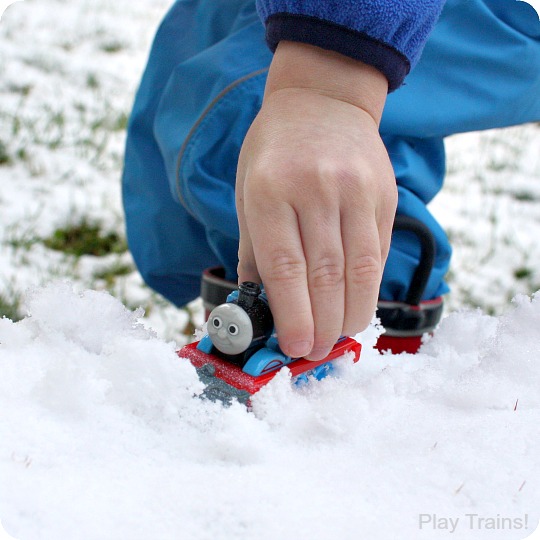 Playing in the Snow with Trains
Materials:
I prefer die-cast metal trains for playing in the snow. Plain plastic trains would work just as well, and so would old, worn wooden trains that no one would mind if they got a bit damaged. But I would avoid using any wooden trains that you would like to keep nice and motorized plastic trains that you'd like to keep running.
We used a Take'n'Play Thomas with a snowplow that we were fortunate to receive secondhand. The snowplow doesn't really give this particular Thomas an advantage in plowing snow, however, so any Take'n'Play engine would do just as well. (But if you really want a Take'n'Play Thomas with a snowplow, you can search eBay for "Take'n'Play Thomas Snow Plow" or "Take'n'Play Thomas Holiday" and a few options may come up.)
You'll probably also want to add mittens to that list. As you can see, I wasn't quite successful at keeping those on the Little Engineer, though he did agree to wear them while building his train engineer snowman. But those little fingers can get cold awfully quick while playing with a metal train in the snow!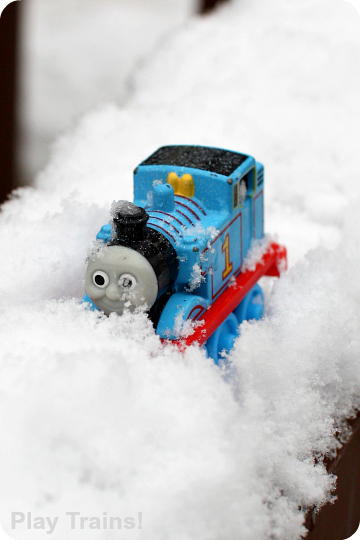 The one and only time it snowed here when the Little Engineer was two years old, we were ready and waiting to take Snowplow Thomas out. We weren't sure how well Thomas would plow the real snow…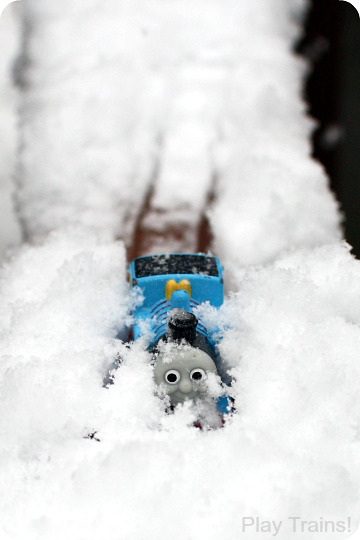 …but it turned out that he did it quite well!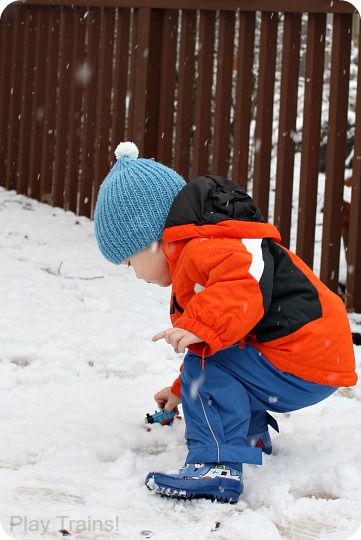 The Little Engineer took Thomas all around our back yard, trying out his snowplow in several different situations. And sometimes, the two friends just took a moment to stop and soak in the magic of such a rare and wonderful day.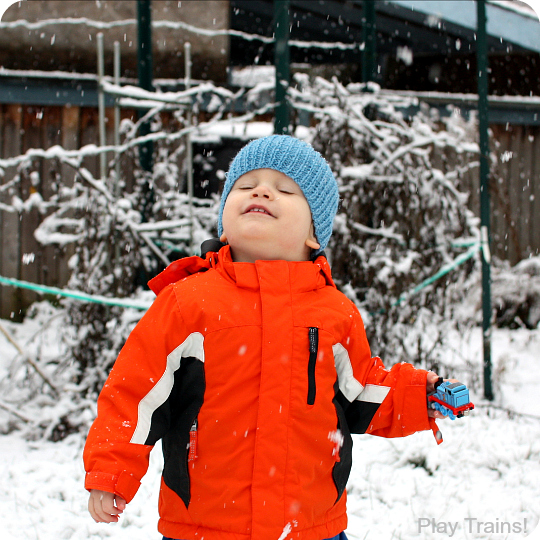 The next year, when the Little Engineer was three, we didn't get a single, good snowfall at our house all winter. Snowplow Thomas and his favorite driver waited and waited, but the snow never came.
So in March, we took a trip up to a cabin in the mountains with some family, just to get a chance to play in the snow before it was officially spring. Snowplow Thomas and the Little Engineer were both delighted to get out and get plowing once again.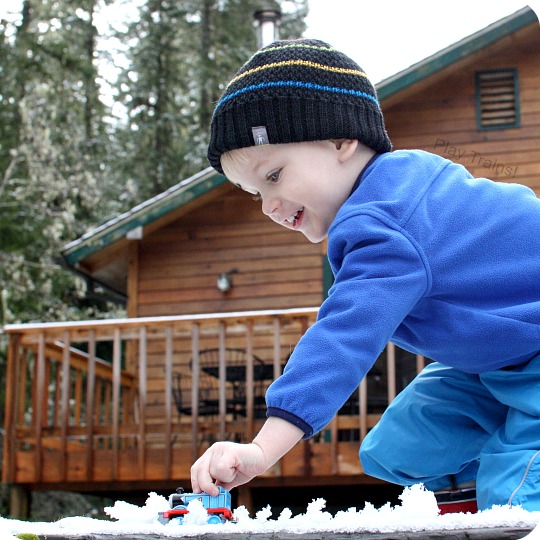 There is a lot a kid can learn from pushing a train through the snow. It's a great form of sensory play, and a fun way to explore science in a playful, hands-on way. For example, in some of the photos above, Thomas mostly packed the snow he pushed into, but in this last photo, you can see that he was pushing it upward. What conditions cause these different results? Does the train plow a dusting of snow differently than a (relatively) deep drift? I mostly let the Little Engineer observe these things on their own, preferring to let him enjoy the magic of our one snowfall a year. But now that he's a little older, there's a lot that he and I might explore when (or should I say if?) we get our snow for this year.
Don't forget to check back on Tuesday and Thursday for more winter train play activities. And please be sure to visit my friends and check out their fun Winter Play Days activities for today!
Winter Wonderland Small World from Buggy and Buddy
Snowed in? Make Snow Cream! from Nothing if Not Intentional
Penguin Sensory Play from Fantastic Fun and Learning
Winter Forest Small World from My Nearest and Dearest
Cookie Cutter Snowman Art from Fun-A-Day!
Our other posts in the Winter Play Days series: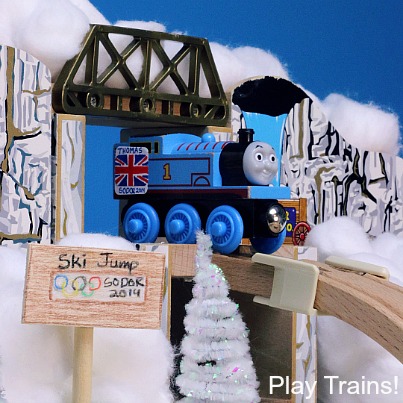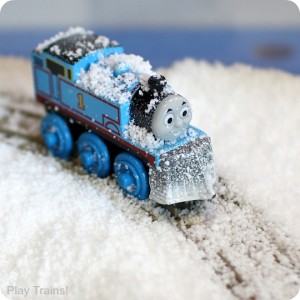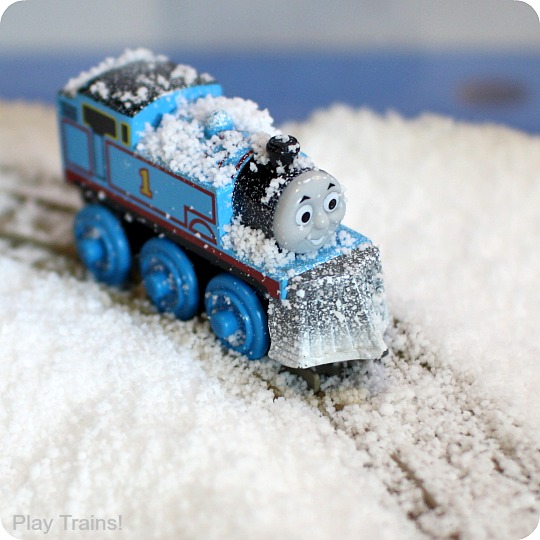 Pretend Snow Sensory Play with Trains
And here's more winter train fun:
Winter Train Book Activity: Thomas Gets a Snowplow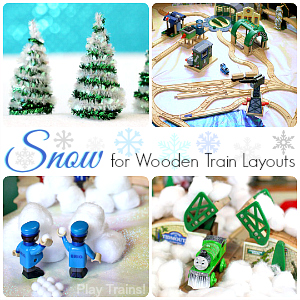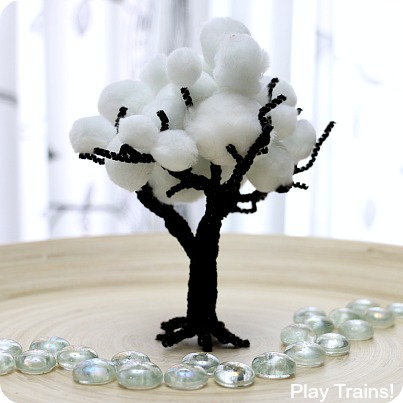 Snow and Ice Winter Pom Pom Trees: Fine Motor Activity and Train Set Scenery
Some of the photos in this post were originally included in our list of ways to play with snow and trains in February 2013.