I'm back with one last list of our most popular posts from 2013: our top DIY train projects for kids! Other than the stuffed animal engineer hats, these are all projects to make for or with kids for their wooden train sets. We've even used the mini light boxes with our wooden trains. Most of the projects also work with other types of toy trains, such as die-cast metal trains or plastic motorized trains (Take'n'Play and Trackmaster trains for the Thomas fans out there).
I strongly believe in encouraging kids to make real, playable additions for their train sets, so I've been very happy with the enthusiastic response to these projects. Happy making!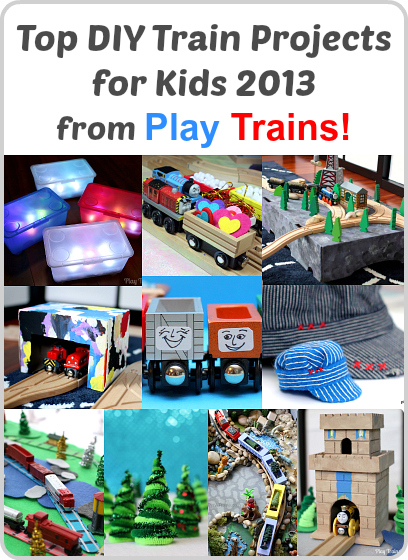 Play Trains! Top Posts of 2013:
Top Train Activities for Kids 2013
Top Train Crafts for Kids 2013
Top DIY Train Projects for Kids 2013
Top DIY Train Projects for Kids
Our easy, portable, floatable, stackable, and waterproof mini light boxes can be used in so many ways. For any kid, train lover or not, they make a great little light box for small spaces or travel, and as you can see in the how-to post, they're super fun for bath time. We made tracks for them and found little trains that work great for light play, built a wooden train roller coaster, added a light box into a train layout for some October moon-themed train play, and…well, I have more light box activities waiting to be posted in the coming weeks!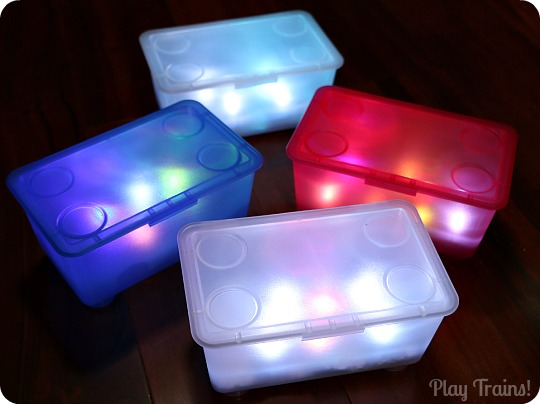 2. Pipe Cleaner Trees for Wooden Trains and Other Small Worlds
One of the things I learned in 2013 is that I must really, really like trees, because I sure figured out a lot of ways to make them for our wooden train layouts! We made several different versions of pipe cleaner trees for our trains, many of which had enough views to earn spots on this list, so I'll just combine them all with the top-ranking tree post in second place. First came our easy Pipe Cleaner Pine Trees, which got a seasonal makeover for winter and Christmas and even got turned into light-up Christmas trees.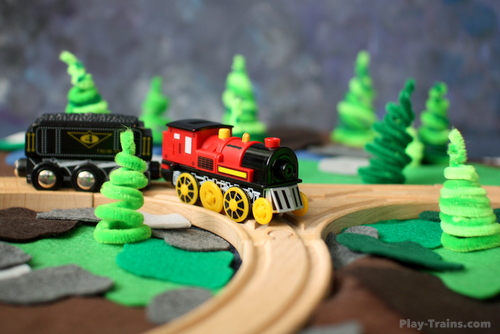 And this fall, I figured out how to make these nifty Spooky Pipe Cleaner Trees. We added pom poms first to make Halloween Carnival-colored Pom Pom Trees, and then to make Fall Pom Pom Trees, both of which double as fun fine-motor activities. I have to sneak a second photo in here, because I love this one of Thomas.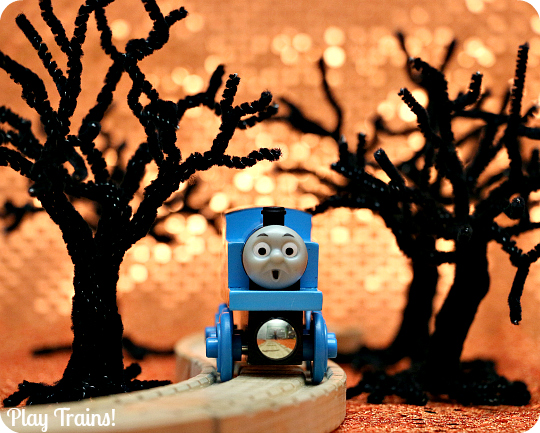 3. Portable Pretend Model Train Set
This was a really lovely portable small world set to make with the Little Engineer — if you read the post, you'll see how involved he was! It would make a fun gift to give to a train-loving kid, and it's perfect for travel or outings.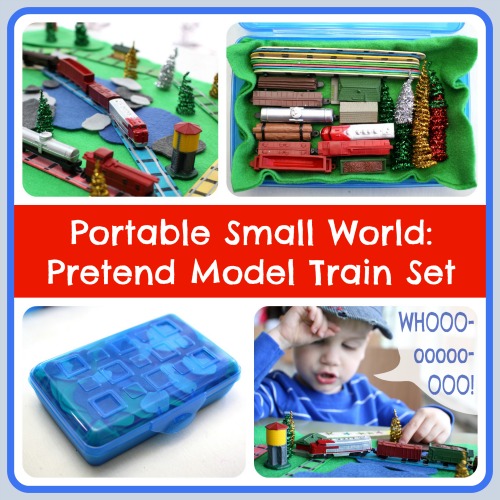 4. DIY Zoo Train Play Set for Wooden Trains
It's amazing what some paint and a hot glue gun can do to a cardboard box. This turned out to be a really cool zoo small world. I love that we can put it right into any train layout, any time we want, and the trains can drive right through it.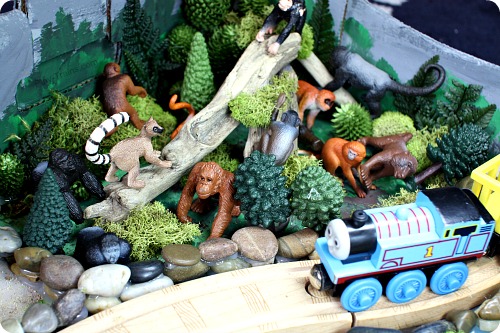 5. DIY Castles for Wooden Trains
These castles, which we made to celebrate the release of King of the Railway, are a fun family woodworking project — and surprisingly inexpensive! The coolest part is that they connect to the train tracks.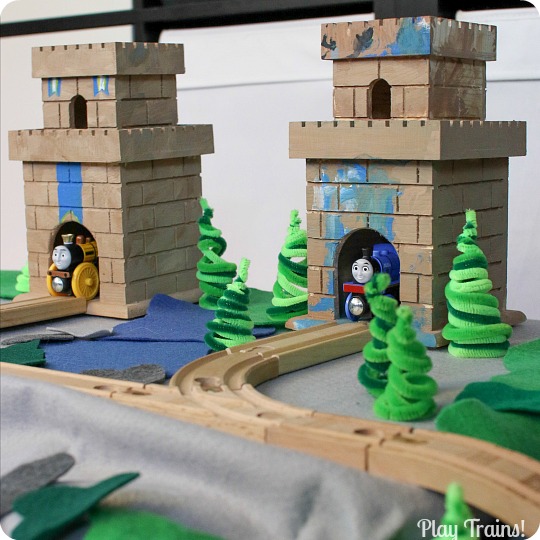 6. Recycled Dryer Sheet Box Engine Shed
This super-easy project is the perfect way to introduce toddlers and preschoolers to the idea of making their own elements to add to their wooden train sets.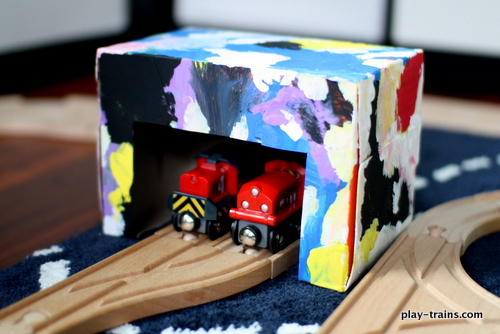 7. Felt Engineer Hats for Stuffed Animals
These are the sweetest gifts to give to little engineers and their snuggly little friends. There is also a paper craft version of the hat so a young child can make one, too.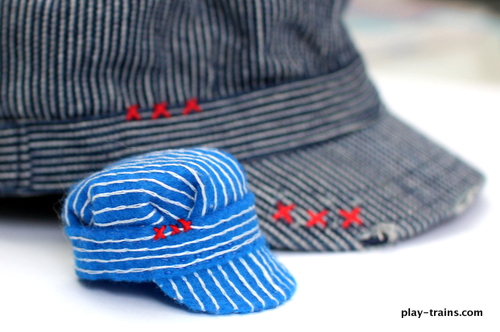 8. Recycled Track Platform for Wooden Train Layouts
This is a very functional piece to add to a train set, and it looks pretty cool, too!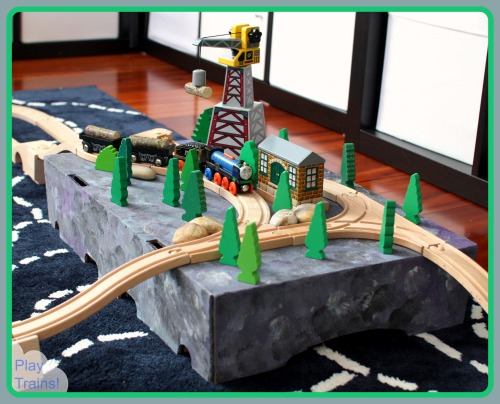 9. DIY Troublesome Truck Face Stickers for Wooden Trains
These are a fun upgrade for plain freight cars, sure to delight any Thomas fan.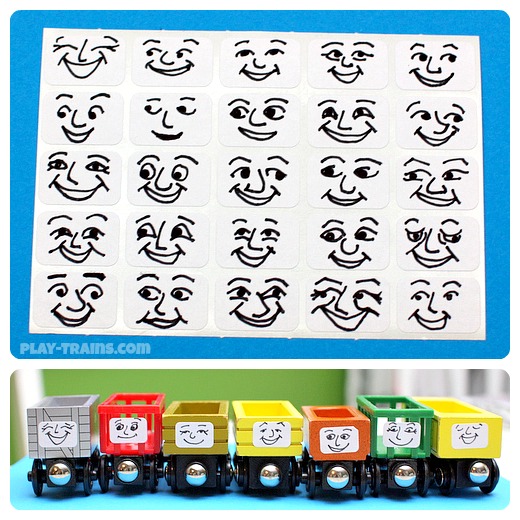 10. Easy DIY Valentine Freight for Wooden Trains
These felt hearts make the cutest freight for Valentine's Day!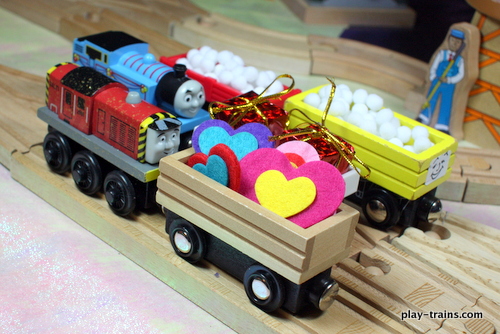 If you liked these train projects, I encourage you to sign up for our email newsletter:
Play Trains! Top Posts of 2013:
Top Train Activities for Kids 2013
Top Train Crafts for Kids 2013
Top DIY Train Projects for Kids 2013