As 2013 comes to a close, it's been fun to look back on all the articles I've written for Play Trains! and see which ones were the most popular with you, our readers. I've loved hearing from many of you throughout the year as the fun we've had in our train adventures has inspired play time in homes and classrooms around the world. To celebrate 2013 and — hopefully — give you a few ideas of what to do with your young train enthusiast in 2014, I thought I'd make a list of the top train activities for kids from our site, based on which had the most views this past year.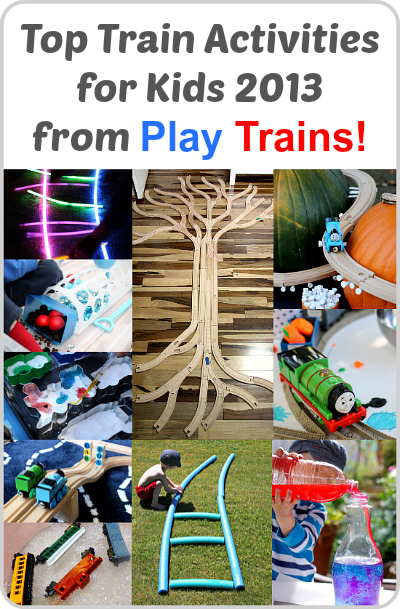 Play Trains! Top Posts of 2013:
Top Train Activities for Kids 2013
Top Train Crafts for Kids 2013
Top DIY Train Projects for Kids 2013
Top Train Activities for Kids 2013
At the end of the summer and heading into fall, we went a little crazy with the discovery bottles! We made Two-Color Oil & Water Discovery Bottles with edible, kid-safe ingredients, Floating Word Discovery Bottles with words and pictures dancing inside them, and even Glowing Discovery Bottles with a fall train theme. However, I guess we didn't go too crazy with them, because these posts earned first, second, and fourth place on this list. For the sake of variety, I thought I'd just let them share this top spot!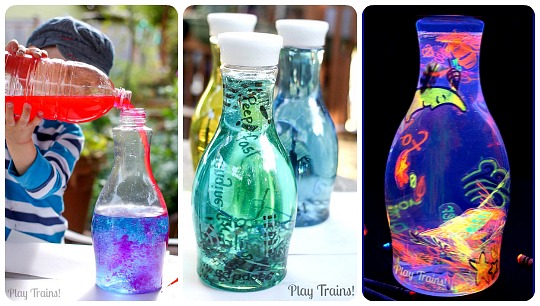 2. Learning About Trees with Wooden Train Tracks
This was actually an activity I wrote about in 2012, back before anyone read Play Trains! With a little polishing up and a lot of new readers the second time around, it became one of our most popular posts this year. It remains one of our favorite things we've ever done with our wooden trains.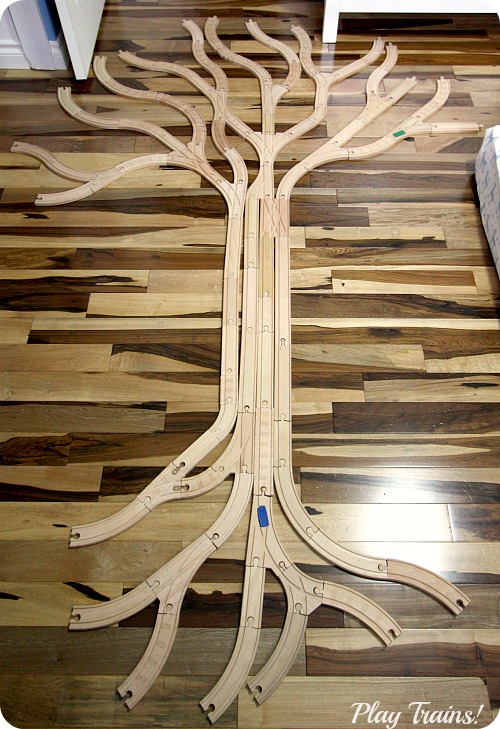 This was an idea that was too crazy to work, but then it did. And it was awesome.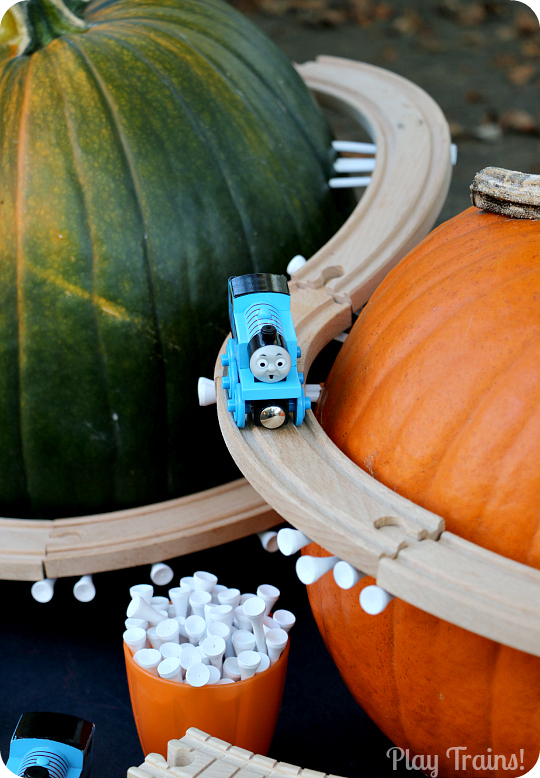 This was an excellent summer activity, but if it's cold in your part of the world right now, you could skip the sprinkler "engine wash".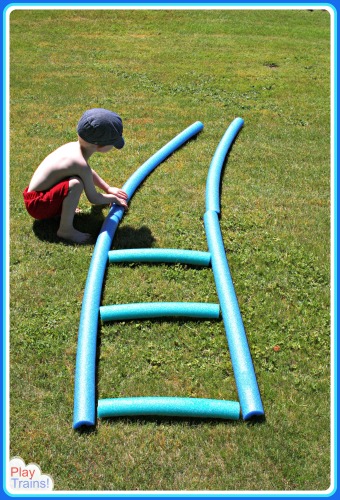 5. Fizzy Engine: Baking Soda and Vinegar Trains
This is a fun and creative science activity with a train-lover's twist to it.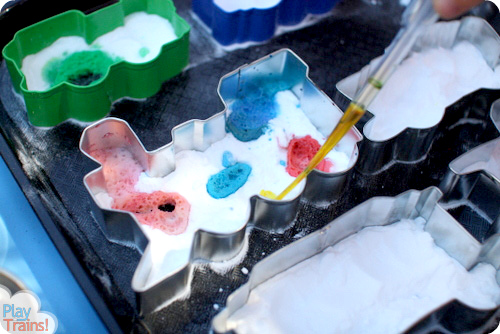 6. Play Dough Pumpkin Patch Train Play
Here's a cute activity from the Fall Invitations to Play series I so thoroughly enjoyed being a part of. As much fun as the play dough part was, what really made this activity special was the last minute inclusion of the markers…you'll have to see what I mean!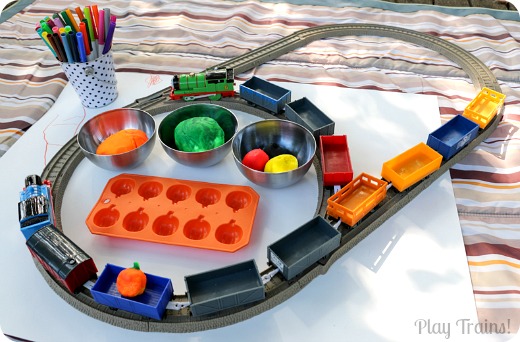 For some kids, wheeled toys are made for crashing. Here's a way to combine that exciting mode of play with a little bit of reading practice.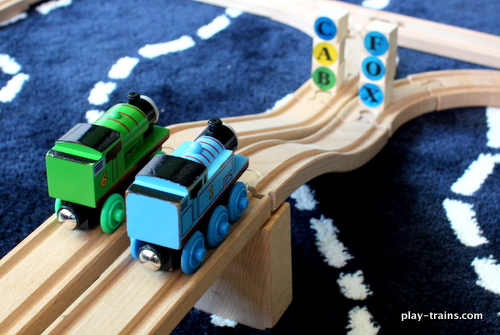 8. Glow Tracks
A beautiful and creative nighttime train activity.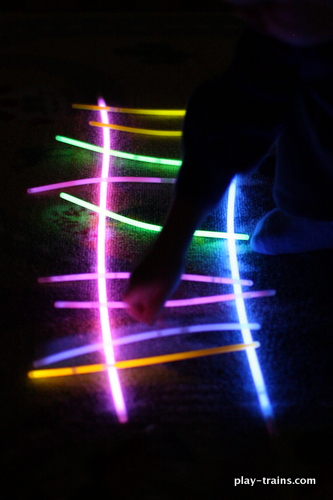 9. Coal & Water Steam Engine Sensory Bin
Two-thirds of a year later, we STILL have this sensory bin set up. An awesome way to combine sensory exploration with pretend play for aspiring engine drivers.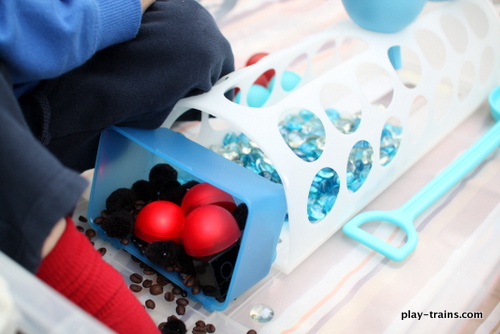 10. Rescuing Toy Trains from Ice
A cool — in both senses of the word — and classic science activity that you could do with any toys, but of course, we used trains.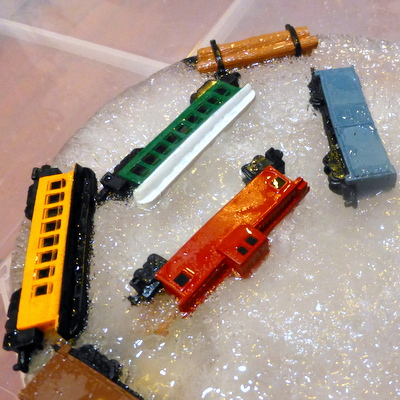 And, because it's so hard to list some activities and leave out others among my favorites, here are the posts that ranked 11 through 20 on the list:
11. Sand Tracks: Train Beach Activity
12. Outdoor Fall Train Play
13. Waterproof Play Pictures: Flower Train
14. Dice Cars Train Math Game
15. Squirrel Train Small World
16. Candy Train Game
17. Word and Letter Crash with Angry Birds Space and Thomas & Friends Characters
18. Fall Spice Railroad
19. Icy Engine: Cool Summer Train Ice Play
20. Engine Paint Shop Train Color Matching Activity
Play Trains! Top Posts of 2013:
Top Train Activities for Kids 2013
Top Train Crafts for Kids 2013
Top DIY Train Projects for Kids 2013