For our first post for the Winter Play Days series, we took our trains out to play in real snow. Today's play idea is a way to echo that experience any time of the year with pretend snow for a fun sensory activity with a little science thrown in. I'll share a few tips for using pretend snow with toy trains in this snow train sensory bin, plus a list of books for extending the activity.
At the end of my post, I have links to the Winter Play Days posts from my friends at Fun-a-Day!, Fantastic Fun and Learning, Nothing if Not Intentional, My Nearest and Dearest, and Buggy and Buddy, so don't miss their creative ideas for winter play!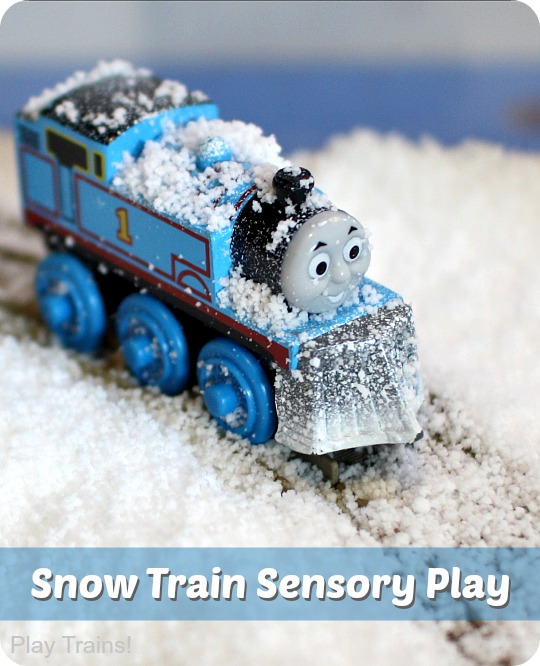 This post contains links to Amazon.com. If you click on one, we will receive a small commission — at no additional cost to you — on anything you buy at Amazon for a certain length of time afterwards. Read our disclosure policy for more details.
Our Favorite Pretend Snow
We've included our toy trains in pretend snow sensory play many times in the past. Our favorite kind of fake snow that mimics the real thing (more or less) is Insta-snow, a superabsorbent polymer powder similar to the stuff inside disposable diapers. It instantly absorbs water and fluffs up into a fairly snow-like substance. The effect is quiet dramatic!
One of the things I like about the Insta-snow is that it's a wet snow substitute that — if you're careful — you can use with wooden trains. Now, you wouldn't want to leave any toy train with metal axles sitting in a pile of the stuff for any length of time, especially not wooden ones. And to be on the safe side, I would stick to die-cast metal, wooden, and plastic trains without motors or any other electronics, such lights or sounds. (For Thomas & Friends fans, that would be Take'n'Play or Discover Junction trains, but most likely not motorized Trackmaster engines.)
But if you get as much of the Insta-snow off after you're done playing, the rest dries up back into that same, fine powder. Just brush it off the next day and your trains are back to normal.
However, if you're looking for something a little different in your Insta-snow, Blog Me Mom has a great list of Ten Ways to Make Pretend Snow. Anything dry should be safe for all kinds of trains; anything messy would be best with die-cast metal or plastic trains with no electronics, or wooden trains that you don't especially worry about ruining. Make sure to rinse the trains off, dry them a bit with a towel, and set them to finish drying on something that will let the water drain off their axles. I learned that one the hard way, when some of our Take'n'Play engines rusted after we used them to paint with trains on canvas.
Whatever kind of pretend snow you use with your trains, be sure to take into account safety concerns, such as whether or not a child is likely to try to put the substance in his or her mouth, and always supervise young children during this kind of sensory play.
Version 1: Simple Snow Train Sensory Play
When the Little Engineer became interested in "SCIENCE!!!" — as he says it — at the age of two-and-a-half, my husband started looking around at different fun science things to do with a little kid. By far, the most exciting thing he found was Insta-snow.
The first time we played with it, we were all enthralled by the tiny bit of powder erupting into a hill of snow on the table. Both the Little Engineer and his dad had to press their palms deep into it, first thing, and then pick it up and squeeze it.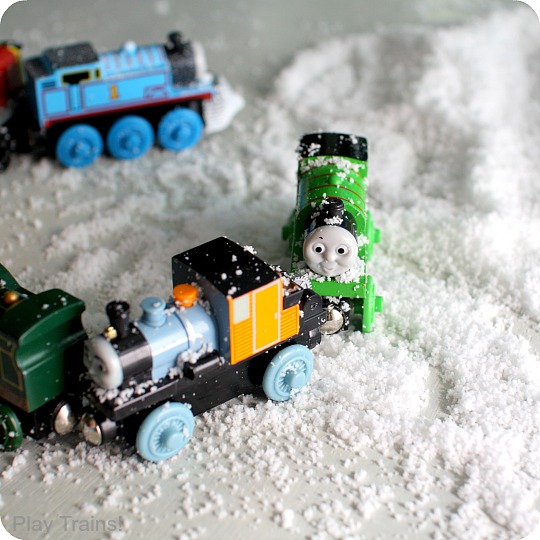 There was a line up of wooden trains on a shelf nearby, including Winter Wonderland Thomas with his snowplow. The Little Engineer brought the engines over and started to connect them up in circles, sprinkling the fluffy snow on top, sometimes sending Snowplow Thomas off to plow through a hill.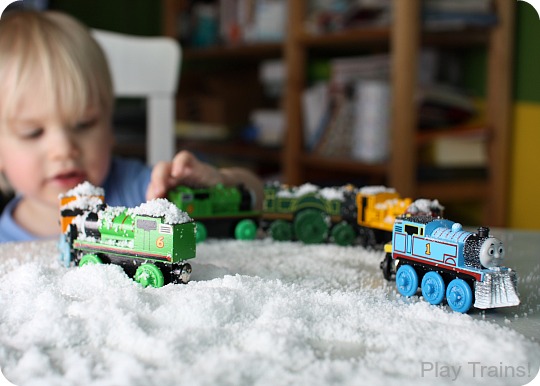 Note: Snowplow Thomas is available in the old Adventures of Thomas set with a smiling face or the new Adventures of Thomas set with a disgruntled expression. However, the snowplow is not necessary for the toy trains to functionally plow snow!
On the other hand, it might be a fun project to try to make your own snowplow to attach to a regular Thomas. (Might I suggest some residue-free duct tape to attach it?) Or, if you're lucky enough to have access to a 3D printer, my husband designed a wooden train snowplow that fits over the engine's front magnet that can be printed in plastic. It does not fit all of the Thomas & Friends engines due to their varying designs, but it generally works for Thomas himself.
Version 2: Snow Sensory Bin for Trains
Now, if you want some deeper snowdrifts for your engines to plow or get stuck in, you'll need more pretend snow and a bin to contain it in. We have a big, shallow plastic storage container from Ikea for sensory play, which allowed us enough room to add tracks to the activity.
Because the tracks end up buried in the snow for much longer than the trains, I would avoid using wooden train track in this case, even if you're using wooden engines. We used plastic Trackmaster track, which is the same gauge as a standard wooden train's wheels. Wooden trains also fit on plastic Take'n'Play track.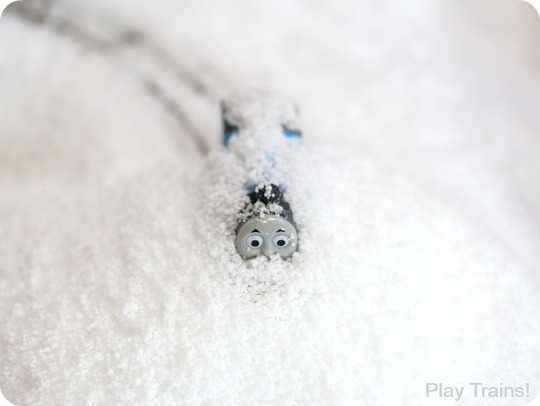 Here is "Poor Thomas," similar to "Poor Toby" covered in cotton balls from our wooden train recreation of Thomas Gets a Snowplow. This is another fun way to act out that book.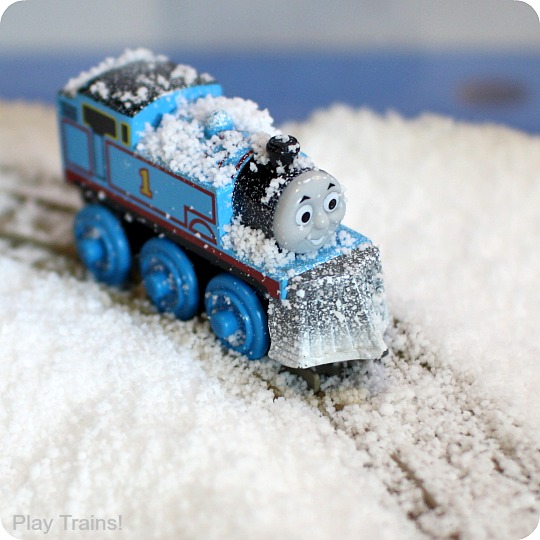 I just love the way the Insta-snow stays fluffy, no matter how long we've been playing with it! It looks so cool on the trains and the tracks, and we have fun pretending to be clouds snowing over Sodor.
Books to Accompany Snowy Train Play
I already mentioned our wooden train exploration of Thomas Gets a Snowplow, which turned into a wonderful activity for building storytelling skills and knowledge (as well as a lot of fun!). Other books that would pair well with this activity include:
Don't forget to visit my Winter Play Days friends to check out their awesome activities for today!
So long, Snowman. Make a Snow Horse Instead! From Nothing if Not Intentional
Snowy Pinecones Kids Craft from My Nearest and Dearest
Sparkly Snowflake Winter Play Dough from Fantastic Fun and Learning
Create a Symmetrical Snowflake from Buggy and Buddy
Winter Fine Motor Play with Styrofoam "Snowballs" from Fun-a-Day!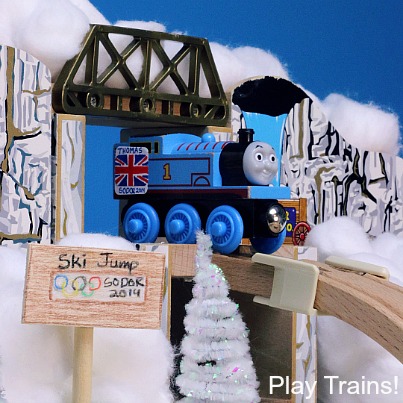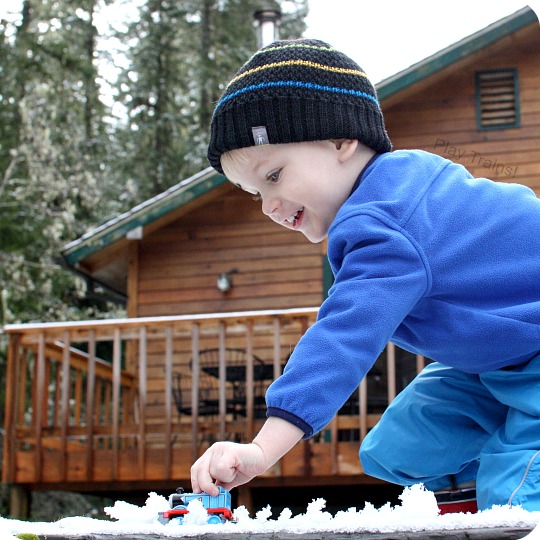 And here's more winter train fun:
Winter Train Book Activity: Thomas Gets a Snowplow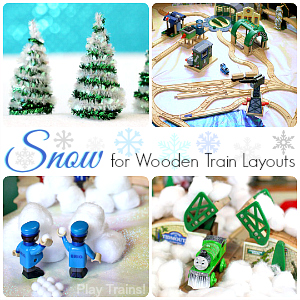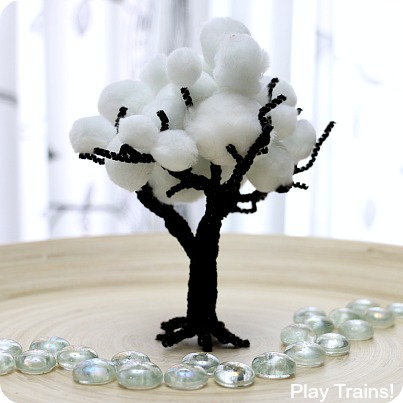 Snow and Ice Winter Pom Pom Trees: Fine Motor Activity and Train Set Scenery
Some of the photos in this post were originally included in our list of ways to play with snow and trains in February 2013.