Once I finally figured out how to make a pipe cleaner palm tree — the final "real" tree on my list of pipe cleaner tree ideas — I thought I'd be rid of the urge to make trees out of pipe cleaners and pom poms. However, it seems my freedom from this accidental obsession is still out of reach. I couldn't not make a candy cane pipe cleaner tree once the image took root in my imagination. And what better to grow on a candy cane tree than jingle bell "apples"? This is a whimsical holiday tree that would look festive in any Christmas train set or small world, and on its own, it's a fun fine motor and sensory activity for kids. Or you could glue on the jingle bells and make it as a fun Christmas decoration.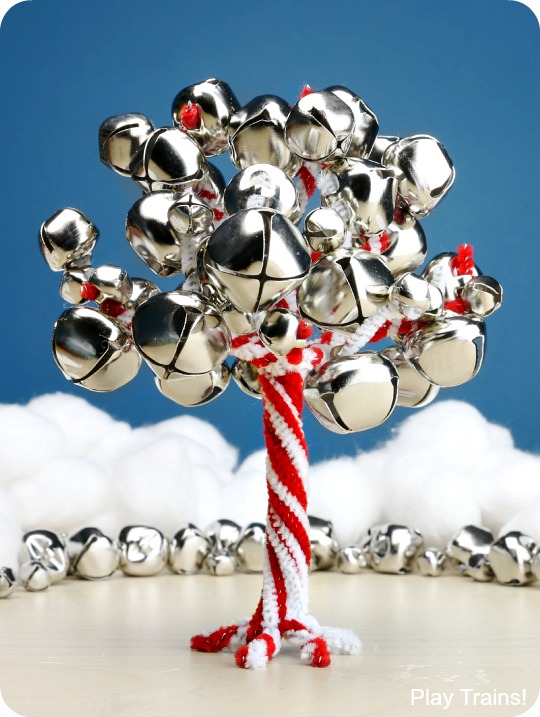 This post contains links to Amazon.com. If you click on one, we will receive a small commission — at no additional cost to you — on anything you buy at Amazon for a certain length of time afterwards. Read our disclosure policy for more details.
Seasonal Pipe Cleaner and Pom Pom Trees
Cherry Blossom Spring Pom Pom Tree
Pipe Cleaner Pine Trees
Summer Pom Pom Tree
Pipe Cleaner and Pom Pom Palm Tree
Apple Harvest Pom Pom Tree
Fall Pom Pom Tree
Spooky Pipe Cleaner Trees
Halloween Carnival Colors Pom Pom Trees
Pipe Cleaner Christmas Trees
Light-up Pipe Cleaner Christmas Trees
Jingle Bell & Candy Cane Pipe Cleaner Trees
Snow and Ice Winter Pom Pom Trees
Materials:
Red and white pipe cleaner trees: I made the candy cane tree the same way I made our spooky pipe cleaner trees, but with red pipe cleaners and white pipe cleaners instead of black ones.

Note: I used 3mm pipe cleaners — also called chenille stems — which can be harder to come by. Regular 6mm pipe cleaners also work for these trees; they just look a bit fluffier, and it might be harder to get some of the smaller jingle bells to fit on them. If you want to track down 3mm pipe cleaners, I recommend looking for them in the big chain craft stores. Sometimes they carry small packs of white or multi-colored 3mm pipe cleaners, and sometimes they have a bunch of them in the big, random variety packs.

Jingle bells: We used bells in a variety of sizes, from very small to medium-large.
Cotton balls: These add a soft sensory element, plus they look like snow!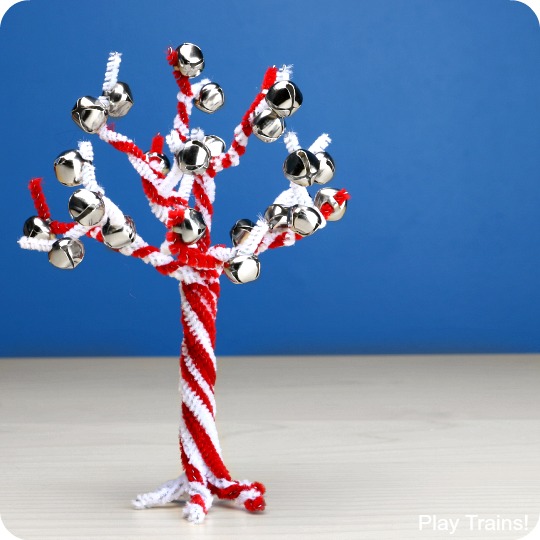 How We Played
The Little Engineer especially enjoyed threading the jingle bells onto the tree with me. As I mentioned in the introduction, he called them "jingle bell apples" and thought they were very funny. With the smallest jingle bells, it was a good fine motor challenge for him at five years old. The larger bells would be easier for a three or four year old.
Once the tree was covered in bells, they stayed on really well, and we had fun shaking them to hear the jingling sound. This tree certainly makes for a cute and unique musical instrument!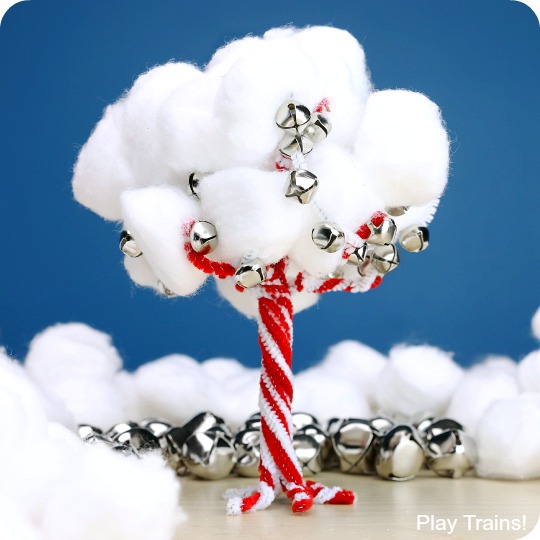 We also added cotton balls for snow. Usually we use pom poms, but the advantage of the cotton balls is that they stick in the trees more easily. (The disadvantage is that some of the little fibers of cotton stick to the pipe cleaners a little too well, but you can pick them off if they bug you.)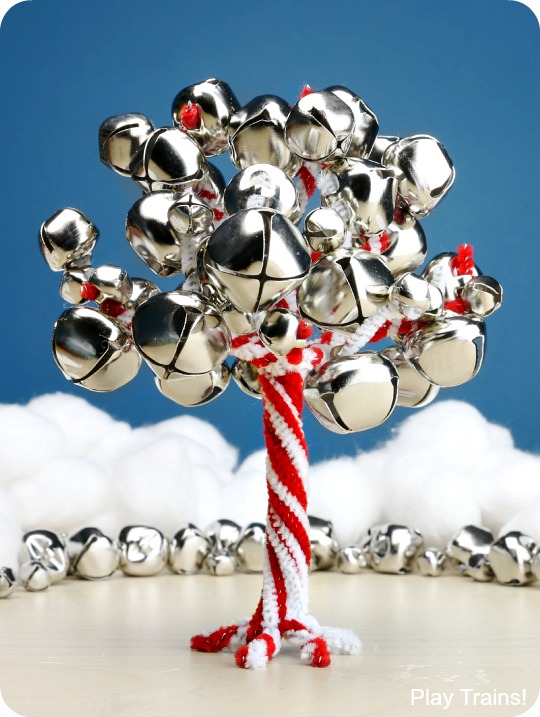 Then we tried adding larger jingle bells. That looked really cool, and it was fun to compare how the tree sounded with a variety of jingle bells with the sound of our original tiny jingle bell tree.
Safety
The jingle bells are potential choking hazards. This activity is not recommended for children who are still likely to put toys in their mouths. Constant adult supervision is advised with this activity.
More Jingle Bell Activities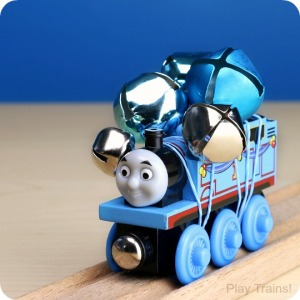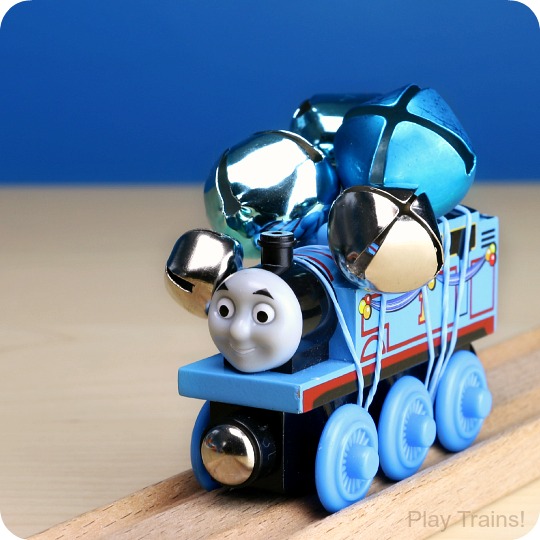 Wooden Train Jingle Bell Shakers