This week, we're part of the second annual School's Out: a Top Ten Summer Blog Hop, a series in which kid bloggers share their top activities for summer learning. Last year, I wrote about my Top Ten Ways to Learn with Trains this Summer. This year, I decided to feature some of our favorite summertime train activities. There are so many ways to learn and play with trains, especially in the summer when you can take train play outside!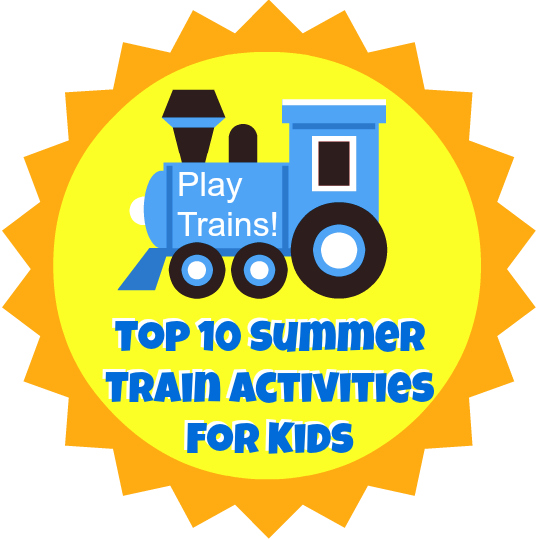 1. Take train play to the beach.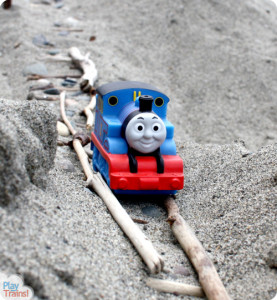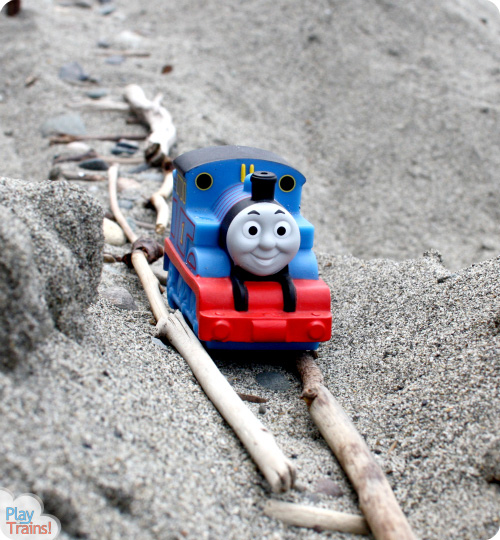 Combine creativity, science, and sensory play with the beauty of nature by building a driftwood railroad in the sand together to explore the concepts in a wonderful series of books, or by putting together a mini sand play set customized to your child's interests.
2. Build a railroad in your backyard.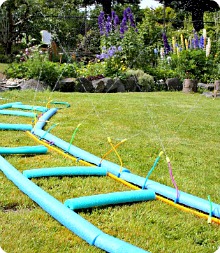 Use pool noodles to build train tracks on the grass, then add a sprinkler for a cooling "engine wash" as your favorite little train runs along the tracks. This is a huge favorite with the Little Engineer! I love how this activity both appeals to his engineer's brain and his love of running, and running, and running.
3. Take your trains surfing.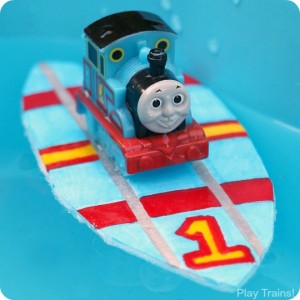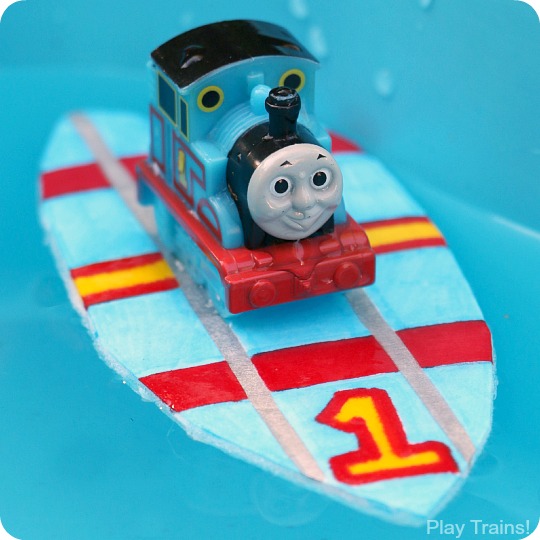 These toy surfboards are a super fun kids' craft (this adult really enjoyed making them, too). But the real fun starts when you add them to water play. There was a lot of hands-on science about buoyancy and waves going on as we splashed and laughed!
4. Play with trains and ice.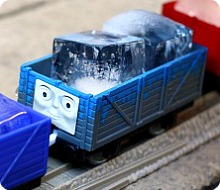 Explore the science of freezing and melting as you rescue toy trains from ice, play with colorful ice trains, or haul ice freight in toy trains.
5. Find freight for your toy trains in nature.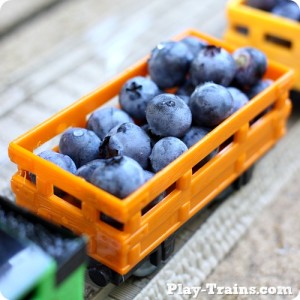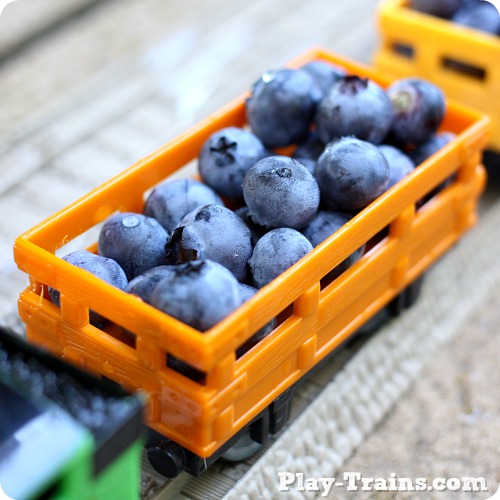 Take the trains outside and find freight for them to carry in your backyard. Another activity that the Little Engineer really enjoyed — and not just because he got to eat the freight pictured above as it chuffed past!
6. Make something awesome for your train layout.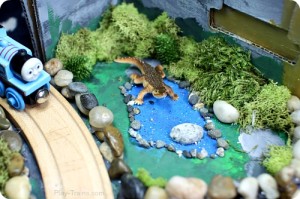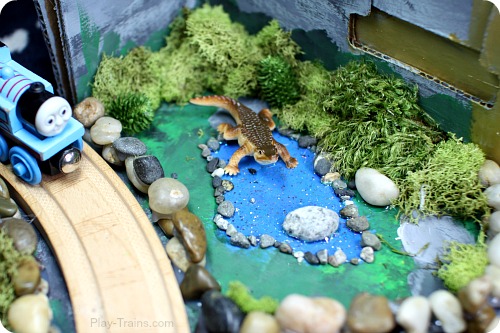 So many skills can be learned from making a playable project for a toy train set — not the least of which is the enjoyment of creating something both functional and fun with your own hands! Quick projects include a dryer sheet box engine shed and an upcycled wooden train track platform. Bigger projects — like our DIY zoo train set and wooden train castles — are a fun way to spend a day working together! And if you like trees, we have oodles of DIY tree ideas to make for train sets and small worlds.
7. Take train play on the go.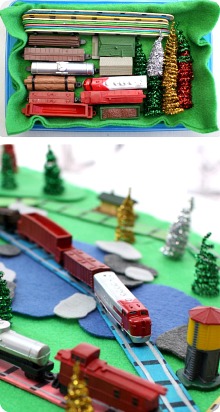 Summer means travel for many families, and when you have a young train fan along for the ride, that often means figuring out how to bring favorite toys along without packing an entire suitcase full of wooden train tracks. Which we have actually been known to do, but it's so much easier to go with a truly portable option. Our portable pretend model train small world, pencil box wooden train set, mini sand play set, and DIY mini light boxes all pack a lot of imaginative train play into very small containers. Also consider bringing along a train track counting busy bag for the ride!
8. Combine another favorite toy with trains.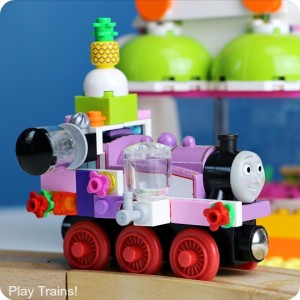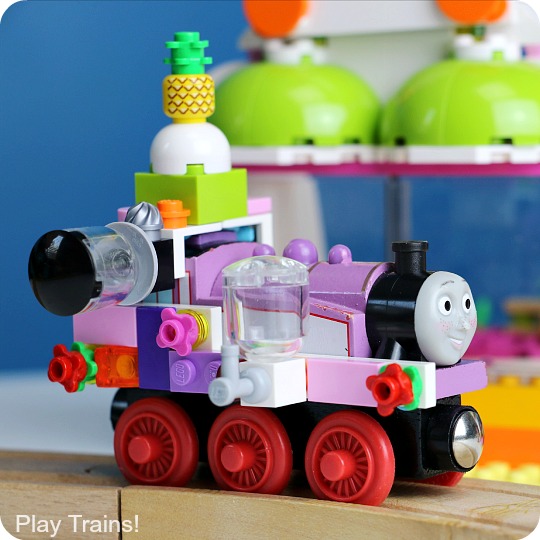 This is one of our favorite things to do, especially as the Little Engineer gets older and his interests keep multiplying. Recently, we've been giving LEGO mini figures train rides, designing our own wooden trains with LEGO, and adding favorite LEGO sets to train layouts. In the past, we've combined our marble run with wooden trains, play dough with DUPLO blocks to make rolling play dough trains, and Angry Birds figures with trains in a crashtastic literacy activity, just to name a few examples.
9. Chuff around outside, pretending to be a train.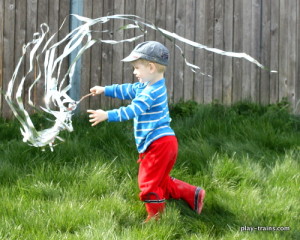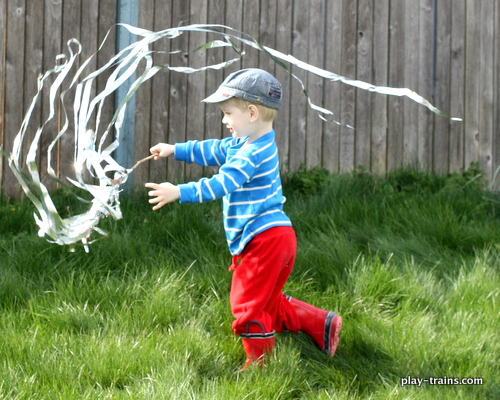 We've had so much active pretend play fun thanks to grass tracks in our backyard, and adding steam streamers only made it better! But really, all you need is your imagination, and somewhere to move. We've found so many "tracks" to run along everywhere we go (including IKEA!).
10. Try a science activity with a train twist.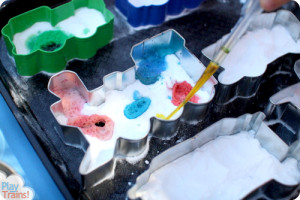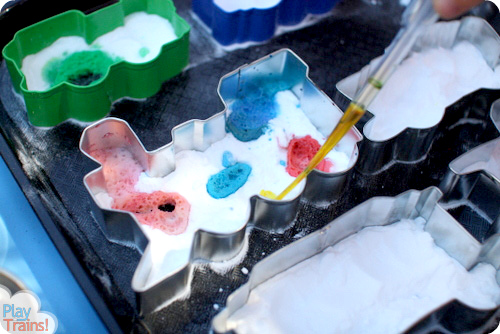 We had a lot of fun doing science activities outside last summer, often with a train element added to make them extra fun for the Little Engineer. Try baking soda and vinegar trains, or the most popular post on our site, two-color oil and vinegar discovery bottles (ours had a train theme!). Looking for more fun summer train activities? Here's my list from last year, Top 10 Ways to Learn with Trains this Summer.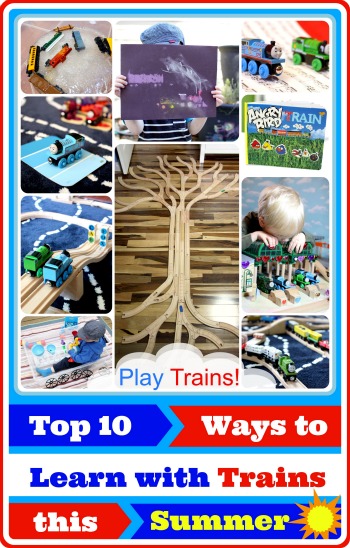 More Summer Learning Top Ten Lists
Make sure to check out the lists from all the awesome kid blogs participating in the School's Out series:
If you have a train-loving child in your life, make sure you're signed up for our email newsletter:
More Summer Fun with Trains!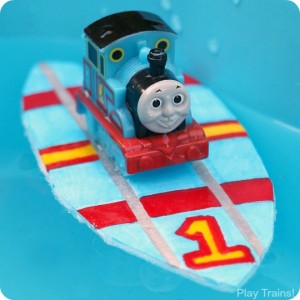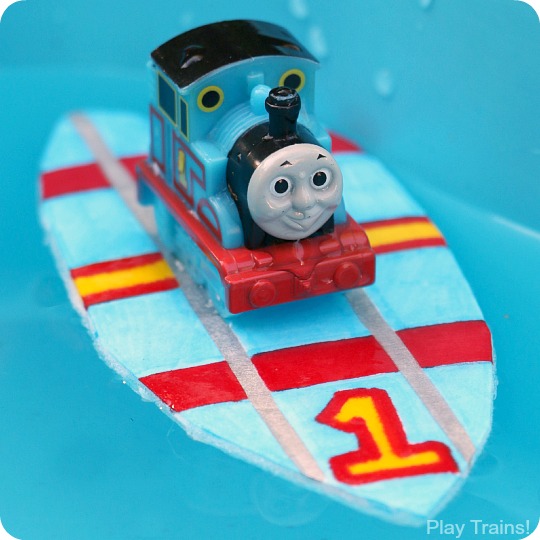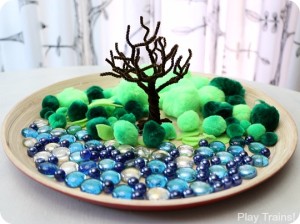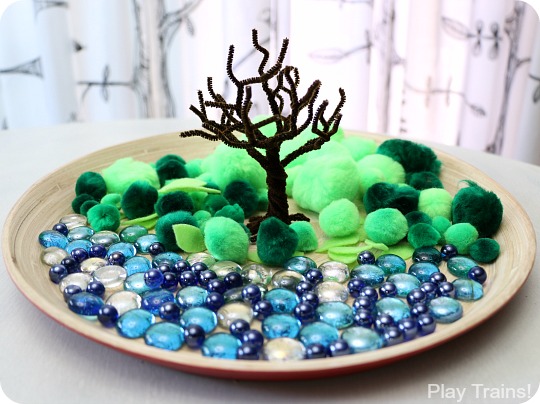 Summer Pom Pom Tree Fine Motor Activity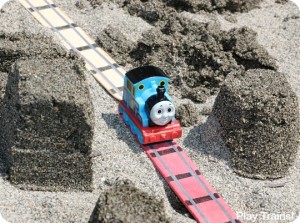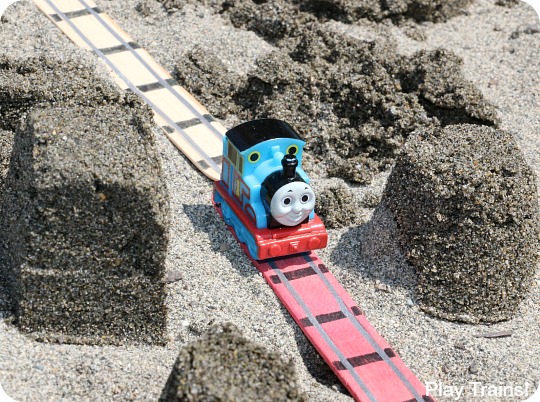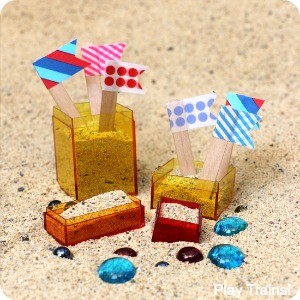 Travel-Friendly Mini Sand Castle Kit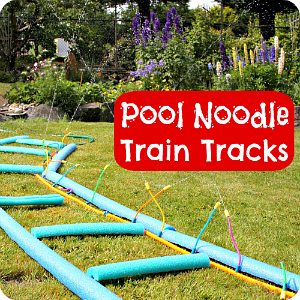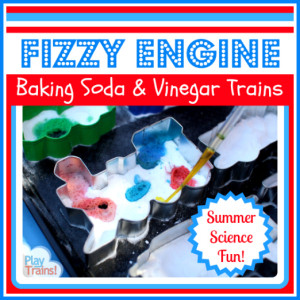 Fizzy Engine: Baking Soda and Vinegar Train Science Activity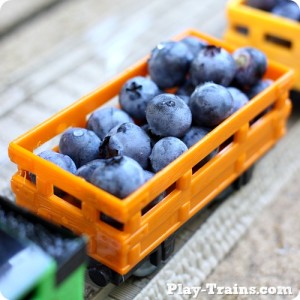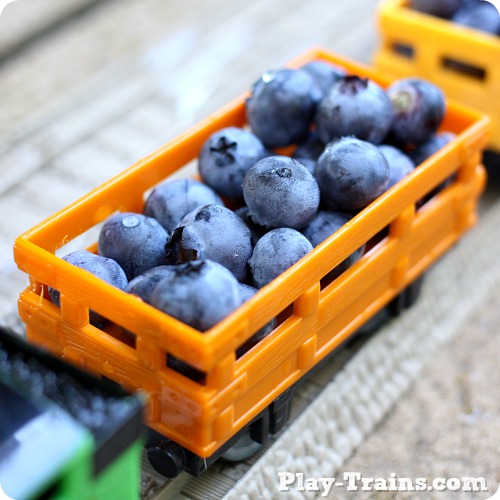 Natural Freight for Toy Trains: Summer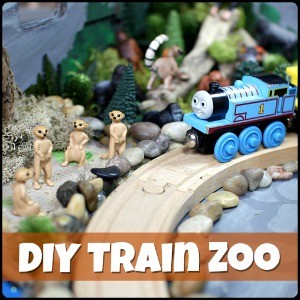 DIY Recycled Wooden Train Zoo Set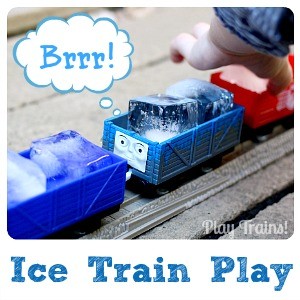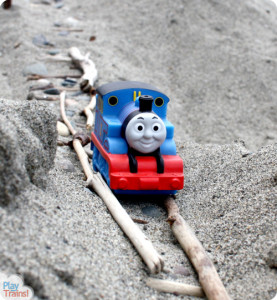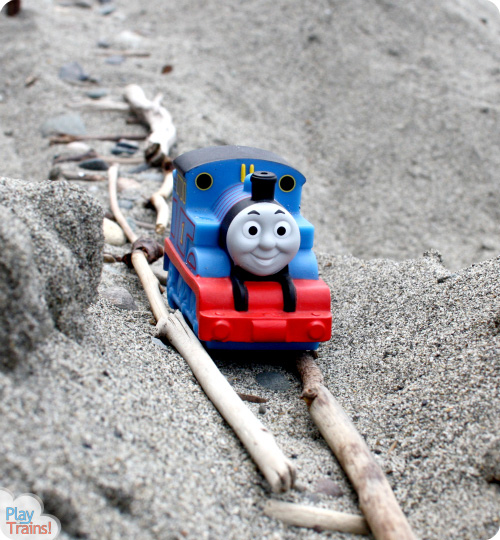 Sand Tracks: a Train Beach Activity Inspired by Peter's Railway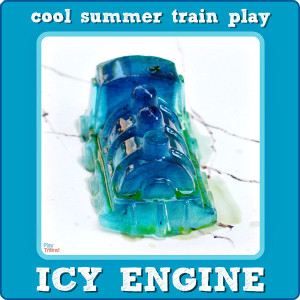 Icy Engine: Cool Summer Train Play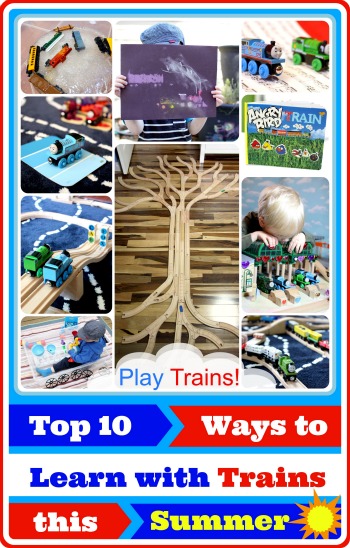 Top Ten Ways to Learn with Trains the Summer